By Cliona Foley
He's a North Yorkshire lad who started out playing football and is an avid Leeds United supporter but, after switching sports, and now allegiances, Ollie Dingley is hoping to make a tidy splash for Ireland at the Rio Olympics.
Dubliner Eddie Heron is the only Irish diver to ever compete in the Olympics and that was back in 1948. The talented Blackrock man actually only got to take part in the preliminaries in London before the Irish swim team famously had to withdraw due to a political row over the team name.
Now Dingley (22) is hoping to break that 63-year duck. Winning a European junior title four years ago and a Commonwealth bronze medallist at 3 metres in 2014 shows the four-time British 1 metre champion certainly has enough potential.
He has an Irish granny - from Spike Island in Cork - and his struggles in the British system eventually prompted him to make the switch.
He got a massive boost by beating British superstar Tom Daley in the Irish Open Championships in Dublin and was also a close runner-up to him in the 3metre event.
Dingley pipped Olympic bronze medallist Daley (21) by just a single point in the 1 metre springboard event at the National Aquatic Centre in Abbotstown.
A close contemporary of Daley, Dingley finished second in the British 3 metre trials before London 2012 but was overlooked by the selectors.
"They took the guys who finished first and third, that was the decision of the High Performance Director and there was nothing I could do," he explained. 
"Obviously every athlete wants to go out to the Olympics and it was heartbreaking but it also made me a more determined athlete.
"It was a life experience and you learn from those. A year later I was British champion at 1 metre and second again at 3 metre but I wasn't taken to the World Championships and that was probably even harder."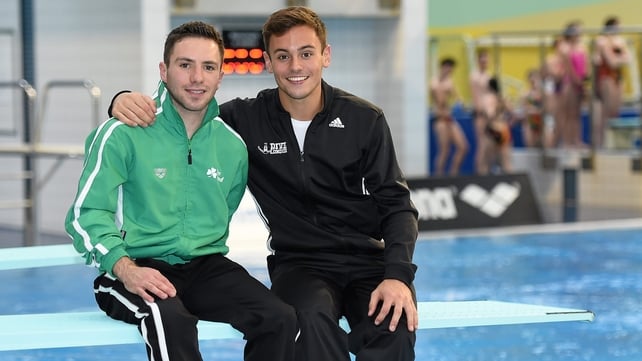 Missing World Championships proved particularly costly because it kept him on a much lower level of funding.
"In 2014 I really felt my back was against the wall which is what made the Commonwealths so special for me," he said. "It was all about consistency and persistence and the whole team effort between myself, my coach and my whole backroom team.
"The 2002 Commonwealth Championships was the first diving event I ever saw on TV. I thought, 'those people are so lucky, I'd love to be one of those!' I got to do that in Delhi in 2010 and then got the medal in 2014 so that was huge for me."
Dingley actually sat out international competition for the past year in order to qualify for Ireland. His long-time coach Damian Ball has also moved over and is now the national diving coach and also head coach at the National Aquatic Centre in Abbotstown where his protege now lives on campus with some elite swimmers.
"I've always been very proud that my grandma was from Ireland and knew I could transfer," Dingley says. "But it wasn't a decision I took lightly. I've left my family and girlfriend back in the UK to live and train here because I wanted to have a proper run at my dream.
"In Britain I felt just like a cog in a wheel but I already feel part of a real family here. Swim Ireland have been fantastic to me and everyone has really welcomed me."
"I've left my family and girlfriend back in the UK to live and train here because I wanted to have a proper run at my dream."
So why diving? "I was always a bit of a wild child! he quipped. "I always had so much energy and used to just launch myself off anything so diving was a natural fit. I struggled a bit in school too and sport was always a great bubble I could enjoy."
His older brother went to Cambridge but there is plenty of sporting genes in the family as one of his twin sisters is on a soccer scholarship in America (North Carolina) and the other was a competitive gymnast.
While now enjoying Ireland's world-class facilities in Abbotstown Dingley points out that world-class divers can be hot-housed in smaller facilities as Ireland develops its burgeoning elite diving programme.
"In my hometown of Harrowgate we only had a five-metre board in a 25-metre pool which was only 3.8 metres in depth, a lot shallower than the five-metre here."
His Olympic qualification now hangs on finishing in the top 28 at a test event in Rio in February and Ireland's top female diver Natasha McManus (17) will also carry Irish hopes at that.
After spending several years in boarding school in England so that she could train in British swimming's elite training centre in Plymouth, the Mt Anville schoolgirl has now moved home and impressed by finishing 10th in the European Games in Baku this year.
Plymouth was where British superstar Daley used to train before he moved to London since 2012 and Dingley knows him well.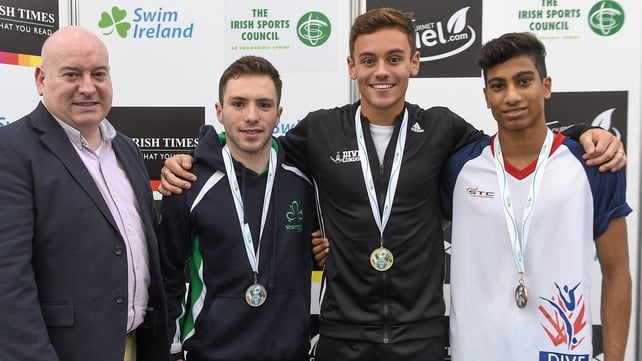 "Tom and I were on UK development squads at the same time, he's a brilliant ambassador for our sport," he said as the Olympic 10 metre bronze medallist wowed the crowds at the Irish Open Championships this weekend.
Dingley really believes he can qualify for Rio, despite just coming back from an ankle injury in May that kept him out for three months.
"Up until two weeks ago I could not dive on my ankle. I was lucky to avoid surgery. For the first two months all I could do was swim and I'm not a swimmer. Going up and down like that? I have the concentration of a fly!" he quipped.
"Eventually I started doing 'line-ups', which is where you just fall in. Only recently did I start jumping on it again and it's been very painful. I only started doing my competition dives in the last two weeks so I'm really delighted to be back. 
"Obviously Tom is a platform specialist but I wasn't doing my hardest dives so this has been really encouraging," he added.