Stephen Kenny has defended his decision to travel to Qatar for the upcoming FIFA World Cup.
The Ireland manager will travel to the Gulf State on a fact-finding mission to watch Euro 2024 qualifying group opponents France and the Netherlands.
Ireland were drawn in a very tough group alongside the European superpowers and with only two teams qualifying from each group, Kenny's side are considered underdogs to finish ahead of either of the top seeds.
However, the manager still maintains that it his intention to upset those particular odds and feels that he will benefit greatly from watching his side's opponents playing at their absolute peak at the World Cup.
There has been constant criticism of Qatar's suitability to stage the blue riband event of world football with the country's human rights constantly called into question, while there's been serious allegations in relation to the treatment of migrant workers since they were named as the host nation.
However, the Ireland boss does not believe that he is in a position to act as an influencer in such matters and feels that he is obliged to do his job to the best of his ability, which means travelling to watch the games in the live environment.
"It's a valid question. I think it's something we have to consider," said Kenny, when asked whether he felt conflicted about going to Qatar, considering previous comments on social issues when manager at Dundalk.
"[It was a] surprise when two World Cups were handed out to Russia and Qatar together… the decision around that. What [the] criteria was based on giving World Cup to Qatar at that time was questionable. No doubt about that.
"What do boycotts achieve, going back to the Olympics in Russia and America? By me going am I going to influence anything? I probably amn't.
"For me, [it's] for football reasons. I'm only there for five nights, get to see France twice, Holland. Eight games, five nights and that's it. And I'm out of it.
"I'm employed to do the job to the best of my ability. And I'm not doing it right if I'm not getting the opportunity to see the teams there.
"I see all the arguments as well. Where do we go with Saudi Arabia… mass beheading… we've seen that in recent times. Treatment of women in Iran. Where do we go with all that? Where do we draw the line and where do we not? Big questions overall."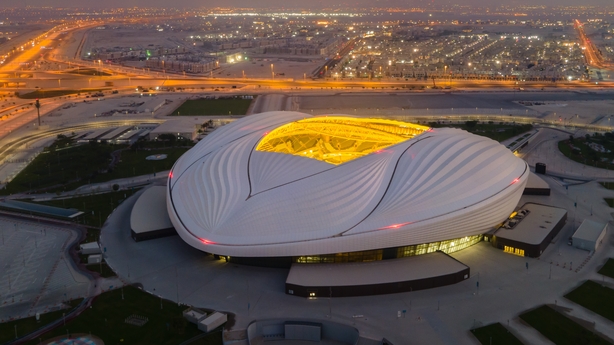 As for the footballing reasons, Kenny explained the benefits of watching previous opponents at other tournaments and how it really helped to analyse sides and prepare his own team to compete, most notably in relation to Portugal during the World Cup qualifiers.
"When I went to the European Championships to see Portugal, I saw two of their games and I felt that was hugely beneficial for when we played Portugal.
"Obviously, we had two tight games, two very tight games, we played well in both games, and I felt going to the Euros really helped, to see the team live at their optimum levels, and then how could we devise a strategy playing against that?
"It's a brief enough stint, but I get to see France twice - against Denmark and Tunisia - and I get to see Holland as well. So that's the idea, to prepare for March."
Kenny opted to sidestep a curious question in relation to recent interviews regarding "agenda-based criticism", however, he did address the perennial ponderings in relation to the style of football that he employed in his role as national team manager.
"As a young manager in the League of Ireland, it was always stated to me that you could never win the League of Ireland building and playing from the back… then when I was managing Irish teams in Europe, it was said you can't go against the top teams and play out from the back. We disproved that very much so.
"When I took over this job, it was constantly [stated], 'it's not in our DNA to build from the back, to play out, he's trying to do something that our players aren't capable of, it's not our strength playing this way'.
"So that was a consistent mantra. But I think already the players have disproved that and they have shown the capacity to play out comfortably from the back and play through midfield."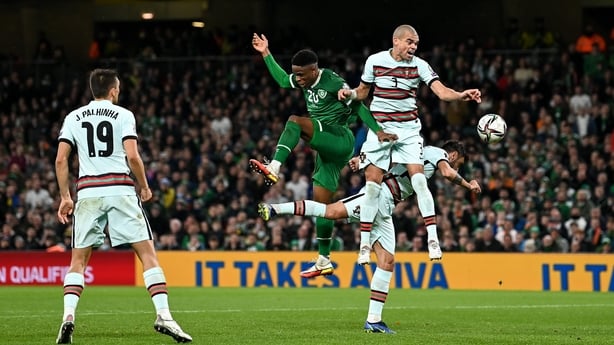 And while Kenny admitted that his side had fallen down in other aspects of his approach, especially conceding goals when in a winning position, the manager stressed that the ambition remained to qualify ahead of either France or Netherlands while maintained their current approach to the game.
"That's certainly our ambition," said Kenny. "I think we're building, in my opinion, a very strong team for the Euros going forward.
"We've seen that. We've made some mistakes but you've seen it's a team that's emerging. We're improving all the time.
"We've the capacity to score goals, scored six goals in our last two home games. I think we've been dealt an extremely… the toughest group we could have got with France, Holland and Greece.
"We've got to be resolute. We've shown against top nations like Portugal that we can compete. We just need to come out on the right side of those tight games. We've got to aspire to do that."