A week out from the biggest game of her career, Lily Agg took a trip to Cobh, Co Cork with her mother to connect with her deep Irish roots.
Last month, Agg came off the bench to head home the winner against Finland at Tallaght Stadium, and she subsequently started in the narrow defeat of Slovakia that sent Ireland straight to round two of the World Cup play-offs.
The Brighton-born midfielder, who qualifies for Ireland through her Cork-born grandmother, has a very strong chance of starting in Tuesday's massive encounter with Scotland in the absence of the injured Ruesha Littlejohn, but she's not getting swept up in the hype just yet.
Instead, Agg has spent a lot of this week catching up with family; reminiscing about the past, strengthening her bond to Ireland's south coast. When she scored against the Finns, the 28-year-old looked to the sky and said a prayer to her gran, who is never far from her thoughts.
"It was really nice to have my mom with me because we never get a couple of days together," Agg said at the team's Castleknock Hotel base.
"It was sweet. We've lots of family and stayed with my cousins. I went back to my grandmother's house. That was cute but a bit emotional. We went through a lot of photographs at the dinner table. It was a short and sweet trip, really nice.
"It was the house my grandmother grew up in, not where she died. Our own cousins still live in Cobh, so we stayed there and had a good tour of the place.
"Lots of my family work at the Commodore Hotel [in Cobh]. We went there to have some nice coffees and they organised the logistics for the day. From there, I went over to Cobh Ramblers, where my great grandad [Michael Greene] was involved over his life.
"It was really emotional. The family were really welcoming and it's really important for them to see my mom again."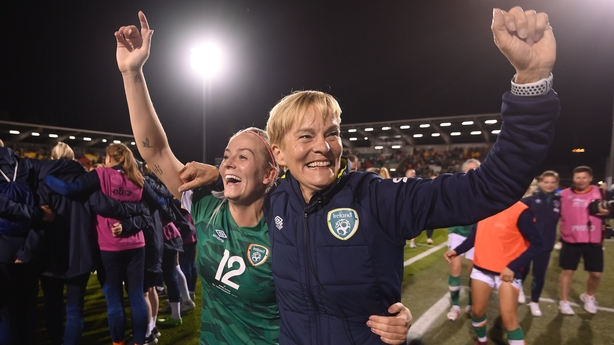 Most of Agg's relatives missed her match-winning contribution in the Finland game due to soaring flight and hotel costs but they will be in Glasgow on Tuesday night.
Those who can't make it will watch on from Cobh, while Agg will also have a pocket of supporters in Barking, London, where she continues to teach despite playing full-time with Championship side London City Lionesses.
"Our schedule at City is training every day at 2pm. I go to work in the morning, teach and head straight to football and get home at 7.30pm," said Agg.
"I'm working in further education, teaching boys aged 16 to 18. I did my training in secondary schools, PE teaching as such, but now I lecture students doing sports courses.
"The group I teach are good lads, to be fair. When I go in every Monday, they'll say they saw my highlights or, recently, noticed I got sent off. I told them it wasn't a sending off. They watched it back and said it was a poor decision by the referee! I have good craic with them.
"I teach in Barking, that's 20 minutes from Dartford where we train with London City. I go straight from school to training, having lunch on the go. That's usually a quick bagel. They're long days but it's worth it. I enjoy it and they're very good about it at work. They allow me to be off for these camps. It's flexible and works well."
"I'd like to think my grandma would be extremely proud of me playing for Ireland."
Agg had to bide her time before pulling on the green jersey as her passport application was held up for over a year, but she's made a real impact since coming into Vera Pauw's squad.
"It's been a rollercoaster of emotions and quite surreal for me," she admitted. "I had to wait a while for my passport to come and I was so grateful to be part of this. Each camp and trip has gotten better for me.
"To be 90 minutes from the World Cup is everyone's dream. These girls have worked towards this throughout their whole career and I'm grateful to be part of it.
"It's been a bit crazy since my debut. I can still grow and being around these girls, training every day, I'll only get better."
And always at the forefront of her mind is granny Breda.
"[She died] nearly 20 years ago when I was just nine or ten," added Agg. "She would have been 80 now so to die in her 60s was young.
"She used to laugh at me playing football. She found it funny that I had an older sister who hated football. She was so supportive and always allowed me to do it.
"I'd like to think my grandma would be extremely proud of me playing for Ireland."
Listen to the RTÉ Soccer podcast on Apple Podcasts, Spotify or wherever you get your podcasts.
Follow Scotland v Republic of Ireland via our live blog on RTÉ.ie/sport and the RTÉ News app, watch live on RTÉ2 and the RTÉ Player, or listen to live radio commentary on RTÉ 2fm's Game On.