When Armenian goalkeeper David Yurchenko picked the ball up just after the 70th minute at the Aviva Stadium on Tuesday night, the main focus for most Republic of Ireland fans was probably on the number of goals the home team might clock up.
A 2-0 home win against the world's 92nd-ranked team to finish off an up-and-down UEFA Nations League campaign would have been fine. Three-nil, 4-0, 5-0... that would send the masses out of Lansdowne Road with a spring in their step.
Flash-forward about 105 seconds, and the entire stadium - save for a little pocket of Armenian fans - was numb. Two goals in less than two minutes drew the visitors level and turbo-charged a grimly familiar debate: Kenny in, or Kenny out?
Robbie Brady's injury-time winner softened the backlash a little - make no mistake, things could have been a lot worse - but question marks around the manager's approach, substitutions and general game management persist.
There's been an unfortunate pattern of surrendering leads in the Kenny era: Serbia away, Portugal away, Ukraine away, Scotland away, Qatar in Debrecen.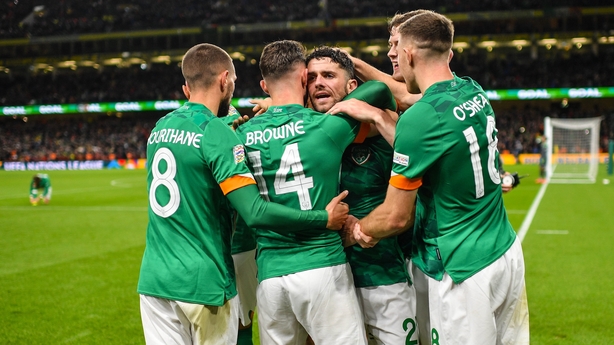 But Kenny remains confident his team will iron out their issues in next year's Euros qualifiers.
"I think we just shot ourselves in the foot for a few minutes and we have to make sure that doesn't happen again," he reflected, amid a national post mortem into that baffling collapse.
"Certainly, everything is in context. We will play better teams than Armenia in our quest to qualify for the European Championships. We will play teams of equal standard and some of less probably as well. It's all relative.
"It was a good performance from a technical point of view and we dominated. There is room for improvement in some of our attacking play and we were uber aggressive in pursuit of that third goal when we didn't need to be.
"That was really it. I said to the players, they are disappointed and it wasn't a euphoric dressing room even though we won 3-2. The players know.
"How did they end up in that situation when they were absolutely dominant? How did it happen? I think it's important that they realise that they actually did a lot of things very well in the game and we must learn from that situation and I expect that they will."
There was no hairdryer treatment in the Irish dressing room afterwards. Kenny didn't see the point in lambasting a group of players he will not see again until November; instead there was a methodical analysis of what went wrong and why.
"It's a fine line between a centre-half running, dribbling and scoring against the Ukraine beating five or six players and then criticising him for doing it again, but I just think the context of the game when you're winning 2-0 is different," he added in reference to Nathan Collins' tendency to push forward when Ireland were leading.
"There is no question we deserved to win that match."
"All our centre-backs, and not just the centre-backs, even our wing-backs, we were just a bit too eager. We were too advanced on the pitch collectively for a team winning 2-0.
"But listen, that's not to say we won't continue to attack because we will. That's what we're committed to, we're committed to playing the way we want to play. We made mistakes and ultimately conceded goals but we won the match and completely deserved to win the match.
"There is no question we deserved to win that match. We should have won it by more goals than we did. We will learn our lessons."
When asked about Ireland's frustrating habit of coughing up leads, Kenny stressed: "It's not a mentality issue. Every game is different. You take each game in context as they are all different.
"There is no correlation for example between that game and the Scottish game on Saturday night, two different entities and they are not comparable in my opinion. You analyse them differently.
"We didn't need to chase [a third goal]. Just calm down and relax and keep possession and control the game more."
Listen to the RTÉ Soccer podcast on Apple Podcasts, Spotify or wherever you get your podcasts.