Gavin Bazunu 5
Still no first clean sheet of this season for the Southampton and Ireland No.1. Yet to avoid conceding in seven Premier Leagues and couldn't keep Scotland at bay on Saturday either. Just when it looked like he was cruising to a welcome shutout, three-long range efforts caught him cold.
He could only palm the first onto the post and the ensuing scramble led to Armenia getting back in the game. Barely 60 seconds later and Eduard Spertsyan curled another into the corner from outside the box after substitute Conor Hourihane gifted him possession.
Nathan Collins 6
A simple clipped ball down the right gave Matt Doherty the impetus to drive into the box in the build up to the corner which led to Ireland's opener. He covered well in the build up to Armenia's first goal although maybe could have cleared before it broke outside the box. Almost helped Ireland re-take the lead with a header from Robbie Brady's free kick but directed it straight at the goalkeeper.
John Egan 6
A quirk of these back-to-back Nations League games was that the captain's two goals both came in the 18th minute. While his snapshot in Glasgow had all the hallmarks of a clinical striker, this powerful header into the ground owed as much to his subtle movement to gain the space.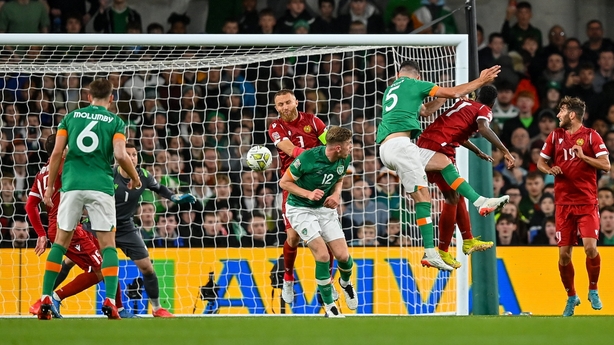 But there will not be any nice memories of this night, one which ended in despair at the manner in which Ireland threw away a two-goal lead and could easily have conceded a third to suffer relegation.
Dara O'Shea 6
One of the telling aspects of his display at Hampden Park was his willingness to be aggressive and engage across the half way line. The West Bromwich Albion man took that same approach here and even felt comfortable vacating his left-sided centre back berth to follow Khoren Bayramyan across the pitch in order to get Ireland on front foot.
His presence in the Armenia penalty box also proved crucial for the vital penalty, taking a calm touch and shooting only to be denied by a handball. Also drilled a sharp pass into the feet of Michael Obafemi for Ireland's second.
Matt Doherty 6
A show of faith from Stephen Kenny to keep the Spurs man in the starting XI. Tired badly early in the second half against Scotland and was poor for their equaliser. Could easily have been dropped, but the manner in which he ventured forward for the opener showed why he is pivotal to how Ireland play in attacking third.
However, defensively, he didn't react quick enough to the breaking ball when Artak Dashyan drilled home the visitors' first goal.
Jayson Molumby 5
Looked distraught and angry at himself when he had to be substituted so early in the second half. It was a decision the Irish boss had to take given the midfielder could so easily have been shown a second yellow card for a professional foul in the 51st minute.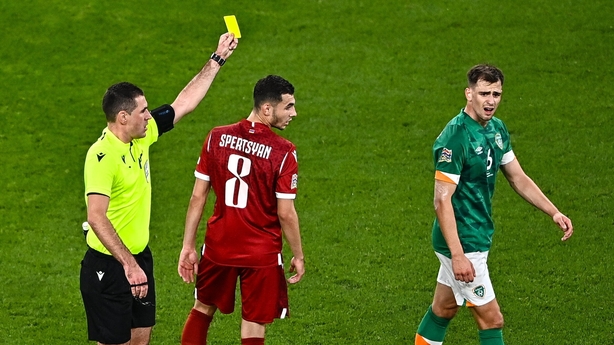 Molumby was filling the void left by the suspended Josh Cullen in the middle of the three-man midfield and while he did a lot of good work, it's hard to ignore the disappointment.
Jason Knight 6
Played a couple of sharp passes into the feet of Troy Parrott from the left side and also tried to strike up a relationship with wing back Robbie Brady in support. Made sense to take him off for Alan Browne with a quarter of an hour to go as Ireland looked to regain a lead that had been thrown away. His strengths do not lie in unlocking rigid, deep-lying defences but his value to how the midfield operates is clear.
Jeff Hendrick 5
At the start of this campaign in Yerevan the midfielder laboured in a creative role as Ireland were beaten 1-0. He was on loan at Queens Park Rangers from Newcastle at the time and hadn't played football for the month previous. He has been a regular for Reading prior to this and that sharpness wasn't quite evident here. He managed to get on the half turn on a couple of occasions but his final pass was a let down.
Robbie Brady 7
First start for his country since limping off injured against Qatar in March of last year. The 17 months which followed have been another test of resolve. Perhaps it means occasions like this are to be properly savoured for the 30-year-old. And what an impact. His delivery for the opener was sharp and his calmness from the penalty spot to prevent a disastrous end to this campaign was needed.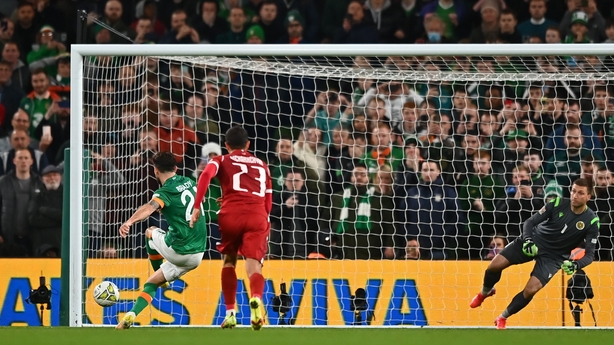 Troy Parrott 6
Molumby said in the aftermath of the golden opportunity he passed up against Scotland that it was a chance he would score nine times out of 10. What he would have given for one even half as good as the one in Glasgow here. He worked hard and did his best to knit play together with midfield, while also playing off the shoulder to try and pilfer anything in the box. A tough night.
Michael Obafemi 7
The Swansea City frontman had this stadium rocking after his last performance here, producing a sublime assist for Parrott and then rifling a rocket of a long-range shot to the roof of the net. He's getting used to such impacts in Dublin it seems.
His touch, turn and deadly low strike in the 52nd minute was top class, and should have led to a much more routine end to the night. Having someone who can make such contributions will be crucial for a side like Ireland.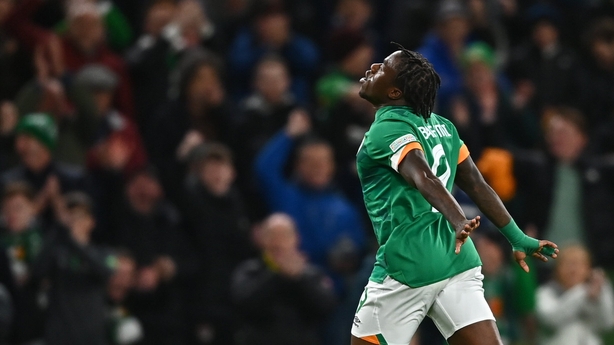 Substitutes
Conor Hourihane for Molumby (51) – A disastrous showing. Such an experienced player yet playing such a loose pass across goal for Armenia's equaliser could have had dire consequences. 4
Callum Robinson for Parrott (76)
Alan Browne for Knight (76)
Scott Hogan for Obafemi (86)