And so the Nations League has drawn to a close for the Republic of Ireland. Seven points from a possible 18, not what Stephen Kenny had in mind at the outset, and a clear indication that it was very much an up-and-down campaign for the Boys in Green.
Thoughts, however, are now turning towards Euro 2024 in Germany.
Will Joxer be heading back to Stuttgart? Time will tell.
On Sunday, 9 October, the qualifying draw will take place in Frankfurt at 11am, Irish time.
As hosts, Germany are already qualified, and so that leaves 53 teams (Russia not involved) chasing the 23 spots available at the finals.
So how does qualification work?
The 53 teams will be split into ten groups - seven groups of five and three groups of six.
Each team is seeded, based on their showing in the Nations League.
As winners of the respective groups in League A of the Nations League - Netherlands, Croatia, Spain, Italy - will contest the final of the competition next June and will be placed in a group of five. For the purpose of the draw the quartet are in the 'UEFA Nations League' pot.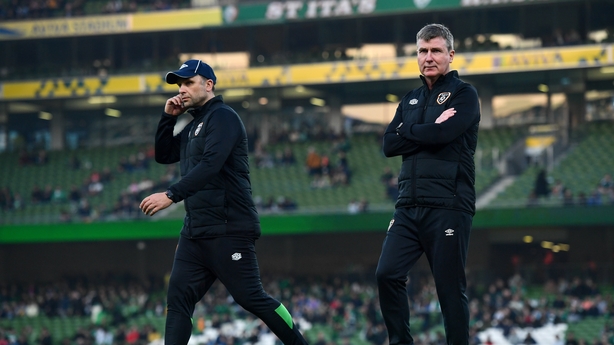 The Republic of Ireland are in Pot 3 alongside Ukraine, Iceland, Norway, Slovenia, Albania, Montenegro, Romania, Sweden and Armenia
Pot 1 comprises: Denmark, Portugal, Belgium, Hungary, Switzerland, Poland.
There are a couple of big hitters in Pot 2: France, Austria, Czech Republic, England, Wales, Israel, Bosnia & Herzegovina, Serbia, Scotland, Finland.
Pot 4: Georgia, Greece, Turkey, Kazakhstan, Luxembourg, Azerbaijan, Kosovo, Bulgaria, Faroe Islands, North Macedonia.
Pot 5: Slovakia, Northern Ireland, Cyprus, Belarus, Lithuania, Gibraltar, Estonia, Latvia, Moldova, Malta.
Pot 6: Andorra, San Marino, Liechtenstein.
So, I'm sure supporters will look at the various pots and decide what the best draw is for Stephen Kenny's side.
Eyes will no doubt focus on Pot 2 and the prospect of facing England or France, or indeed having a re-match with the Scots after last weekend's feisty encounter at Hampden Park.
Pot 4, with the likes of Georgia, Greece, Luxembourg and North Macedonia as likely opponents, adds to what could be a tricky assignment for the Boys in Green to reach a fourth Euro finals.
Qualifying schedule in 2023:
23-25 March - Matchday 1
26-28 March - Matchday 2
16-17 June - Matchday 3
19-20 June - Matchday 4
7-9 Sept - Matchday 5
10-12 Sept - Matchday 6
12-14 Oct - Matchday 7
15-17 Oct - Matchday 8
16-18 Nov - Matchday 9
19-21 Nov - Matchday 10
After that schedule, the top two in each of the ten groups will have booked their places at Euro 2024. The other three berths will be known following a series of play-off games in March 2024. Twelve teams will be involved at this stage, with placings in the Nations League to determine who the dozen will be.
According to UEFA guidelines: "Twelve teams will be selected based on their performance in the 2022/23 Nations League – nominally the group winners of Leagues A, B and C, but if they have already qualified they will be replaced by the next best-ranked team in their league.
"If there are not enough non-qualified teams in the same league, then it filters down to the next league, finishing with League D."
The Republic of Ireland sit 26th overall in the Nations League rankings, and are ranked 10th of the sides in League B.
Those placings should be enough to guarantee a play-off at least, though it would be a sign of further progress if Ireland went the direct route.
Euro 2024 will be staged across ten German cities from 14 June to 14 July, with Berlin's Olympiastadion hosting the final.
Listen to the RTÉ Soccer podcast on Apple Podcasts, Spotify or wherever you get your podcasts.