When David Beckham hung up his boots in 2013, a five-month stint at Qatari-backed Paris Saint-Germain was the final stop of a storied career.
The 37-year-old announced he would donate the salary from his five-month stint in the French capital, believed to be in the region of €4 million, to a children's charity.
A UNICEF ambassador since 1999, he, along with his wife Victoria, have championed such childhood causes as malnutrition, domestic abuse and trafficking among others, raising eye-watering sums of money along the way. In March the couple donated £1m towards aid in war-torn Ukraine
Critics have suggested that part of Beckham's philanthropic nature is tied to his brand image, but even the dissenters would have to acknowledge that the former Manchester United player, whose net worth is in the region of €450 million, has brought financial aid and publicity to a range of social issues.
Whatever about the morality of it all, from a brand perspective, the decision to assume a cultural ambassador role for Qatar to promote the country's tourism and culture was a highly questionable one, though one for which he is being reportedly remunerated to the tune of £150m.
"Qatar really is an incredible place to spend a few days on a stopover," he said in 30-minute clip for Visit Qatar last month.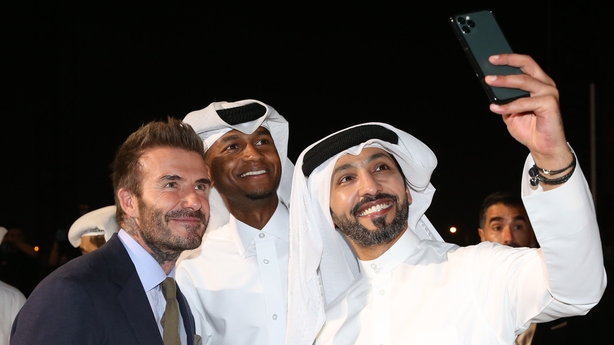 "This is perfection. I cannot wait to bring my children back here."
Perfection perhaps for the elite, but appalling human rights issues make it an altogether different proposition for the majority on the ground. Of a population of around 2.8 million, Amnesty International says more than 60% is made up by migrant workers.
The self-described "gay icon" has said nothing on the fact that Qatar is a country where homosexuals can face the death penalty under Sharia law.
Beckham has in the past used the rainbow emoji on his social media accounts, yet Qatar has laws prohibiting LBTQ+ relationships. Unmarried women are not allowed to leave the country without their father's permission.
The plight of migrant workers - where at least 6,500 workers from Bangladesh, India, Pakistan, Sri Lanka and Nepal are believed to have lost their lives building infrastructure for the World Cup – has been a constant theme since the controversial decision was made in 2010 to allow Qatar host the event.
A report from Human Rights Watch (HRW) and Amnesty International in May described Fifa as a "complacent enabler" in the deaths. Qatar denies the number of deaths is as high as reported.
Former Australian soccer captain and human rights activist Craig Foster will be broadcasting his sixth World Cup, and insists the onus is on the big-hitters in the sport to use their platform to effect serious change.
"Players and fans, sponsors and broadcasters didn't choose Qatar, but we are all bound to hold the game to the highest standards of human endeavour," he tells RTÉ Sport.
"It's not enough to go to a country like Qatar and say that it looks wonderful, like David Beckham, and share a video that everything on the surface looks okay. It's not okay.
"The affected groups in countries like Qatar are screaming out to us with a voice, those within positions of power and authority in global sport, to do something, to say something and act for them.
"You have a responsibility to step forward now. Silence is complicity."
Foster is donating his broadcasting fee to the families of migrant works who have suffered death and wage theft, and organisations protecting the LGBT and women's rights in Qatar.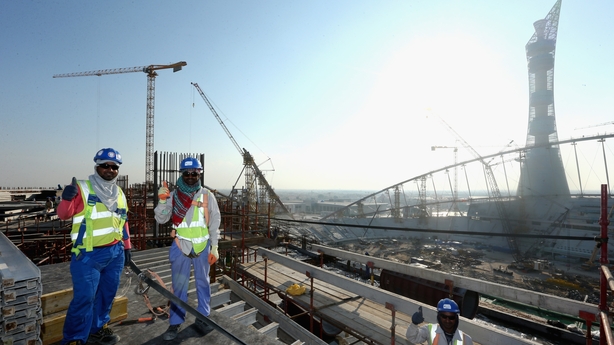 Beckham, even if he were to do something similar with his whopping ambassadorial fee, or even a portion of it, would still be doing a disservice to those affected by failing to utilise his platform to highlight social problems in Qatar.
Those tasked with preserving Brand Beckham will be pleased that a 12-hour wait in line to pay respects to Queen Elizabeth have at least brought about positive headlines and goodwill following last month's release of the Visit Qatar promotional video, and he can take comfort in the fact he is far from alone in failing to address publicly key issues surrounding the tournament.
---
In 2010, Nick McGeehan penned an article in the Guardian 'Let Qatar Not Be Built on Brutality'. Assessing the challenges facing migrant workers, women and members of the LGBT community, his hope was that Qatar could make progress with the world watching on.
"If it does not do so, Qatar 2022 will be constructed on the sort of brutality we naively associate with a bygone era," he wrote.
A dozen years on, he is asked what the situation is like on the ground.
"The situation for migrant workers on the ground hasn't changed all that much."
While the number of work-related fatalities for migrant workers is shocking, so too is the scale of wage theft.
With prohibitive costs to working in the country – Human Rights Watch says Bangladeshis spend an average of $3,863 to go work in Qatar, which averages to around 18 months of earnings there – money is urgently sent home firstly to pay off loans borrowed to get the jobs.
However there have been widespread reports of wage theft, with many aggrieved workers detained and deported.
In August strikes from workers in Doha over unpaid wages were met with further deportations. A huge number of workers have returned home without full pay, or further work entitlements.
According to data from Nepal's Department of Foreign Employment, nearly 80,000 Nepali workers returned from Qatar between January and July of this year.
Amnesty International and other organisations have lobbied Fifa to work with the Qatar government to provide compensation for those that have suffered.
HRW has said that such a scheme, though limited in scope, exists. More than $100m has been paid out to workers, but this only covers those working in 2020 and 2021 in Qatar.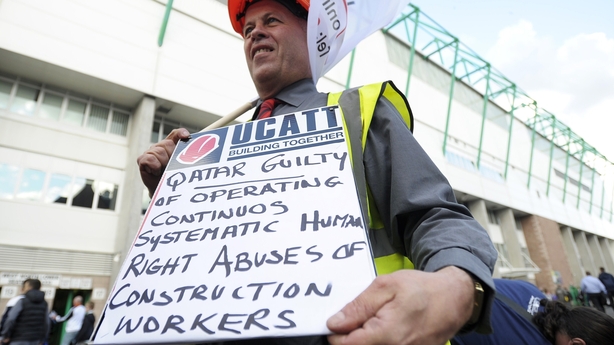 Fifa has been called upon to set aside $440m - equivalent to the prize money on offer to teams at the World Cup – as a remedial mechanism.
"The scope for making these labour reforms more effective between now and the World Cup is very limited," says McGeehan.
"Regrettably, we have probably got as far as we are going to get. The key question is, can we use the spotlight that remains to try and transform some of the lives of people affected.
What have individual federations had to say on the matter?
"We have seen a patchy response from football associations," says Ella Knight, migrant labour rights researcher at Amnesty International.
A lot is not right, it's obvious
"These bodies have human rights responsibilities. We need this push to get Fifa to commit to addressing these harms."
The German FA found its voice recently, with German coach Hansi Flick last week saying: "In Qatar, when it comes to human rights, when it comes to sustainability, a lot is not right, it's obvious".
The Dutch too have voiced concerns and Amnesty's hope is that it will have a snowball effect. And not before time. In 2017 Fifa introduced a human rights policy that obligates every national federation in the world to speak up on human rights and ensure that those harmed in the transmission of a major event (World Cup) are provided with remedy.
Last week FA chief executive Mark Bullingham said they were "pushing Fifa" for an update on the compensation fund, while the FAI told RTÉ Sport last year, ahead of friendlies against Qatar, that the association is 'non political'.
"We are of course aware of the debate around the issue of migrant workers in Qatar in the context of the staging of the 2022 World Cup, but as a national governing body, the FAI focuses on our sporting role and is non-political in our approach," a spokesperson said. "The FAI will always be aware of, and sensitive to, broader societal issues."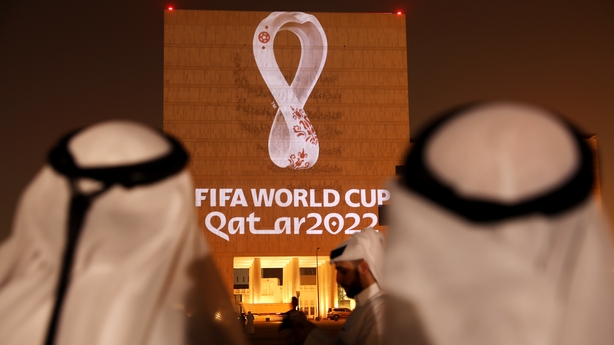 "To stay silent is to fail to meet your human rights responsibilities under international standards. It should not be an option for football associations," says Minky Worden, HRW's Director of Global Initiatives
Out of 31 non-host federations at the World Cup and 19 tournament sponsors, the response couldn't be qualified as a ringing success.
Just four federations have enabled players to engage directly with relevant human rights organisations and only four sponsors – adidas, McDonald's, Anheuser-Busch and Coca-Cola – have expressed support.
Foster, who played for Portsmouth and Crystal Palace at the end of the 90s, is now a broadcaster. Having often used his position as broadcaster to criticise unethical practices in the game, he says the overall reaction by footballing figures to the migrant workers issue in particular leaves him dismayed.
Silence is not an option
"I'm appalled at the response thus far. The fact that after 12 years we are down to two months prior to the tournament and still we have very few federations and only four World Cup sponsors who have spoken up on the issue."
The silver lining?
"For the first time in our modern history, it cannot be avoided. It is a fundamental part of this tournament. Everyone should accept that, acknowledge that and bring it to life," the Australian says.
"Silence is not an option."