Aaron Connolly was the surprise inclusion in Jim Crawford's Republic of Ireland under-21 squad announced on Thursday as he returns to the fold for the first time since playing in a 3-1 victory over Sweden in October 2019.
That was then under current senior boss Stephen Kenny, now under the tutelage of Crawford, Connolly has the chance to reinvigorate his international career.
Connolly has swapped Brighton beach for the Campanile di San Marco in Venice as he aims to kickstart a career that has deteriorated over the last 12 months.
"I've seen Aaron's games. A couple of games he came off he looked sharp. The game at the weekend against SPAL was a difficult game for him and there wasn't too much football played.
"For someone like Aaron you need to get the ball to his feet or he can come and show for the ball but he is looking for one in behind so there was a lot of miscommunication with regard to midfielders and what have you giving the ball away.
"I could see Aaron was a little bit frustrated."
Currently, the Galwegian is plying his trade in Italy's second tier for Venezia, as is fellow Connacht man and under-21 international Liam Kerrigan, who is at Como. Connolly is delighted to be in Italy according to Crawford.
"One thing about him is that he is delighted at the club. He gets on really well with the manager and they train exceptionally hard. He has said that he has never been as fit before in his life.
"They do numerous double sessions, it's the Italian way, but he is happy with it. Going over there was a big decision for him but he needed to get away from the distractions and what have you.
"He is in a happy place now and a happy footballer is a good footballer. We have him in a nice place coming into the U21s now."
His most recent appearance for the senior team came in September last year, but Crawford is confident he can integrate him back into the under-21 set-up.
"I'm confident he'll add to it but it's my job to make sure the balance is there. Aaron can't come in and think he's been on this. We've had that conversation.
"He's been forthright in his views. He wants to be a part of it and is prepared to come, work hard in training and see where it takes him.
"Whether he plays the first leg, second leg, we'll see. In international football, if you have a player with outstanding ability there that you can bring into the group, why not?
"But I do think it was important to have those conversations with Aaron before any decision was made."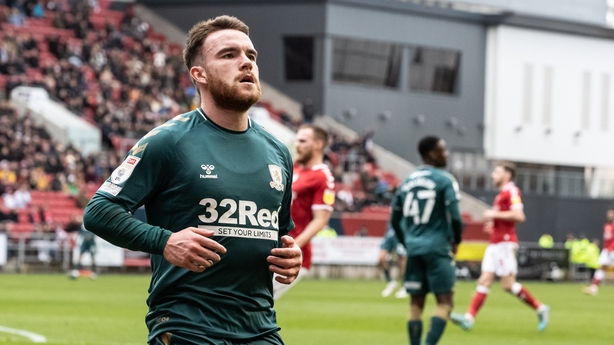 The central striking position has been one of continuous change over the course of the campaign so far.
Colm Whelan, who is currently injured, JJ Kayode, Evan Ferguson and Mipo Odubeko have all led the line at some stage over the course of the ten qualifying games.
"He could slot in but we also have forwards like JJ Kayode and Mipo (Odubeko), Evan Ferguson so you have four top strikers there and we will see how they are in the build up to the game and we will make a decision on the back of that.
"Aaron is aware of that, I have said it to him, that it isn't a case of him coming in and starting. He has to prove to us that he is ready to play for the U21s.
"As I said to him, this is the first time in 17 attempts that the 21s have got this far and its on the back of players performing well, yes, but a real togetherness in the group and he needs to come in and slot in as smoothly as possible. That's what we are about with the 21s and I do think that he will. He was genuine about everything he said."
Ireland have never qualified for a major tournament at this level, something that Crawford and his players will be well aware of.
"It's exciting for the players to be involved in games like this, to create some history, and they are all aware of it. You talk to the players and it's all the talk. That's what they want to do.
"It's at the forefront of their minds and the bigger picture is to get to Georgia and Romania for the finals against top nations. A stage where you will be challenged but, no doubt about it, improve technically, tactically from that whole experience.
"These two games are a serious test but if we can get over that it would be an incredible experience."
The first leg of the play-offs will take place at Tallaght Stadium on Friday, 23 September, where more than 7,000 have already secured their seat for the game. The second leg is scheduled for Bloomfield Stadium, Tel Aviv, Israel on Tuesday, 27 September.
Republic of Ireland senior men's under-21 squad
Goalkeepers: David Harrington (Cork City), Brian Maher (Derry City), Luke McNicholas (Sligo Rovers)
Defenders: Eiran Cashin (Derby County), Festy Ebosele (Udinese), Andy Lyons (Shamrock Rovers), Mark McGuinness (Sheffield Wednesday, on loan from Cardiff City), Jake O'Brien (RWD Molenbeek, on loan from Crystal Palace), Lee O'Connor (Tranmere Rovers), Joe Redmond (St. Patrick's Athletic), Sean Roughan (Lincoln City)
Midfielders: Finn Azaz (Plymouth Argyle, on loan from Aston Villa), Luca Connell (Barnsley), Conor Coventry (West Ham United), Dawson Devoy (MK Dons), Joe Hodge (Wolves), Will Smallbone (Stoke City, on loan from Southampton), Ross Tierney (Motherwell)
Forwards: Aaron Connolly (Venezia, on loan from Brighton & Hove Albion), Evan Ferguson (Brighton & Hove Albion), Joshua 'JJ' Kayode (MK Dons, on loan from Rotherham United), Liam Kerrigan (Como 1907), Ollie O'Neill (Fulham), Mipo Odubeko (Port Vale, on loan from West Ham United), Tyreik Wright (Bradford City, on loan from Aston Villa)