Stephen Bradley believes that Molde are the best team in the group, he acknowledges that Djurgardens will be deemed favourites in the opener, however, the Shamrock Rovers manager expects his team to be competitive and win games having, qualified for the Europa Conference League group stages.
The League of Ireland back-to-back champions made it through to the high-profile stage of the competition off the back of an impressive series of European encounters throughout the summer and find themselves in a quartet alongside Norwegian league leaders Molde, Gent from Belgium and visitors to Tallaght Stadium for tomorrow night's opening encounter, Djurgardens of Stockholm in Sweden.
While the Dublin club are widely considered to be an underdog in terms of qualifying as one of the top two in Group F, their manager is brimming with belief ahead of the six-game series.
Bradley spoke before about Rovers not being there to make up the numbers in the tournament, and he re-emphasised that on the eve of the visit of the Swedish side to what should be a jam-packed Tallaght Stadium.
"We believe we can win games in this group," said Bradley, speaking at the pre-match press conference.
"Is it going to be difficult? Yes. Is it against good teams, big clubs? Yes. But at the end of the day, it is 11 men against 11 men on the pitch and we believe we can win games in this group.
"You need certain things to go your way, but we believe we can go and win games.
"We know these are a difficult team, a good side, but we believe that when we hit our levels we can cause any team problems and hurt any team. And Djurgardens will be no different."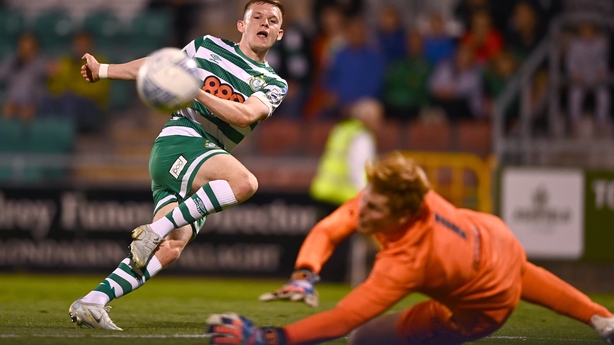 Rovers' European adventure through the group stages coincides with the vital run-in for the league title, with the Hoops three points clear of Dundalk with nine games remaining.
On top of that, and aside from qualification for the knock-outs, there is substantial financial reward at stake for every game in the group, however, the manager said that he is not looking at anything other than the next game and is focusing solely on Djurgardens.
"It's about focusing on what's in front of us, and that's this game," said the Hoops boss.
"We don't think about whether it's two legs or a group stage. In this type of group and this competition against three strong teams, we can't afford to look any further ahead than Djurgardens, and give them the full respect they deserve.
"Everything is focused on tomorrow's game, nothing else.
"[The €500k for a victory] is not of interest to us. It's about making sure we perform first of all. If we perform, let's see can that bring the result. That's all we focus on."
Looking ahead to the game, Bradley revealed that Richie Towell will most likely miss the game through injury, and while Roberto Lopes is back training, the experienced centre-half is still over a week away from returning to first team action.
"Graham [Burke] and Simon [Power] are back," said Bradley. "Richie picked up a knock against Bohs so he'll struggle.
"Pico [Lopes] is another week to 10 days away. We are looking good in terms of the squad being in a strong position."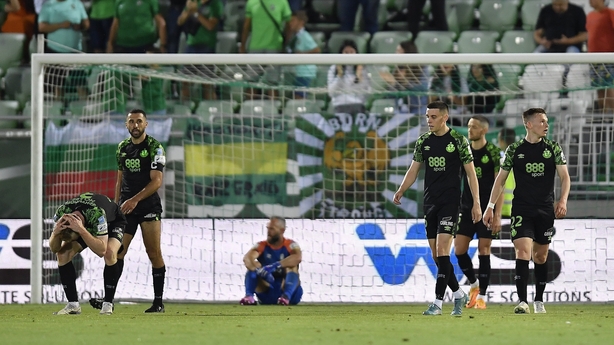 Bradley expects Djurgardens to show their quality in the Tallaght encounter, however, he also feels that the European experience that his side have picked up throughout recent matches and previous campaigns will hold them in good stead against the Stockholm outfit.
Rovers have already played four two-legged ties throughout the summer, beating Hibernian of Malta and North Macedonia side Shkupi, while losing on aggregate to Ludogorets of Bulgaria and Hungarian side Ferencvaros, despite winning both home games.
The manager feels that the defeats, as well as the victories, have helped his side to grow and is convinced that the experience should prove invaluable against Djurgardens and on into the remaining group games.
"They are a very good side, they are near the top of their domestic league," said Bradley. "When you watch them, you can see they are really well coached, some really dangerous players in the team and they play off a structure and a real plan, they are a really good team.
"[Magnus] Eriksson is a standout player, a player of real quality, and the left winger is a real danger, in transitions he is really dangerous, direct and very quick, clever. But they have good players all over the pitch, the full-backs are very attack-minded, especially the right back, the centre forward scored a brilliant goal against APOEL, they have real threats all over the pitch.
"Not just this campaign, it goes back to the campaigns in previous years that we have learned from, we had some good nights and bad nights, some good performances, some bad performances, and we have learned from that," said Bradley, when asked about the vital European experience the players have gained.
"I believe it has made us better, and you need to take them experiences into a game like this one, you need it, there will be times in the game where it will be tough, and that's when you need all the experience of the past."
In the other group game, Molde take on Gent, and while the Rovers head coach is concentrating on the Djurgardens game, he will, no doubt, be anxious to watch how the other two teams get on in a group where teams are expected to take points from each other.
"For me Molde [are group favourites]," said Bradley. "A team that is top of their league ahead of Bodo-Glimt. Right now, I'd imagine it's them.
"I'd imagine Djurgardens are," he added, when the same question was asked in relation to the Tallaght opener.
"But we've faced that a number of times. It's nothing new. And we're OK with that."