Dan Cleary is looking forward to clashing with some quality European teams in the coming weeks butthe Shamrock Rovers defender is well aware of the dangers that come with such high-profile encounters.
Rovers open their Europa Conference League group stages at Tallaght Stadium tomorrow night against Swedish side Djurgardens, and while Cleary expects the team to be competitive in all six games, he knows that a lapse of concentration can prove costly against European opposition.
Further games follow for Rovers against Belgian side Gent and Norway's league leaders, Molde, a side that Cleary came up against in the Europa League group stages while playing for Dundalk in 2020.
"Every time you're in a group stage competition it's going to be top quality you're playing against. You look forward to the challenge. We will get tough games, but we're well up for it," said Cleary, speaking at the pre-match press conference.
"It's the best football in Europe, group stage in Europe in any competition is going to be difficult.
"Look at the teams that are involved in the competition. Mentally you need to be switched on and the second you switch off, if the team takes a ten-minute rest the game could be over.
"When you're on top you have to punish them and if you don't take your chances, they will hurt you," added Cleary, when asked what he had learned from that campaign with Dundalk where the Lilywhites lost all six games in their group.
"It just takes a split second of a lack of concentration and the ball is in the back of your net. It's the top tier and your concentration has to be 99% per cent."
Looking ahead to tomorrow's game, Cleary said that the research had been extensive and that Rovers are well prepared for whatever the Swedish outfit will throw at them.
"We've watched a lot of footage of them and they're a top quality side so probably they would be more than likely favourites from how well they've been doing.
"Their front four or five are very dangerous. We assessed them and they are very good, so we need to be switched on.
"No matter how you look at it, it's going to be difficult. Home or away, that is what you come up against in Europe. Even the qualification games, every single one of them were tough home and away."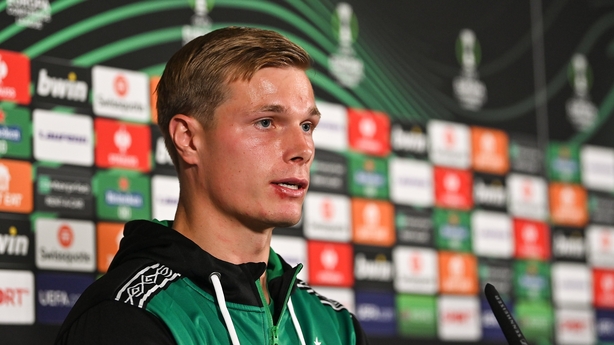 Cleary signed for Rovers during the recent transfer window and has slotted seamlessly into the starting XI, in place of injured stalwart Roberto Lopes, and while he feels that he is happy with how he has began life in the green and white, he admitted that a previous Rovers rendez vous had helped his motivation to kick-start his career.
The defender had trained with the Hoops but Bradley opted against signing him, which led to a social media post by the player with the words, "doubt me now" following a goal against Rovers, having signed for Dundalk.
But Cleary said it was water under the bridge at this stage and wanted to repay the belief that Bradley has shown in him for bringing him to the club.
"That's football, you can't take anything personally in football," said Cleary. "I was young at the time, 20 or 21, when I did that. It was a bit of a laugh and a joke at the time. I don't take it too seriously and I don't think Stephen does either. I'm delighted to be here. He put a lot of belief in me and I'm here to pay him back.
"I like a challenge in football, I like proving people wrong. I think that's what every player should do. You're going to get times in your career where someone doesn't fancy you or a manager doesn't really fancy you at the time but you just have to get your head down and work hard and that's what I did and that's how I was so successful at Dundalk."
And Cleary feels that more quality players are likely to arrive at Rovers off the back of their successful European campaign, while adding that the current crop could well be putting their hands up for international inclusion with big performances throughout the group stages.
"Playing European football is something that is an unbelievable experience and only a certain amount of players get to experience it," said Cleary.
"It will be a massive attraction in getting players to the club and I'm happy to be here again. I was lucky enough to come in at a good stage when we were going to qualify and I was happy to play the part I did in getting us into the group stages, but it is definitely an attraction for players coming to the club.
"I think it has to," said Cleary, when asked if he expected Ireland manager Stephen Kenny to be considering bringing Rovers players into the upcoming squad for the games against Scotland and Armenia.
"There's lads in the team that have been selected before and if lads perform well in the group stages why not?"