The Republic of Ireland have made it to the play-offs for the 2023 World Cup in Australia and New Zealand after a 1-0 defeat of Finland.
What happens now?
This is not a straightforward two-legged tie to make it to the finals.
It's a complex, convoluted system that could see Ireland play one game, or up to four games, depending on an array of results and circumstances.
So, take a deep breath… and let's dive in to the permutations.
---
THE 2023 WORLD CUP PLAY-OFF FORMAT
There are 11 World Cup spots available for European teams from nine qualifying groups.
The nine group winners go straight to the finals, and the nine runners-up head to the two-round play-offs. It's an open draw, so the games could be home or away.
The three best runners-up get byes to round 2, with the other six teams playing three round 1 matches on 6 October. Ireland are currently ranked fourth of the nine likely runners-up and would need to beat Slovakia in their last group game and hope results go their way elsewhere to break into the top three. They'll know exactly where they stand after tonight's round of qualifiers.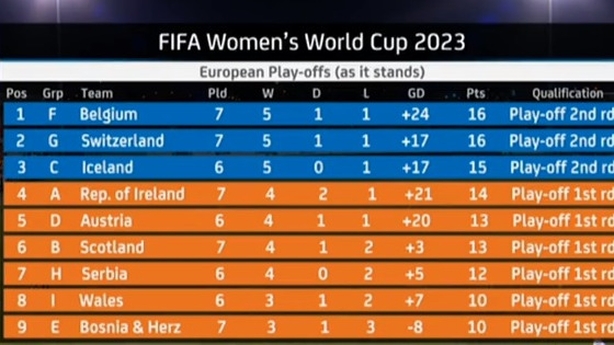 The three round 1 winners progress to round 2.
The two winners of the round 2 matches with the highest ranking (based on results in the qualifying group stage and the round 2 games) progress to the World Cup finals.
The remaining play-off winner will go to the inter-confederation play-offs from 17 to 23 February in New Zealand where they will be placed in a three-team group with two of the following: Chinese Taipei, Thailand, Cameroon, Senegal, Haiti, Panama, Chile, Papa New Guinea.
Win your inter-confederation play-off group and you're heading to the World Cup. If Ireland have to take this route they will likely be the highest-ranked team there so their chances will be good.
There'll also be friendlies against New Zealand and an additional guest team thrown into this mini tournament which would double up as good prep for the finals.
"We have always been fighting to get to this position," Pauw said this week. "We've been fighting for this, we've earned it ourselves and everybody wants us to succeed, so what more would you want?"
The panel assess Ireland's playoff path after they guaranteed their place with a 1-0 win over Finland in Tallaght #rtesoccer pic.twitter.com/6sHEt274Z2

— RTÉ Soccer (@RTEsoccer) September 1, 2022