Louise Quinn has hailed Vera Pauw as "the bravest woman on our team" ahead of the Republic of Ireland's huge World Cup qualifier against Finland on Thursday night.
In July, Pauw revealed that she'd suffered abuse and serious sexual assault during her time as a player and coach in Dutch football.
She informed her players before releasing her statement, and has spoken about the enormous support she's since received from the squad, the FAI and the Irish public.
Veteran defender Quinn admitted the players were shocked, saddened but ultimately hugely proud of their boss in the wake of the revelations.
"It was one of those things that's very difficult to hear from someone you are so close to in a camp, but for me, how she has handled herself as a person... so brave, so composed," said the Birmingham City centre-half.
"Because it is now on her, she now has to go to the media, and it is so personal.
"It is extremely tough. She was composed, she was brave, she was strong, she is going to help a lot of people.
"We've obviously had our chat with Vera. It was all the same stuff. We've come together as a group, but we just all let her know as the group or as individuals that what she's done is one of the bravest things. It sets an example.
"She says she's still the same Vera but a better Vera and... for her personally that is amazing."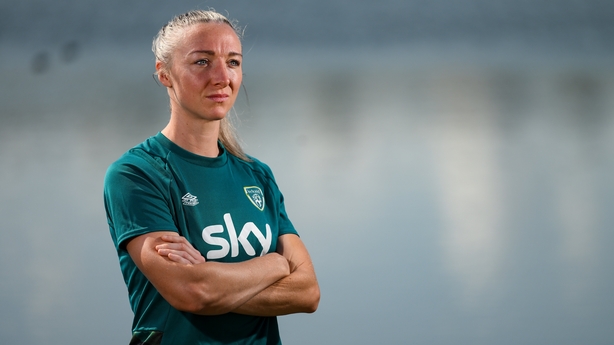 Quinn said the outpouring of support for Pauw from the Irish people made her feel proud, adding: "It doesn't surprise me, but you love to see it.
"She doesn't have her Irish passport but she feels that support coming from every angle and for her, from the way the FAI handled it, the way she spoke to us as a team, then the outer circle of the public, that's where you feel, where you hope people will be OK.
"It hasn't surprised me how people reacted to it and have been so supportive. It shouldn't have to happen, a person shouldn't have to go through that and hold onto it for so long.
"It's heartbreaking, so to do it in this moment, it will only make her a bigger and better person. She's the bravest woman on our team right now."
The sense of Irishness, and what it means to be Irish, was a bit of theme as Quinn spoke to the press ahead of the sold-out Finnish clash.
The well-travelled 32-year-old is playing for and living in Birmingham, a city with a deep Irish connection. Quinn is sticking with the Blues after they got relegated from the Women's Super League last season.
The vibes are good she insists, thanks in no small part to a healthy Irish contingent that includes herself, Lucy Quinn, Jamie Finn and Harriett Scott, who are all in squad to face Finland.
"It's about trying to find a bit of a home away from home," said Quinn. "Obviously, in Sweden and Italy, that was a bit more difficult and I struggled there a bit more.
"At Arsenal, I was feeling at home and the surroundings as well... but that's football, things happen and contracts end and sometimes you have to move on.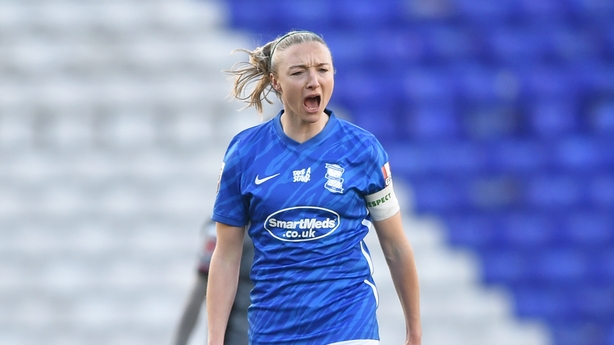 "But for me, Birmingham has that great mix now of being a 40-minute flight home, having plenty of Irish around the area, and in the team as well, that balance and having that feeling of a home away from home, that comfort.
"It is always something I always wanted in my career, you want to share everything with your closest people as much as you can. We don't get the money that the men get, where they can pick up and go and bring their family.
"So you actually have to do your dream job away from your most loved ones, close family and close friends and then link in with them when you can.
"We do well at sticking together and helping each other out when needs be. It's a very different city but I absolutely love it. They're mad."
A "special" Euros in England has further increased Quinn's desire to reach a major tournament.
The host nation went all the way in the competition - and the impact of their achievement was evident in the bars, towns and cities across the country.
"One of my friends has an Irish pub in Birmingham, and he'd just show the game, and just the comments, it was 'Beth Mead, she's…' it was completely normal. Obviously it is normal, but just [having people] latching onto these players names, learning them, knowing these stats and facts, 'Ah yeah, did you see that little turn she did'. It was just normalised, the whole game of football.
"It was excellent. You could see that the buzz back here in Ireland, RTÉ doing such an unbelievable job of making every game possible [to watch].
"It was tournament football, it was nations against nations. And I also just thought, for me, it was the best I've seen in the women's tournaments in terms of quality of the game. I just enjoyed it."
Listen to the RTÉ Soccer podcast on Apple Podcasts, Spotify or wherever you get your podcasts.
Follow the Republic of Ireland versus Finland this Thursday via our live blog on RTÉ.ie/sport and the RTÉ News app, watch live coverage on RTÉ2 and the RTÉ Player, or listen to national radio commentary on RTÉ 2FM.