Tim Clancy said that St Patrick's Athletic had been hard done by after their Europa Conference League third round qualifier exit to CSKA Sofia on Thursday.
The Saints took the minimum advantage into the second leg at Tallaght Stadium, but a goal in each half was enough to see the Bulgarian side through as they prevailed 2-0 on the night and 2-1 on aggregate.
It was a game played on a warm August evening and the temperature on the field simmered throughout, with 10 yellow cards shown during the game, as well as two reds after full-time.
But it was the awarding of the penalty after a handball by Harry Brockbank which most frustrated Pat's manager Clancy.
"Looking back at the penalty decision, it hits their player's hand first before it goes on to Harry's hand," he said at the post-match press conference.
"Over the two legs, with two different sets of officials, I feel we certainly weren't getting any of the decisions.
"That's a huge decision tonight to give a free-kick in front of the dugout when we're on attack. And then to give the penalty. It hits Garcez's hand first, he heads it onto his own hand, then Harry's hand.
"Moments like that are huge for the likes of us to go through against a hugely established club in European football, and it's a sore one."
St Pat's 0-2 CSKA Sofia (1-2 on agg) - Disaster for St Pat's. Harry Brockbank is ruled to have handled in the box, Ivan Turitsov duly rolls home the penalty https://t.co/dAnLwqdW0w #RTEsoccer pic.twitter.com/suMap9ArFm

— RTÉ Sport (@RTEsport) August 11, 2022
The Saints were far from overawed by the visitors, whose league is ranked some 16 places higher than the SSE Airtricity League in the UEFA coefficient rankings.
Clancy's side had chances in both halves, with Adam O'Reilly forcing CSKA keeper Gustavo Busatto into two saves before the break.
Serge Atakayi also stung the palms of Busatto, while Anto Breslin spurned a glorious chance as Pat's gained the upper hand in the second half, pushing Chris Forrester's cross wide from right in front of the goal.
"I think the best chances in the game we had," Clancy continued.
"At this level of European competition they're the chances that we have to take. We've players with energy getting into the box.
"Serge scores a great goal out there last Thursday and then he gets one-on-one this time and the keeper makes a save.
"We're happy to create any chances and whoever it falls to we were just hoping they could take it, and we were unfortunate we didn't tonight.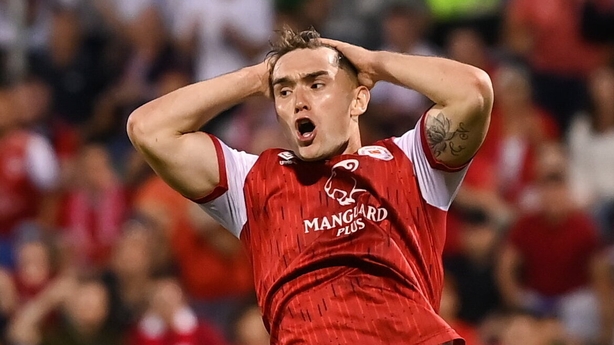 "We were expecting a different CSKA from the one last week. They moved the ball a lot quicker, did a lot more interplay up front.
"But after a hectic 20 minutes we settled into the game. We started finding players going forward and then the second goal is a killer.
"They (the officials) won't have to come out now and explain why a decision was given in front of the dugout. I've no idea why it was.
"He was really quick to put the whistle in his mouth and give the bigger club the decision.
"We're not naive enough to think we're a better team but I thought we did well over the two legs and we were unlucky.
"When you look at the game in Mura, we probably wouldn't have been the favourites either, so we did very well. The players were outstanding for the four games we had in Europe this year.
"It's with pride that we go out. It wasn't a performance that we weren't happy with, or frustrated with; I thought we played excellently in all four games."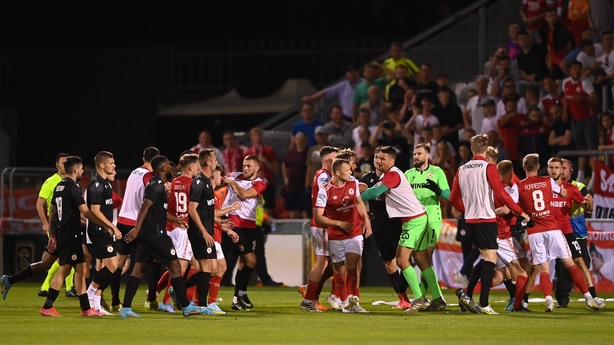 Clancy said that the scenes afterwards were chaotic and that he hadn't spoken to the officials about the awarding of the penalty.
For Pat's midfielder Jamie Lennon, the reason for the trouble at the end was down to the way the Sofia players celebrated their progress.
"It was probably just frustration from both players, but one of their players celebrating in front of our fans, I don't really like that," the 24-year-old said afterwards.
"Looking back now, it's probably a compliment to us because after Mura I'm sure they were rubbing their hands together, thinking they were going to play us in an easy next round and get through.
"The reaction in front of our fans shows that they knew coming here was going to be tough and they're probably happier getting a result here than we were over there.
"We just get on with it. Stuff like that happens after but it's settled down now."