Shamrock Rovers hope to play their upcoming European competition group stage games in Tallaght Stadium but are examining the possibility of renting the use of the Aviva Stadium ahead of discussions with UEFA.
The Hoops guaranteed themselves a slot in the group stages of the Europa Conference League at least, with a 5-2 aggregate win over North Macedonian champions FK Shkupi in the Europa League Third Qualifying Round.
They could yet break into the group stages of Europe's second tier competition instead, with a Europa League playoff tie against Hungarian champions Ferencvaros upcoming.
Shamrock Rovers famously made the Europa League stages back in 2011 under the management of Michael O'Neill, with a stunning victory away to Serbian outfit Partizan.
That year Rovers played their group games in Tallaght, though reports today indicated the club were investigating the possibility of playing in the Aviva Stadium, should the need arise.
However, the club's Head of Communications Mark Lynch told RTÉ Sport that their preferred option is to remain in Tallaght for the group phase.
"That'd be our ambition. Tallaght hosted the 2011 Europa League games. Rules and categorisations of stadiums have changed in the meantime," Lynch said, when speaking to RTÉ Sport's Dave Kelly.
"But no decision has been made. But it is our hope that Tallaght Stadium will be suitable for UEFA standards and that's where we'll play our games.
"But there's no decision, that's an evolving picture. Meetings with UEFA will kick in now, now that we know we're in a group stage."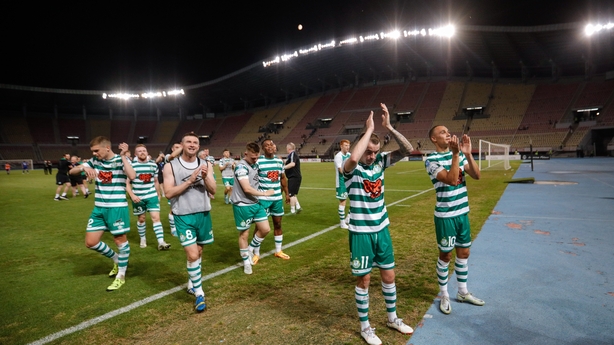 If forced to search for alternatives, Lynch said that the Aviva Stadium wasn't the only venue on the table but may be the most obvious.
"It might be the most practical. In previous years, other clubs have played European games in venues like the RDS as well. The Aviva probably stands out. We'll see what tournament we're in for a start and then we'll see what opponents we're playing.
"But Tallaght has been hugely successful for Shamrock Rovers, and I hope vice-versa, since we've been there in 2009.
"Our results this year in Europe have been built on a huge home support that has aided the team in our home games in Tallaght. So, we wouldn't walk away from that easily."
The Hoops' European run has delivered a significant financial windfall for the club, with €3.3 million now guaranteed. Lynch, who is quick to cite costs as an offsetting factor, says the club will continue to invest in their academy off the back of the adventure.
"The amounts are significant but offset by significant costs as well. The conditions and the market in air travel for example is extremely difficult to manage, not just logistically but comes at a heavy financial cost.
"But there's no doubt that the financial return is there, as it has been for ourselves the previous time and Dundalk in other years.
"It'll help bolster the club. When there's profits, it gets re-invested into the club. We've built a tremendous academy structure that we'll continue to build and evolve. That's what we'll do. We'll invest in the club."