Stephen Bradley is hopeful that Gary O'Neill's last-gasp goal against Shkupi at Tallaght Stadium will prove to be the difference for Shamrock Rovers as the manager anticipates a difficult return leg in North Macedonia.
The midfielder curled in from outside the box to net the Hoops' third goal with the last kick of the game in the 3-1 first leg win in the Europa League third qualifying round, giving the League of Ireland champions vital breathing space for next week's second leg.
The goal came after Shkupi had marked their second-half improvement by pulling a goal back before a red card saw the visitors reduced to 10 men.
Speaking to RTÉ Sport at full-time, shortly after O'Neill's crucial finish, Bradley was reminded of Ludogorets' killer third goal against his side in the Champions League second qualifying round first leg a fortnight ago.
"We'll know after Tuesday how big it is but we saw how big Ludogorets' third goal was against us so hopefully it's a really important goal," he said.
"But I'm delighted. The fans were fantastic again. We weren't at our best but we got the win and we know we have a real game on our hands next week."
While Shkupi are not household names, they did run Croatia's Dinamo Zagreb close in the Champions League qualifiers and eventually showed a glimpse of their quality in the second half against Rovers.
"We knew from watching them that they were a good side with dangerous players," said Bradley.
"Anyone that can run Dinamo so close over two legs has quality so they showed in the second half what they're going to bring over there.
"It's very tight. We need to go there with the mentality of trying to win the game. We can't go there with any other mentality because they showed for 20 minutes in the second half that they have the quality to go and hurt us.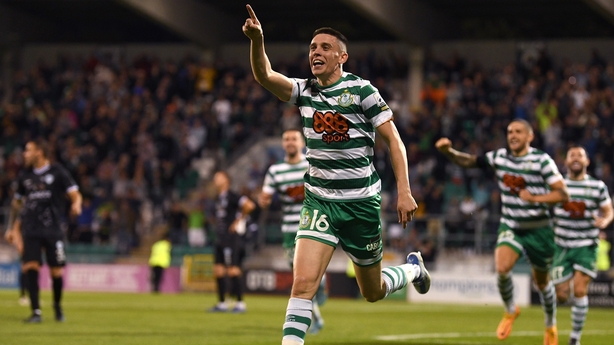 "So we need to go with the mentality that we need to win the game."
Much of the pre-game focus on Thursday centred around Shkupi's fury over their travel plans which saw them fly into Shannon airport rather than Dublin.
"We had the exact same problems going to Bulgaria," Bradley said in response.
"It's probably just their manager trying to motivate his team, to be fair, that everyone's against them. But I don't think they can blame us for that one."
Shamrock Rovers do have some injury worries to contend with. Graham Burke, the scorer of the opening goal from the spot, and midfielder Chris McCann were both withdrawn, while playmaker Jack Byrne was another absentee.
"We'll need to look at Graham. I think he's fine. Chris is the worry. He came off and we lost a bit of control when he came off," said Bradley.
"Jack worked really hard before the game but I think he'll be fine and I think he'll be back for Tuesday."
Bradley also offered a word of praise to St Patrick's Athletic after their win at CSKA Sofia in the Europa Conference League, describing the result as "fantastic" and adding that it shows the progress made by Irish league clubs.
"You need to produce it in Europe to show that and both of us have tonight."