Ireland might yet have two teams in the group stages of European combat for the first time after Shamrock Rovers defeated their North Macedonian rivals Shkupi 3-1 – the ultimate victory in a game billed as a struggle between good and 'evil' prior to kick-off by the visitors.
Rovers dominated the opening quarter of a contest marked by questionable Shkupi defending after which Graham Burke (penalty) and Dylan Watts helped the Hoops ease into a commanding position.
Queven Da Silva Inacio's goal ensured that the tie is far from over ahead of the return leg, the loss through injury of Chris McCann really hurting Rovers after an hour of dominance.
But Gary O'Neill restored the Hoops' two-goal cushion with a screamer at the death and that should be enough for Stephen Bradley's men.
St Patrick's Athletic are hosts here in a week's time in the Europa Conference League as CSKA Sofia bid to overcome a 1-0 deficit before what will likely be a sold-out Tallaght, albeit one in red and white – and these are rare days of bounty for the casual League of Ireland fan in the capital.
Rovers realise a place in the Conference League group stages is theirs if they win this tie on aggregate (at worst) but their eyes are on a spot in the Europa League's bunches of four – 11 years after they overcame far greater odds to achieve the same under now-Stoke manager Michael O'Neill, breaking a mould at the time.
They would have been worried had they only won by a goal here but Shkupi deserved a goal after a spirited performance, if not the perceived travesty of their preparation.
And O'Neill, one of the league's most underrated players, rather changed the outlook at the conclusion of a thoroughly barmy day.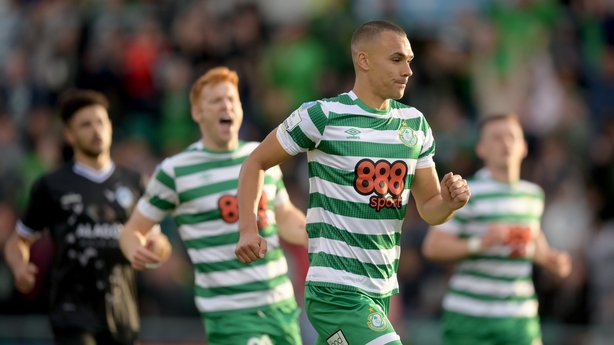 As pre-match sideshows go, there is none in memory to rival this. It is remarkable and pathetic the hysteria Europeans feel when travel plans go a little awry – but Shkupi achieved another level.
"A huge shame on our team in Ireland!" roared the headline on their website, in capital letters.
"Our team is being interfered with by making small plays in such an unbecoming manner," the statement went on.
"Despite our budget, we were trying to keep our players comfortable by hiring a charter plane and paying thousands of euros to ensure that our players could make it to the Europa League in good health, but the Irish government did not listen to UEFA, despite the intervention of UEFA, landed us 300km away from Dublin and gave our team an undeserved treatment on this journey."
Presumably unaware of the bizarre reality of air travel in Ireland now, with St Patrick's heading to Bulgaria yesterday via Knock for example, the Macedonian club was seemingly obvious to the issues Rovers have had on their own European forays this season.
This website's story on the tragicomedy – "Shkupi promise revenge over 'evil' Irish airport woes" – was the sports section's most read page as kick-off approached: Shkupi were doing the match's promotion no harm, in any event.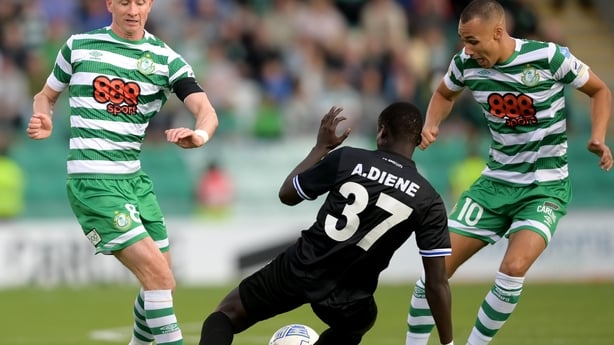 A football game took place in its own time on a beautiful evening in Tallaght. Your reporter spent the pre-game in the Rovers members' bar watching St Patrick's beat CSKA Sofia on the box and, rivals though they may be, there was a loud roar when the team from Inchicore broke the deadlock.
Saints may yet make the Conference League group stages but that's the least Rovers want to achieve this summer. It was soon apparent that the team from the Balkans were here with intent, perhaps because of the horror of their travel woes. They had three players up top at times against Rovers' back three. It was made for entertainment and drama.
Rovers had a real chance ten minutes in. Sloppy Shkupi play led to Watts winning the ball in a dangerous area; he fed Gaffney, who neither shot nor passed – and the ball was cleared for a corner. The ball wasn't made safe from same and Diene Albert Lamane's crazy challenge on Andy Lyons saw Polish referee Bartosz Pawel Frankowski point to the spot.
Up stepped Burke and it felt like he was never going to miss, despite the keeper guessing correctly.
Shkupi rallied and had a little spell of pressure, Rovers' defence helped by the great noise of their ultras behind Alan Mannus' goal.
Burke has been outstanding in this Rovers run and his errant drive on 21 minutes was nearly hooked in by Ronan Finn, achieving his 52nd appearance in Europe.
Rovers made it two on 28 minutes. Burke, who was roundly admonished by both his team-mates and manager for having a kick at a Schkupi player, roared in frustration but seconds later brilliantly controlled a Mannus kick-out to find Gaffney; the Galwegian instinctively knew that Watts was in a better position; gifted technician Watts slotted into the bottom corner, illustrating why Bradley has bemoaned his lack of goals generally as a Hoop.
Angelce Timovski's drive reminded Mannus, who is having a near-flawless season towards his career's twilight, that this game was far from over. Burke replied with a drive of his own, Kristijan Naumovski looking every inch one of those continental keepers who would punch 100 times for every catch he makes.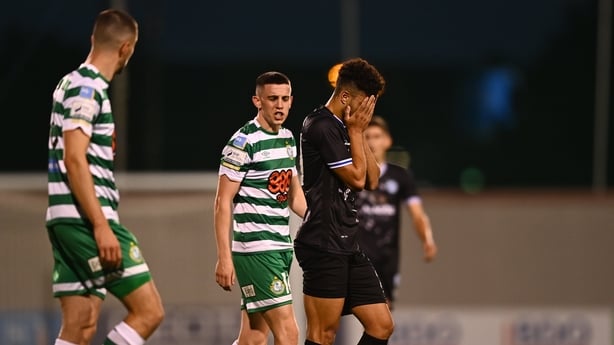 Freddy Alvarez wears 10 for a reason and his curling-free kick had Mannus scrambling but Rovers went in two up and in command at the break.
Both Ireland manager Stephen Kenny and 21s equivalent Jim Crawford were among a 6,455-strong Tallaght crowd. The visitors knew that they were very much back in the narrative if they scored and Mannus had to tip over from Sundat Damilare Adetunji's header five minutes after the break.
O'Neill rarely shoots, let alone scores; on 55 minutes his outside-of-the-foot sizzler had Naumovski stretching to parry.
Inacio had Rovers fans gasping on 62 minutes as his excellent left-footed drive served to prove both that the job wasn't yet done for Rovers and how well Mannus is playing this year: the Northern Ireland international's parry was outstanding.
Watts seemed odds-on for his second on 66 minutes after a brilliant tee-up by substitute Richie Towell but Naumovski read the shot and saved well.
Mannus made an incredible save from substitute Adem Ali with 19 minutes to go. Little doubt Ali should have scored after the ball ricocheted his way but Rovers thought they'd look back on this moment with great relief this evening.
However, Inacio looked to have ensured a compelling tie in Macedonia with his reply on 76 minutes. Mannus might have done better but it appeared that the ball was moving viciously and deceived him from about 25 yards.
With six minutes to go, Walid Hamidi rightly saw yellow for a second bad tackle.
Sean Hoare was nearly the unlikely late hero with a mazy run and drive. Instead it would be O'Neill, curling into the top corner to make the place go wide with Rovers' last touch.
It's a long (er) way home to Macedonia.
Shamrock Rovers: Mannus; Gannon, Hoare, Grace; Finn (Farrugia 73), McCann (Towell 61), O'Neill, Watts (Kavanagh 73), Lyons; Burke (Greene 54), Gaffney (Emakhu 73).
Shkupi: Naumovski; Timovski, Faustin, Margvelashvili, Demiri (Brdaovski (46); De Silva Inancio (Abdullai 90), Alvarez (Ali 64), Lamane; Hamidi, Adetunji (Georgiev 64), Cephas (Trapanovski 64).