World Cup Qualifier - Group A
Georgia v Republic of Ireland, Tengiz Burjanadze Stadium, 5pm
TV
Live coverage of all the build-up and match action from Gori from 4.30pm on RTÉ2. Streaming live online on RTÉ Player.
RADIO
Live radio coverage on RTÉ Radio 1 Extra.
ONLINE
We'll have a live match tracker on rte.ie/sport, the RTÉ News app, as well as updates and goals on RTÉ Soccer Twitter and RTÉ Sport Facebook.
WEATHER
Temperatures are expected to fall into the lows 20s by kick-off time with the chance of passing heavy shower
The Girls in Green know that seven points from their remaining three games - or six from their next two, as manager Vera Pauw pointed out at yesterday's pre-match press conference - will be enough to see them claim a play-off place as they look to become the first Irish team to ever qualify for a major championships.
Ireland go into the game later in third place in Group A, two points behind Finland, who come to Dublin on 1 September.
The message all week from the camp has been about raising the standard of performance, with Diane Caldwell suggesting the team have another level to reach.

Pauw echoes these sentiments - "we always want to go higher, and that's why we've played against higher ranked teams" - but the hope would be that this talk is with Finland and Slovakia in mind in September.
The 'higher ranked teams' referenced are Denmark, Belgium and Iceland (twice) who turned over Ireland at the end of a run of seven defeats in a row up to June of last year.
Since then though, the mood has been positive, with a sense that it's all heading in the right direction towards a crescendo in September.
Sometimes it can seem like one step forward and two steps back with this team. In the last European Championship qualifying campaign, Ireland beat Ukraine at home, but dropped points to Greece the following month after conceding a 93rd minute equaliser.
A play-off place was still in their hands heading to Kyiv, but a bizarre own goal - when an attempted back pass by Áine O'Gorman fizzed past goalkeeper Courtney Brosnan - put paid to their chances of booking a place in next month's tournament in England.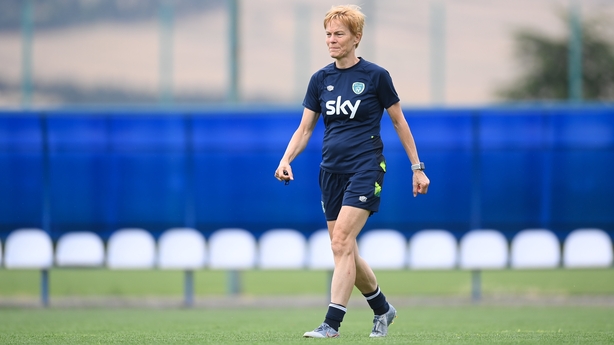 This time around they managed an away win against second seeds Finland, but they followed it up with a frustrating home draw against Slovakia. It is worth noting though that the Slovakians also took two points from the Finns in Trnava, and only lost 2-1 in Turku.
"It's almost second nature of a team that is growing," Pauw says of those previous disappointments.
"I've experienced that with every team, games like this, and the way that we didn't qualify in the first attempt.
"Every team that goes to the top goes through that stage. There's only one game that can stop you from qualifying. The Greece game was a setback but it did not make any difference to our qualifying.
---
Clean bill of health for Vera Pauw ahead of crucial clash with Georgia
---
"The away game in Ukraine, that is the biggest frustration. I've had that with all the squads that I've brought to the top.
"So it's part of a process and we're much further in our development than we were when we played Ukraine."
Whatever about what has gone before though, Ireland beat the Georgians 11-0 the last time out, so anything other than a victory - and a comfortable one at that - would be unthinkable.
Looking at the players that have been involved most regularly throughout the campaign, Savannah McCarthy is not in the squad as she continues her recovery from an ACL injury suffered in March.
Diane Caldwell played in the friendly win over The Philippines last weekend, as part of their 10-day camp in Turkey, and it would seem a natural swap for her to take the position vacated by McCarthy.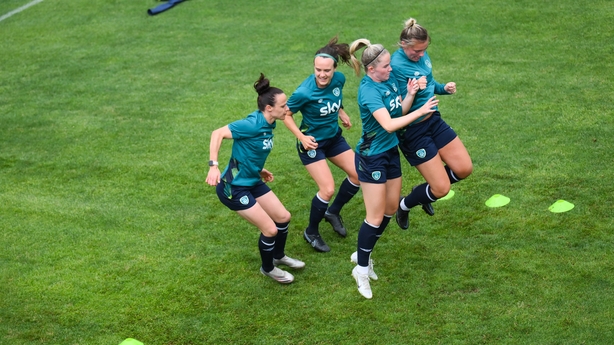 In the same game Lily Agg scored on her debut to put herself into contention, while Roma McLaughlin Stephanie Roche and Abbie Larkin were all given game time.
It's likely that Pauw will give plenty of her players game time, although she was insistent yesterday that you can't experiment in a qualifier.
The majority of this evening's host squad plays their club soccer in Georgia, although Qvelidze Tako is with FV Ettlingenweier in Germany, while Danelia Natia and Cheminava Ana are based in Uzbekistan with FC Sogdiana.
Watch Georgia v Republic of Ireland live on Monday 27 June on RTÉ2 and RTÉ Player from 5pm, listen to radio commentary on RTÉ Radio 1 Extra, or follow via our live blog on rte.ie/sport or on the RTÉ News app