The Republic of Ireland have a clean bill of health ahead of tomorrow's crucial World Cup Group A qualifier with Georgia.
A victory for the Girls in Green in Gori will move them up to second in the Group A table ahead of Finland, their main rivals for the play-off place.
Manager Vera Pauw has confirmed that Courtney Brosnan will start the game - as she has done for all five qualifiers so far - but the rest of the team selection won't be known until closer to kick off tomorrow evening.
The squad arrived in Georgia yesterday, after a week of acclimatisation in Turkey, although the weather is now expected to be slightly cooler than they had been planning for - mid-20s, with the potential for showers.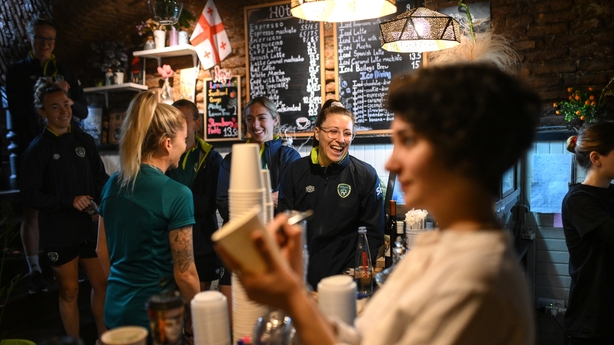 For Pauw though, the long spell together with the squad, including a friendly win over World Cup-bound The Philippines, is a "luxury" which she hopes can stand to them, not just in tomorrow's game, but for the showdown meeting with Finland in September.
"You make a huge jump in it and it will hopefully benefit our preparations for Finland, if we can get through this game in a positive way," she says at the pre-match press conference.
"The good thing is that players could get rhythm. Being together for such a long period is a luxury. On the other hand you need to be careful of not using every minute because that would not help the learning process.
"It needs to settle in the brain, and physically you need to be able to train [at] 100% and, if you're tired, you cannot train 100%.
"So we've had recovery days and off days in between. That is part of that process of being together for so long and being able to go through so many subjects with them.
"We're very grateful."
Unusually, after the victory over the Philippines, a selection of players from both countries' extended squads played a 9v9 game, in order to give all players in the Irish squad the best chance to be fully fit ahead of a crucial week.
"We called the Philippines and asked if they wanted to have a scrimmage straight after the game," Pauw adds.
"I don't think anybody experienced that [before]. They also wanted it, so we played straight after the international game on the same pitch, 9v9 with the goals on the 18 yard box.
"So it was still Ireland against The Philippines so that all the players had exactly the [training] load that they needed that day."
Qualification is in the team's hands but they've been here before.
In attempting to make the European Championships - which kick-off in England next month - Ireland needed a draw against Ukraine to secure a play-off place.
But a bizarre defeat in Kyiv, in which Áine O'Gorman scored an own goal with an attempted back pass which slid by Courtney Brosnan, saw them ultimately miss out by two points.
So while the players know exactly what they need from their next three games - two wins either side of at least a draw with the Finns in Dublin - Pauw isn't taking anything for granted.
"We had that before against Ukraine," she says when it's put to her that they're in control of their own destiny.
"We have to do it and that is the challenge we have. First this game, we have to win this, and then Finland is ahead of us and we think that going for a win is the best thing there.
"It's not so much about scoring early in the game, it's about pressing. We don't want to get into a game where we're trying and trying, and getting frustrated, and the ball is going out.
"The ball is being kicked out and long and we don't really penetrate. That is the danger in this game. That is what we've been training to work against."
Watch Georgia v Republic of Ireland live on Monday 27 June on RTÉ2 and RTÉ Player from 5pm, listen to radio commentary on RTÉ Radio 1 Extra, or follow via our live blog on rte.ie/sport or on the RTÉ News app
Listen to the RTÉ Soccer podcast on Apple Podcasts, Spotify or wherever you get your podcasts.