Dundalk manager Stephen O'Donnell is refusing to get carried away with the talk of his side being in a title race, despite their impressive 1-0 victory over Shamrock Rovers.
A fine second-half goal from Robbie Benson proved to be the difference between the sides at Oriel Park as Dundalk had too much for a strangely flat Rovers side.
The Hoops were without the injured Jack Byrne and Gavin Burke, and the win for Dundalk leaves the five points behind Rovers with a game in hand.
O'Donnell believes his team were full value for their victory.
"I'm delighted with the win, I thought it was deserved," he told RTÉ Sport. "It was a tough first half, we controlled the game but they had chances.
"They tried to identify balls over the top and tried to play off Mandroiu and Gaffney getting in behind.
"There were a couple of scary moments, they're good players but I thought we controlled the game.
"We were a little bit tentative the first half, the second half better and we created more and I thought – it was a thoroughly deserved win."
Should Dundalk win their game in hand the gap will be down to two points, with the sides due to meet again in August. However, O'Donnell is not looking past his side's next game.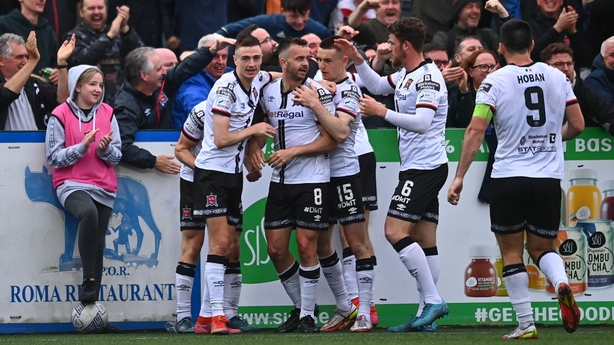 "There's nothing different with regards to me saying something about a title race in an interview or that, that's all just talk, actions are what we want," he said.
"We were happy with a lot of things, the way we were training when we were getting all those draws and people were saying we were disappointing and then we've gone on a run.
"It's going to be actions that are going to determine anything, it's not going to be me saying we're in a title race or we're not in a title race.
"We're doing really well, we're on a very good line and that's the bottom line but if we take our foot off the peddle and start talking nonsense in interviews, or take our eye off the ball, we won't be anywhere near the top.
"I think it's 17 games left, so it's a mile out from the end of the season.
"It's a good win against the defending league champions, we're delighted with it and it keeps our good run going and we're looking forward to what's going to be a really tough game against Shelbourne next Friday."
Shamrock Rovers director of football Stephen McPhail was in the dugout for Stephen Bradley, who was absent for personal reasons, and McPhail is not pressing the panic button, despite the defeat.
The former Ireland international was pleased with Rovers' performance, if not the result.
"In general, I thought the performance wasn't bad," he said. "We were the ones in the first chance making chances.
"Alan [Manus] had hardly anything to do other than the goal so that's a frustration but performance-wise, we're not too disappointed. The result is one you take on the chin and move on.
"This game wasn't going to define us winning the league or them coming after us and we're going to be focused totally on our three games next week."