Didi Hamann offered Ireland a ray of hope on what was a bitterly disappointing day for Stephen Kenny's side in Yerevan.
The former Germany midfielder, working as a pundit for RTÉ television during the game, felt that Ireland were impressive for 60 minutes and controlled the game.
It is a trait that Hamann believes is a vital ingredient in any team, which allows the tempo to be set and offers the ability to stick to the gameplan and control affairs.
The former Liverpool and Newcastle man said that he has been impressed with Kenny's side in recent games and stated before the match that he has not been so confident of a victory in a long time.
As it turned out, the confidence proved premature, as the team failed to capitalise when in charge of the game and then unable to react once they went behind.
"You have to score when you are on top, and in the first half, it was all Ireland," said Hamann, speaking in the post-match analysis.
"If you go in 1-0 up at half time then it's a completely different game
"And then in the second half at times they were a bit too casual. They let Armenia back into the game because they gave two or three easy balls away.
"They got their goal and all of a sudden, they looked like a good team."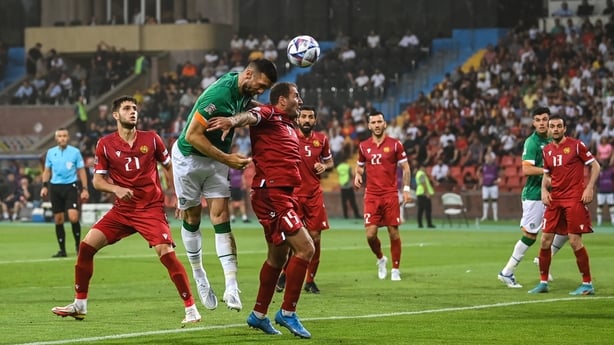 Hamann was critical of the attacking unit and felt that the subs who came on to change the game also failed to have the desired impact, with Chiedozie Ogbene the only player who impressed in the final third.
"Apart from Ogbene, there was no threat whatsoever. Robinson no, Parrott no, Hendrick was poor today," said Hamann.
"The subs who came on, Knight, Keane, they didn't do anything for the game, they didn't do anything positive.
"Ogbene has been a shining light."
Hamann was also critical of the team's inability to capitalise on their set-piece opportunities, as well as the fact that they did not vary the approach, failing to use the height advantage and threat of players like Shane Duffy and John Egan.
"A set-piece could have changed the game. One set piece could make all the difference," he added.
Looking ahead to the rest of the group, where Ireland will play Ukraine and Scotland twice, as well as the return clash with Armenia, and despite the defeat, Hamann believes that the team are capable of beating the other sides in the group and can still secure top spot.
"Performance-wise, over 55 or 60 minutes, I wouldn't criticise or blame them, I think they did what they had to do.
"They maybe got a little bit careless and a bit of complacency at this level makes you lose the game.
"But in four days' time they have a chance to rectify it because they have a huge game against Ukraine where they can get three points.
"Of course, it's not impossible to win the group as all the other teams are beatable. There are 15 points to play for and if you get ten or eleven, it might be enough.
"So I'm still confident. And as Ogbene said, 'it's a learning curve', so the positive thing I will take is that for 60 minutes they controlled the game, which they weren't capable of in the past.
"They did that, but just failed to score."