A very disappointed Stephen Kenny offered up no excuses for his side's unexpected defeat in Armenia and admits that his side have it all to do if they are to have a chance of winning their Nations League group.
In the absence of World Cup qualification and with Euro 2024 still a long way off, the Ireland manager has been targeting the League B group as an achievable goal for the 2022 calendar.
However, a 74th-minute strike by Styopa Mkrtchyan proved decisive at the Republican Stadium in Yerevan as the hosts served up a 1-0 shock defeat on the travelling Irish.
Ireland dominated large parts of the game in Armenia but only managed two half-chances on target, while they were guilty of spurning some better opportunities with players missing the target completely.
"It's a very disappointing result, there's no getting away from that," said Kenny, speaking to RTÉ Sport after the game.
"We're very disappointed with ourselves to lose in Armenia, again to a goal from distance like that that, that was disappointing.
"We had some chances in the first half, last 20 minutes of the first half I thought we were starting to really get on top.
"We didn't carry that into the start of the second half, they were a threat to us on the counter and we got punished. And we're disappointed."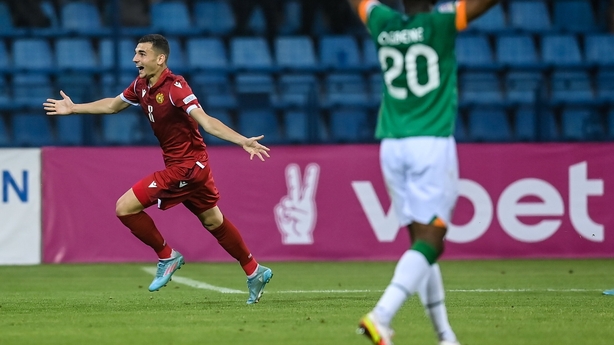 The Armenia goal came from a moment of magic from the attacking midfielder who beat Caoimhin Kelleher from distance, and the Liverpool goalkeeper, who was making his competitive debut for Ireland, could do little about the quality strike from 35 yards out.
But there was a lack of quality in the Irish attacking play and the team often appeared a touch sluggish with uncharacteristic mistakes disrupting the approach and affecting the tempo of the game.
And the manager admitted that his side were sloppy at times, with some of his players idle since their club campaigns finished, in some cases up to a month since the game in the Armenia capital.
The manager organised a game with the Under-21s earlier in the week yet it could hardly compare to the high-octane atmosphere of a competitive international fixture.
"Not all of them (the players) are up to speed, there's no doubt about that having finished a while ago," said Kenny .
"But we're not using that as an excuse. There was a lot of good passes as well, some careless ones.
"We just need to be better for Wednesday. Ukraine are a quality team and we need to certainly be a lot better than we were overall."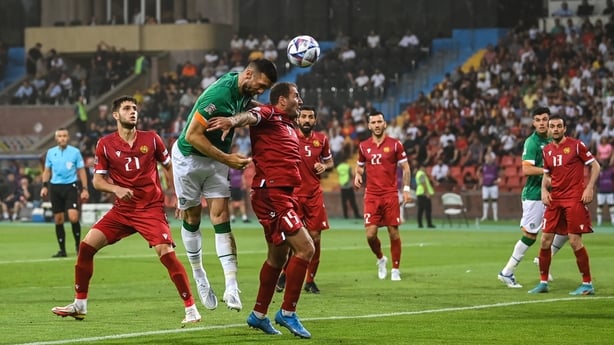 With tougher challenges Kenny admits that winning the group will prove a tough ask as he now looks ahead to three games in succession against Ukraine twice with a home tie against Scotland sandwiched in between.
And Kenny feels the best way to bounce back from the defeat is to pick themselves up and go again, most likely thankful that the next game comes in just a matter of days.
"It is a knock, there's no getting away from that. We're very disappointed to lose.
"No excuses really. We didn't create enough clear-cut chances that second half against Armenia, we should be creating more than we did," said Kenny.
"They didn't really have any chances in the game, but they've scored, bar the offside goal.
"We've had a lot of half-chances and three good ones but still not enough, we still want to create more than we did.
"We've got to dust ourselves down, we've got a tough gamer with Ukraine on Wednesday. That's the way it is, that's nature of the Nations League.
"Four games, so we can't dwell on it. We've got to pick ourselves up and go again.
"We have made life difficult for ourselves so the only way to bounce back from defeat is to win the next game and that is what we have to try to do."