Katie McCabe said women's football must take every opportunity it can to fill major venues as debate swirls around the use of the Manchester City Academy Stadium for the upcoming Euros - but the Republic of Ireland star has no pressing desire to leave "our home" Tallaght Stadium.
Earlier this week Iceland international Sara Bjork Gunnarsdottir aired her belief that choosing the 4,700-capacity Academy Stadium for the England-based European Championships - rather than the Etihad Stadium - was "disrespectful" to the women's game.
Manchester City's women's team play their home games at the ground, which is the tournament's smallest venue and will stage three group matches, including Iceland's clashes with Belgium and Italy in July.
Gunnarsdottir said: "It's just embarrassing. If you see Barcelona against Real Madrid, we have 95,000 watching the game. They are not prepared for that, that we will sell more tickets than 4,000. It's disrespectful towards women's football at this stage because it's so much bigger than people think."
Speaking at the launch of Cadbury's campaign to support Irish women's grassroots football McCabe reflected: "I understand the frustration.
"It's not as if the Euros are being held in a country where there's limited stadiums. There's plenty of stadiums around so I can see Gunnarsdottir's frustration.
"I'd much rather play at the Etihad than the Academy Stadium but if there's an opportunity where we can - especially in a major tournament - to use those bigger stadiums, to get more spectators in watching the games, we should use it."
"It's massive for young girls and boys that look up to us and kind of see us as role models."
McCabe's comments inevitably led to questions around Ireland decamping from Tallaght Stadium to the Aviva but although the Arsenal star would love to line out at Lansdowne Road in the green shirt one day, for now she's happy to stay put.
"If you're asking me should we play (September's World Cup qualifier against) Finland in the Aviva Stadium then I would say no.
"That's just my personal opinion. I haven't spoken to other players on that or to the manager or anything like that, I don't see why mid-campaign we'd switch home grounds.
"I'm kind of contradicting what I'm saying on Gunnarsdottir's comments but I think especially within the middle of a campaign, there's no need for us to switch home ground. Tallaght is our home, we love playing there.
"I think until we start selling that out there's no need to jump the gun and start playing in the Aviva. I'm not saying we should never play there as the women's national team, not at all.
"I do think going forward, if we want to continue to grow the game - especially in Ireland - Aviva Stadium games would be nice, but let's crack it off with a friendly against England or the USA or something, not in the middle of a qualifying campaign."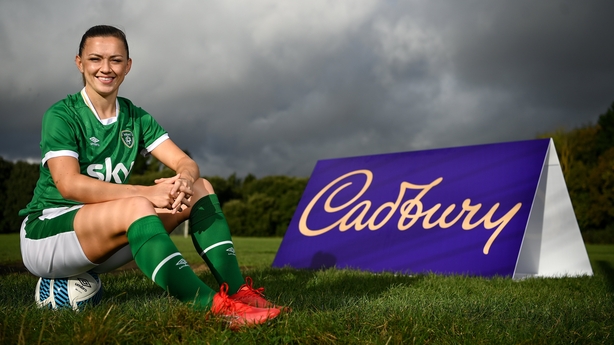 Expanding on the camaraderie the players enjoy with the Irish fans, McCabe added: "I think it was Vera's first game in charge against Ukraine... that was the pinnacle; that was Tallaght Stadium absolutely rocking, behind us every step of the way.
"That connection with the fans, we don't want to lose that. We love playing at Tallaght. I'd love to sell it out for that Finland game and have all the fans cheering us and have that engagement with us - whether that's selfies, signing autographs, it's massive for young girls and boys that look up to us and kind of see us as role models.
"That's something we want to continue, that connection we have with the fans."
McCabe was at the heart of a huge Irish performance in Gothenburg last week as they boosted their World Cup qualification hopes with a 1-1 draw against Sweden.
On Sunday she was back to club action with Arsenal, suffering a 2-0 FA Cup semi-final loss to Chelsea. That one stung, but the Gunners are still in the mix to win the Women's Super League title, sitting one point behind Chelsea with four games to go.
"Playing for a club like Arsenal, you need to be in those cup finals and competing for trophies, so as a team we were really disappointed that we didn't stamp our authority on the game.
"We started well the first 30 minutes but we didn't do that consistently throughout the game for longer periods. With a team like Chelsea, if you give them time to get into the game and they'll capitalise on that.
"For us now it's about full focus. We've four games left in the league - we just need to keep the pressure on. Chelsea might slip up, they might not - but if they do we need to be prepared to capitalise."
Katie McCabe has been named a brand ambassador for Cadbury, who have launched a new campaign dedicated to supporting Irish women's grassroots football, 'Become a Supporter and a Half'.
---
Listen to the RTÉ Soccer podcast on Apple Podcasts, Spotify or wherever you get your podcasts.