It's been a funny old year for Courtney Brosnan.
The USA-born goalkeeper moved to Everton from West Ham last summer but she's been unable to usurp England international Sandy MacIver as the Toffees' No 1.
And yet there she was in Gothenburg frustrating the life out of Sweden's stars with a string of fine saves - and one really exceptional one to deny Filippa Angeldal.
Ireland has been a sanctuary for Brosnan. Vera Pauw revealed after the game that Megan Walsh is still not completely 100% after a bout of Covid and that fact, coupled with Brosnan's sharpness in training, swayed her decision.
A big call was vindicated as Brosnan shone in a gutsy 1-1 draw.
"We have a great, great goalkeeper squad here at Ireland," she said.
"Every camp we come in, we push each other to be the best that we can be, so I think everyone has to be on the top of their game every camp to show themselves.
"I'm just trying to do everything I can to put my best foot forward every day in training and then when the matches come, just try to do that same thing and help the team.
"I'm really, really lucky that at Everton and here with Ireland I've gotten to work with some unbelievable goalkeepers. Every goalkeeper is so different, you can learn so much.
"Everyone has a little bit of a different style, it's just picking up bits from everyone. You can kind of add those to your own game and keep pushing each other to be better. What we want is results for the team, that's what's most important."
Ireland players were queuing up to praise Brosnan in the wake of the clash in Gothenburg. Composed under high balls, good with her feet and alert to the multiple through balls Sweden threaded through the lines all evening, this was a good day at the office.
"When you're in the game you're so focused on what's happening," the 26-year-old added.
"It was constant pressure, so you try not to get too far ahead of yourself in terms of what's going to happen. Then after the game you try to take it in and appreciate what you've done and what the team was able to do."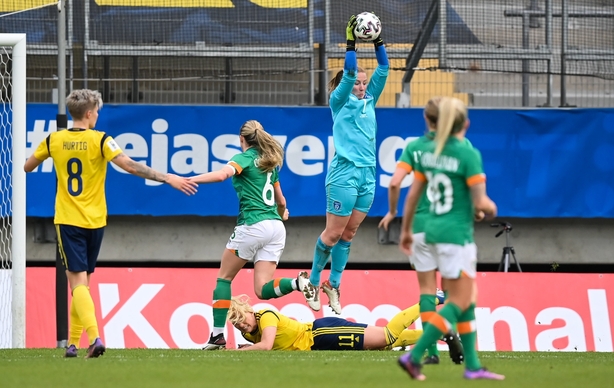 Her family couldn't make it to the Gamla Ullevi stadium but they were glued to TV screens Stateside, with Brosnan returning to the dressing room to find her phone hopping with congratulatory messages.
"I got a tonne of messages off my sisters, mum and dad, extended family so everyone is really proud and happy. It's so nice. It's great.
"Even without social media you know the magnitude of the game. Every international game is so, so important and when you're playing the No 2-ranked team in the world you know it means a lot, so I don't think you need that added pressure from the media or reading things. It's just best to focus on yourself, focus on the team and do everything you can."
The task now will be to keep a hold of the jersey. No Ireland player will want to miss out on the final three matches of what's shaping up to be a big campaign.
"These next three games are so important for us," said Brosnan.
"It's everyone's dream to play at a World Cup and things like that. We keep our heads and keep doing what we know we can do and what we need to do to get there.
"Obviously, at the top of football, there's always going to be ups and downs of the journey. So I think it's just important to keep believing in yourself and keep pushing to be the best that you know you can be."