Vera Pauw had to clear her throat before sitting down for her post-match press conference, hoarse after a nerve-shredding evening in Gothenburg that ended with her side earning a draw against Sweden
"Sorry, I've been shouting a bit," she said, before reflecting on a hugely gutsy showing.
"We absolutely know where we stand. We are very realistic and we know that this is what we can do. The way it has been executed, the concentration and determination and discipline is absolutely phenomenal. A few Swedish players would help us go forward, but these tigers have really made us proud."
Few expected Ireland to take anything off a really excellent Sweden side who had won all six of their previous group games prior to this.
A point was enough for them to seal qualification for the World Cup – and they'll be one of the tournament favourites in Australia and New Zealand – but the hosts played like a side who had to win.
They pummelled Ireland all evening, eventually cancelling out Katie McCabe's deflected opener with a Kosovare Aslanni equaliser 11 minutes from time.
Ireland could have crumbled when that went in; that they held their shape, and their nerve, is a huge source of encouragement.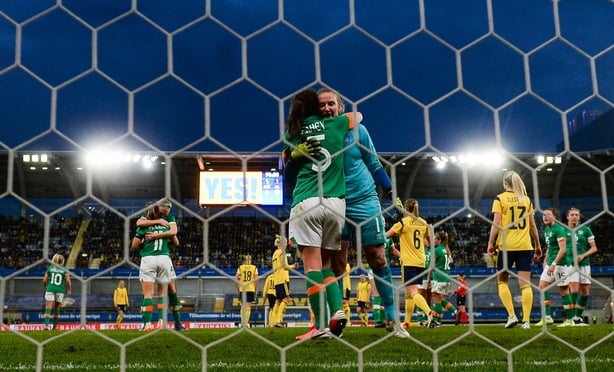 Central to that was goalkeeper Courtney Brosnan, who got the nod ahead of Megan Walsh.
"It was a brave decision from the team and the staff to put Courtney in because she hasn't got a lot of playing time [at her club Everton]," said Pauw.
"Megan had Covid last week and while she had recovered she wasn't back to her old self.
"We went for the keeper who was the sharpest [in training]. She responded to that decision tremendously. She made crazy saves and in between she constantly worked with her defenders."
Ireland sit second in the group and have a golden chance to earn a place in the play-offs. Up next is Georgia in June, before a massive September brings a home clash with Finland and then a tricky trip to Slovakia.
Sweden boss Peter Gerhardsson offered his own assessment as the dust settled on an absorbing contest.
"It's up to them now," he said. "Ireland have four extremely good players and with them and the others doing a good job, tonight is the result. Whether they have the depth is another issue. It took us time to get to that level.
"But for now they deserve to make the World Cup. And they will have one year to prepare."
Pauw knows there's still plenty of work to do between now and the group's climax, but there's no doubt this result is a serious shot in the arm. Was she proud?
"The proudest one in the room, I think, at this moment. I've said before and I have joked a bit about the tigers, but they are.... you've seen tonight again, nobody wins easy from us and that starts with the absolute passion of these players, to be able to give up everything for their country.
"That's contagious, and it's contagious to the nation I hope, contagious to the staff and I hope that we can add what they need so that they can go further and further and further. Because this team deserves it. If there's one team in the world that deserves the next step, then it's this team."