Louise Quinn is ready for yet another duel with Sweden's star striker Stina Blackstenius tomorrow night - and hoping this time it's the Republic of Ireland who get the rub of the green when the sides face off in their World Cup qualifier.
Last October Blackstenius' 39th-minute shot ricocheted off Quinn's instep and trickled into the net. It was enough to settle the game after Ireland had largely contained their illustrious opponents.
Blackstenius has since moved to Arsenal and came up against Quinn - who plays for Birmingham City - in the Women's Super League last month. The Gunners won 4-2, but it was another chance for the Irish defender to get a close look at the forward she knows pretty well.
Quinn first came up against the attacker eight years ago when she was playing with Swedish outfit Eskilstuna United DFF and a teenage Blackstenius was making waves at Linkopings FC.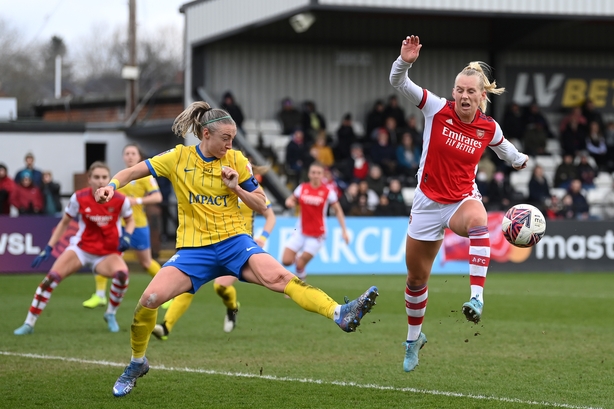 "Ah, she took a shot that was off target and it hit me!" rued the 31-year-old when reflecting on Sweden's victory in Tallaght.
"No, of course, she's class, and I would have played against her years ago in Sweden as well. Obviously she was a lot younger and everyone was like, 'she's gonna be a big player for Sweden one day'. Definitely, you could see it.
"She's so powerful, extremely fast. But being able to play against her, you do just learn little things. You learn what she's good at and you then have to know how to try and rule that out.
"Listen, it helps that Katie (McCabe) plays with her. Any extra little things that you can pick up and take, that'll be something I'll be looking at. You have your battle against their 11, but I definitely try to have little individual battles and make it a one-v-one that I want to win.
"And if you don't win one of them, make sure you go and win the next one."
Sweden can book their ticket to the 2023 World Cup in Australia and New Zealand if they get a point against the Irish, who are more focused on securing second and a place in the play-offs.
An expectant, and partisan, Gamla Ullevi stadium awaits, while the task has been made tougher for Ireland after the withdrawals of injured centre-halves Savannah McCarthy (ACL) and Diane Caldwell (thigh).
"You just want them to be alright," said Quinn. "Sav has been doing absolutely brilliant. I've been able to play alongside her for lots of games and just see how she's grown as a player.
"We'll look out for her. We're a very tight-knit group and just want to make sure that she's alright and gets the right treatment. She will be able to come back from it. There's so much time for her to get back, and get back onto the international bandwagon again.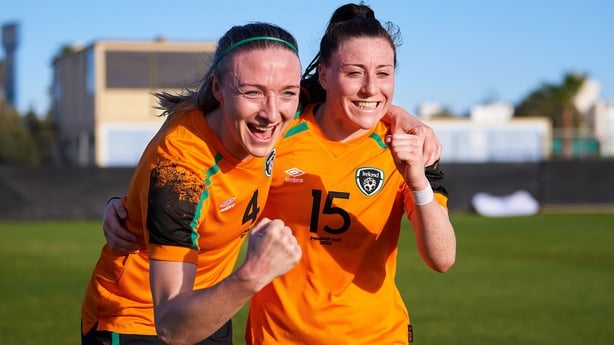 "And then with Di, it's tough timing with what she has, but again, she's the ultimate professional. She'll be back in no time."
It's 93 caps and counting now for the well-travelled Quinn, who spent three years playing in Sweden, from 2013 to 2016.
"I have no idea," she replied when asked if she always believed she'd stay at the top for so long.
"I think I do what I do, to want to play for the Irish team for as long as possible and to be around it and in amongst it, but I take absolutely none of it for granted ever.
"You know, I don't come into a camp just assuming that you're going to get your cap and this, that and the other. I've worked really hard and I've had to make sure, again, at club level that I'm staying fit and healthy and playing as well as I can and then it's up to the coach if they deem me good enough to put me in the starting XI or to come on.

"I'm just enjoying it - carrying on. It's a nice number to be around but I'm just very proud of the 93 that I have already.
"I've learned how to play with no fear, I think. That's something that's come around a bit more recently, because I've been through a lot football-wise in terms of results, both at club level and international, and I think I learned a lot about playing with no fear, which is easier said than done.
"It's definitely just down to experience. Playing with no fear has just taken a lot of pressure off myself and it's made me perform better, it's made me maybe not take different results as hard or as difficult because again, at the end of the day, I'm doing one of the best jobs in the world."
Watch Sweden v Republic of Ireland (Tuesday 12 April, 5.30pm), live on RTÉ2 and RTÉ Player, with live blog on RTÉ News app and RTE.ie/Sport