Ruesha Littlejohn has been around the Republic of Ireland set-up long enough to know the lows aren't worth dwelling on, and the highs are to be treasured.
It's a decade since the Glasgow-born midfielder made her international debut against Hungary at the Algarve Cup. Ten years on, she's still chasing the ultimate dream of qualification for a major tournament.
Ireland are second in Group A behind Sweden, who they face in Gothenburg on Tuesday, and right in the mix to earn a place in the play-offs for the 2023 World Cup in Australia and New Zealand.
Littlejohn is often on hand to lighten the mood with a wisecrack or a joke, but she know the magnitude of making that breakthrough; particularly after the painful climax to the Euros qualification campaign which saw the Irish stumble on the home straight.
An agonising 1-0 loss to Ukraine - who would go on to lose against Northern Ireland in the play-offs - stung for months.
Now they're in a much better place: new faces, an invigorated squad, and the dream in sight again.
"I'm a bit of a joker, but obviously, I was hurting after that game."
"After that Ukraine game, we were all gutted," said Littlejohn.
"It took us a while to get over. But you move forward and move on. We were on a path and we're still on that path... new people come in and you're back to square one again.
"So at least we know what's expected of us and we can achieve it if Vera [Pauw] believes in us.
"Look, this is football. There are always going to be setbacks and tough days. There are lows in football and after that, it was very low. We were all disappointed, sad and gutted. We had never been so close. We felt like we'd blown it.
"Not being disrespectful, we could have had a lot tougher opposition. So we felt that was the time to qualify and we didn't. But we learned from that, we've got that experience now. I think we'll be ready.
"I'm a bit of a joker, but obviously, I was hurting after that game.
"But you go away and next time you come in, boom! You're ready to annoy people, have a bit of a carry-on and that's it. I'm happy to be here and that I can be myself. I'm allowed to be a bit of a joker. I'm not causing havoc or ruining training sessions and team meetings.
"As long as I can work on the pitch and work in our meetings, then when I'm allowed to have a carry-on and a bit of a giggle, I'm allowed to do it. And I'm happy that I'm allowed to do it when I'm here."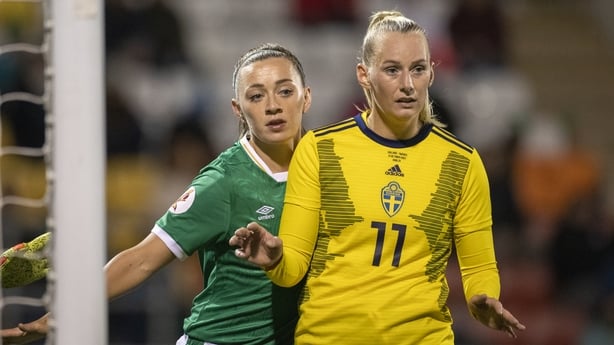 Ireland will be underdogs in Gothenburg where the Swedes could seal their ticket to the World Cup group winners.
They edged past Ireland 1-0 in Tallaght last October thanks to a Louise Quinn own goal but boss Pauw has warned that Sweden are even stronger now than they were then. It's a daunting task.
"We respect them," added Littlejohn. "They're a massive force within the women's game. So we respect them loads. It's going to be tough.
"I think they'll be looking to get the job done and qualify, and hopefully, we can ruin the party. It's nice when you go to them places and you hear the crowd, it gives you a buzz anyway, even if it is opposition fans. It gives you that bit of buzz and adrenaline.
"We've been in these pressure situations and we'll stick together and make it as hard as possible for them. So if we can execute the game plan, there's no reason why we can't take anything out of the game. If we're all at it, hopefully, we can get something out of it."
Littlejohn, 31, is one of Ireland's elder stateswomen now, and admits her role within the group has changed
"It's funny when I first came into the team, I think I was about 20, 21. I used to look up to the older girls and I think, 'they're so much older than me'. Now, I'm actually the old one, but I don't feel old!
"It's nice to talk to some of the young ones, have a carry-on with them, but then at the same time just make sure they're okay and they're comfortable.
"Sometimes they say two words to you and that's about it. Hopefully, we can keep dragging them out of their shells. There's a good few young ones in now so they've got that wee group that they can all stick together.
"They have their own wee group and their banter with each other, but it's nice. It's a good bunch, but yeah, I'm pretty ancient now!"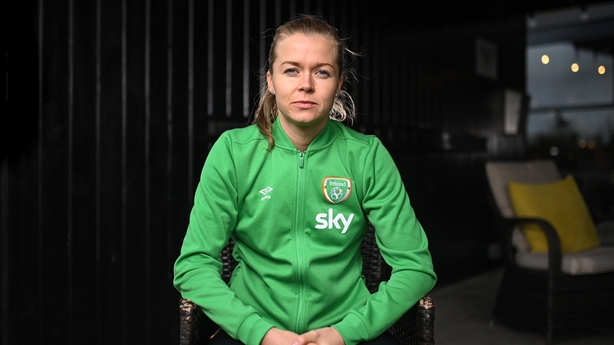 The Sweden clash will be Pauw's 20th at the helm - and arguably her toughest yet. Ireland have faced several high-ranking teams over the last 24 months but if they were to take anything out of this one it would go down as one of the country's finest ever results.
In 2017 they dug out a brilliant 0-0 draw at then-European champions the Netherlands. Littlejohn wasn't involved that night but the likes of Denise O'Sullivan, Katie McCabe, Niamh Fahey and Louise Quinn all were so there is a blueprint.
Littlejohn added: "At the end of the day, we're all humans. We're just going to play another human. That's how you've got to see it. Obviously, we've got to respect them. We know what they're about. We know how good they are. But at the end of the day, it's just them v us. And that's it.
"We all look forward to coming into camp. Vera's got her ways. Different managers have different ways, and Vera's got her ways, and we respect that.
"We know what's expected of us when we come into camp. Obviously, we'll leave it up to Vera and the staff to set up the game plan and tactics for this game. But we'll all fully be on board. Hopefully, we can execute the game plan and what's asked of us."
Listen to the RTÉ Soccer podcast on Apple Podcasts, Spotify or wherever you get your podcasts.
---
Republic of Ireland squad
Goalkeepers: Courtney Brosnan (Everton), Grace Moloney (Reading), Megan Walsh (Brighton & Hove Albion), Eve Badana (DLR Waves)
Defenders: Harriet Scott (Birmingham City), Niamh Fahey (Liverpool), Louise Quinn (Birmingham City), Claire Walsh (Glasgow City), Chloe Mustaki (Shelbourne), Claire O'Riordan (MSV Duisburg), Éabha O'Mahony (Boston College), Megan Campbell (Liverpool), Áine O'Gorman (Peamount United)
Midfielders: Katie McCabe (Arsenal), Denise O'Sullivan (North Carolina Courage), Megan Connolly (Brighton & Hove Albion), Ruesha Littlejohn (Aston Villa), Jamie Finn (Birmingham City), Ciara Grant (Rangers), Jess Ziu (Shelbourne), Lily Agg (London City Lionesses), Lucy Quinn (Birmingham City), Isibeal Atkinson (Celtic)
Forwards: Heather Payne (Florida State University), Kyra Carusa (HB Hoge), Amber Barrett (FC Koln), Leanne Kiernan (Liverpool), Ellen Molloy (Wexford Youths), Abbie Larkin (Shelbourne)
Watch Sweden v Republic of Ireland (Tuesday 12 April, 5.30pm), live on RTÉ2 and RTÉ Player, with live blog on RTÉ News app and RTE.ie/Sport