Stephen Kenny was full of praise for goalscoring hero Troy Parrott who spared his manager's blushes with a last-gasp winner against Lithuania at the Aviva Stadium.
On as a 63rd-minute substitute, Parrott's presence and ability to run at the Lithuania rearguard gave Ireland a real attacking impetus that was lacking throughout a dour opening half at the Dublin 4 arena.
The MK Dons striker, currently on loan from parent club Tottenham, was heavily involved in one of Ireland's remarkable four disallowed goals before that winner, playing with much direct intention, which led to a couple of shots at goal in the closing stages, one which drew a top-class save from Lithuania goalkeeper Dziugas Bartkus.
But the young Dubliner kept the best until last. With the five minutes of allocated injury time already elapsed, he latched onto a dropping ball on the edge of the penalty area and showed real composure, quality and control to first, set up the shot, before executing it with power and accuracy with what was essentially the last kick of the game.
"Having had a shot tipped over just before, to get the goal showed two characteristics," said Kenny, speaking about Parrott's impact in the game.
"One, that he has exceptional technical talent to strike a ball from distance with such venom and brilliant technique; and the second thing is to do it, not when you're 2-0 up, to do it in the 97th minute when you're at 0-0."
And while the manager praised his contribution and the winning goal, you got the sense that Kenny was even more impressed by the attitude that the striking prospect showed when he missed out on a starting place, having trained really well all week, as well as bringing fine club form into the international window.
"He hid his disappointment and channelled it in the way that you would want him to," said Kenny, when asked whether Parrott was close to starting the game.
"The easy thing would have been for him to be displeased and not showing the best of attitudes."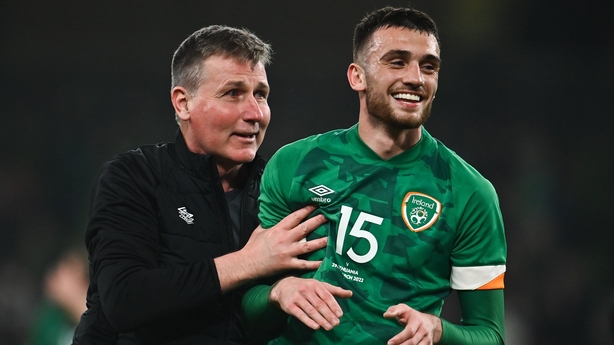 Overall, Kenny admitted that his side were lacking real tempo in the first half, yet lauded his side for the belief that they showed to keep going and eke out a victory that did not look like coming, especially having seen four goals getting chalked off for offside.
"I've never been involved in game with four goals disallowed, it's very unusual," said Kenny.
"We needed to inject better tempo into our build-up, we could have passed it to feet quicker, but it's easier said on paper, playing against a low block like that.
"If Chieo's first goal goes in early on, they've got to come at you and open up and you can exploit that, like we did against Qatar.
"The frustration can get the better of you and it didn't. That was important. You've just had to keep passing, keep believing that you'll create the openings. I know we left it very, very late, but it was a brilliant goal from Troy Parrott.
"We learned a good deal from the game and to be fair to the players, the ability to get late goals is a very, very important quality in a team.
"We got late goals against Azerbaijan, Serbia, three against Luxembourg, against Belgium and again today.
"That characteristic is important, and you can't underestimate the value of persistence, it's a very important quality in the team and it speaks about the humility of the group, that manifests itself in the ability to keep going."
The Lithuania victory signals the end of the international window as Ireland will now take their eight-game unbeaten run into the June competitive games, and the manager said that he is looking forward to packed houses for the home games in the Nations League.
"I think the atmosphere at the home Nations League games are going to be absolutely electric," Kenny added.