Ireland are in the ascendancy and Sweden back-pedalling. Zack Elbouzedi can see Connor Ronan bursting down the left into acres of space and carries on his run into the box and when the low cross is eventually played across the six-yard box, the Dubliner is on hand to tap it in.
It's the fourth goal of a glorious night for Stephen Kenny's Under-21 squad at Tallaght Stadium in late 2019. When the full-time whistle blows on the European qualifier, the Boys In Green have triumphed 4-1 and at a difficult time for the Irish game, it's at least a sign of green shoots.
Almost 20,000 hours have ticked by since all told and with Kenny now leading the Ireland senior set-up, a good chunk of that Under-21 crop have gone onto become full internationals.
While that night against Sweden might not have been ultimately consequential in and of itself, from that starting line-up, Gavin Bazunu, Nathan Collins, Jayson Molumby, Adam Idah and Jason Knight went on to win their first Ireland senior caps under Kenny, while Troy Parrott and Lee O'Connor all made debuts in a November 2019 friendly with the former going onto establish himself as a regular call-up under the current boss.
Elbouzedi has his sights set on following in their footsteps in the green jersey but his performance against the Swedes did prove consequential in another way. It was the key game that eventually led him to embarking on a career with AIK, one of Sweden's leading clubs, signing for the club last July.
"That was probably the reason I'm here to be honest," the 23-year-old winger tells the RTÉ Soccer Podcast over a Zoom call after a training session at his Solna, Stockholm-based club.
Watch the full interview below and you can also listen to the RTÉ Soccer podcast on Apple Podcasts, Spotify or wherever you get your podcasts.
We need your consent to load this YouTube contentWe use YouTube to manage extra content that can set cookies on your device and collect data about your activity. Please review their details and accept them to load the content.Manage Preferences
"At the time our current manager (Bartosz Grzelak) was the assistant manager for the Sweden Under-21s team and I had a pretty good game and scored a goal.
"He'd sort of kept track of me after that game and then last summer, they were looking for a new winger so he said to the scout over here that they played against a good winger when he was the assistant at Sweden.
"They ended up watching, he said, over 20 games of mine, just to make sure that I was the player they'd seen that night and that's how it all happened. But it's crazy because if that game hadn't have happened or I hadn't been in that squad, I wouldn't be over here for sure."
He hasn't been making up the numbers at an AIK side which only lost the 2021 league title to Malmo on goal difference either. In that campaign, which he joined just before the midway point, Elbouzedi went on to make 20 appearances, playing the full '90 on 11 occasions, scoring a goal and providing two assists towards the latter end of the campaign.
'I feel like in Ireland, the lifestyle is very rushed and people always have somewhere they need to be whether it's work or other stuff. In Sweden, they're very relaxed which is good'
With pre-season and the Swedish Cup underway for 2022 - an assist already arrived against Örgryte - he is hoping to push on and make even more of a mark this year in a technical style which suits his game.
Helpfully, he's also getting used to life off the pitch, albeit the temperatures at this time of year are "in the minuses regularly".
"We were up in the mountains (in early February) and it was minus 15 degrees which is crazy," he said.
"But Swedish people are very chilled out and they have a good lifestyle. I feel like in Ireland, the lifestyle is very rushed and people always have somewhere they need to be whether it's work or other stuff. In Sweden, they're very relaxed which is good."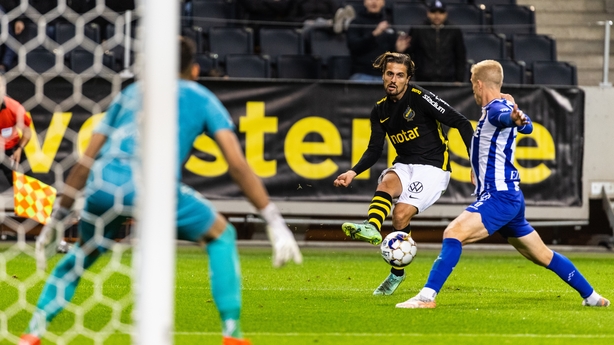 Certainly, his career in Sweden is on an even keel in comparison to his experiences in England and Scotland previously.
At the age of 16, he followed the well-worn path from Ireland to the UK, signing for then-Premier League West Brom from Malahide United.
"When I went, obviously you know the stats, I think everyone says it's 1-2% of people that make it that go over but you have to always think you're going to be that one person that makes it," Elbouzedi said of his mindset at that time.
"I think if I had went over there and say I had an unrealistic view that I wasn't going to make it, there would have been no point in going.
"When I went over there, I fully believed I could make it in the Premier League and that I'd get my chance."
In 2017, he moved up to Scotland to join Inverness Caledonian Thistle but unfortunately suffered a long-term injury the day after he signed for the club.
"Injuries are bad enough as it is but Inverness is up in the highlands and in the middle of nowhere and you're on your own up there," he said.
"We had a good group of lads who looked after me but still, it's not like in London or something where you can hop on a flight home if you're feeling low or anything. Inverness is very hard to get to Dublin from so that was a tough time."
Salvation came with a permanent return home, although a little further than his native Dublin, as he moved to Waterford for the 2019 season.
'I haven't spoken to Stephen but I know that they watch the games'
It proved to be the turning point his career needed, with then-manager Alan Reynolds pivotal.
"To be honest, he was the first manager that sort of stuck to his word in that way in giving me a really fair crack," said Elbouzedi.
"Bar the season with AIK, that season (with Waterford) was my favourite season and it was the football that I enjoyed the most even though at Waterford it was difficult at the time with missing out on Europe. But for me personally, I loved it there."
Six goals for the Blues and vibrant performances earned him a place in the Ireland U21 squad which culminated with that aforementioned game against Sweden which ultimately led him to AIK - via a spell in England with Lincoln City and Bolton Wanderers.
Now the target for Elbouzedi is to couple progress at club level with international recognition with Ireland and work with Kenny again.
"He makes you feel like you're the best player in the world," the 13-time U21 cap said of Kenny's man-managment.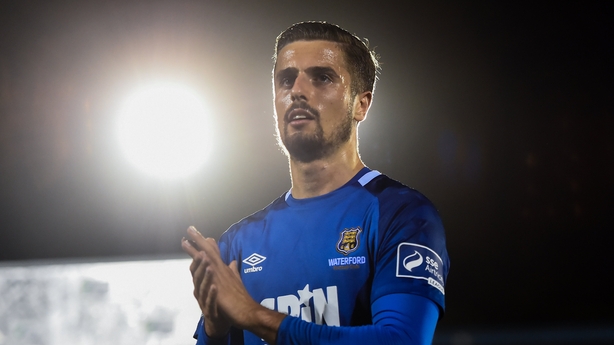 "He makes you feel on top of the world and even that Sweden game where we won 4-1, everyone seems to remember the second half but the first half we had a really poor performance and we were 1-0 down and then we came into the changing room and some other managers would be shouting and screaming and there'd be panic but there was no panic.
"It was just we knew how good we were and we knew if we performed to the level that we could that we'd end up winning the game and everyone sees that performance in the second half. His man-management is just unbelievable, it's so good.
"I'm not surprised (the Ireland seniors) have come through the difficult moments."
He adds of ex-U21 team-mates Idah and Parrott's integration into the side: "That was the excitement when we were in the '21s, that we knew Stephen was going to be getting the senior job so there could be that pathway through.
"The lads who have got their chance, the majority have taken it as well. It's all well and good getting the chance but they've taken it."
Elbouzedi is hoping that chance will come for him and knows that his performances in Sweden are being tracked.
"I haven't spoken to Stephen but I know that they watch the games and they're continuing to watch me and see how I develop," he said.
"It's out of my control obviously. It is my dream to play for Ireland, I make no secret about that but I need to just focus on playing here and keep playing well. I've only been (in Sweden) six months and had a decent six months. But if I keep playing and to a good level, the call-up will take care of itself."
We need your consent to load this rte-player contentWe use rte-player to manage extra content that can set cookies on your device and collect data about your activity. Please review their details and accept them to load the content.Manage Preferences