North Colorado Hailstorm might be new to the scene and consequently a relatively unknown entity but from an Irish perspective, it's a US team to keep an eye on in 2022.
Éamon Zayed will serve as head coach and technical director of the new expansion franchise which will play in USL League One - essentially a third tier in a system where promotion and relegation does not exist - and as the former Bray Wanderers, Derry City and Shamrock Rovers striker told the RTÉ Soccer Podcast last month, the League of Ireland was somewhere he would look to in order to bolster his squad.
Rob Cornwall was the first Irish import confirmed after ending his five-year association with Bohemians - ex-Sporting Fingal and St Patrick's Athletic midfielder Shane McFaul has also signed since - and speaking to RTÉ's Game On, the defender explained that it was a long-held ambition to play in the US.
"It's surreal that I'm finally going over to America because it was something that I always wanted to do and I'm delighted to get over there," said Cornwall, before revealing how his former Bohemians team-mate Keith Ward played a role in sparking the move.
"I knew Éamon from playing for Rovers but funnily enough I don't have an agent, never had an agent. I always wanted to to do the negotiations myself so it was actually through Keith Ward.
"Wardy texted me and (said), 'I think I got you a deal to America'. And I was like, 'What do you mean?' and he was like, '(Éamon) is looking for a couple of players'. He was asking about other centre-halves in the League and Wardy just goes, 'Why wouldn't you pick Rob?'"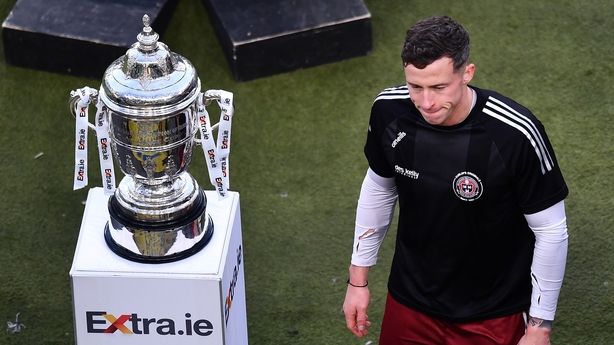 Although, Zayed had assumed that Cornwall had no plans to leave Ireland, the possibility of playing in America was in fact always at the forefront of the 27-year-old's imagination.
"It was something I always wanted to do, years ago even when I started playing football, I was always onto my brother about getting me over there," said Cornwall.
"Then when the opportunity came I didn't want to turn it down. It's just a massive opportunity. It sounds a bit cliche - it is the American Dream.
"I'm going over there to make a name for myself and do well with the club and further my career and the strength and conditioning side as well. I'm still studying and I'm going to see can I do work on the side as well."
Cornwall has signed a one-year deal with an option for two and is hopeful of finding his feet once he dives into the deep end.
"I'll go over there, experience everything for the first year and see how it is and then if I like it, I'd love to stay," he said of the long-term plan.