Eamon Zayed has never been afraid to try something new.
The eight-times capped Libya international made his name by banging in goals for Bray Wanderers, Drogheda United, Sporting Fingal and Derry City before he broadened his horizons with stints in Iran, Malaysia and the USA.
America is where he finished up his playing days with Tennessee outfit Chattanooga Red Wolves. Now, he's entering the world of management having taken on the role of head coach and technical director at a brand new United Soccer League club, Northern Colorado Hailstorm.
"North Carolina Hailstorm announced they were going to enter USL League One in 2022," Zayed told RTÉ Sport.
Listen to the RTÉ Soccer podcast on Apple Podcasts, SoundCloud, Spotify or wherever you get your podcasts.
We need your consent to load this YouTube contentWe use YouTube to manage extra content that can set cookies on your device and collect data about your activity. Please review their details and accept them to load the content.Manage Preferences
"It's funny, football in Ireland is a small world, everybody knows everybody, but in America, for such a massive place, the soccer world as they call it... once you're there for a fair amount of years, everybody knows everybody too.
"I'd left Chattanooga, got on a phone call with Colorado a couple of months after their announcement, and we began to talk about the club, how I might fit in there. After three or four discussions and a couple of interviews they offered me the job.
"I'd just finished my UEFA A License with the FAI back home so it was a fantastic opportunity for me to go into head coaching."
"Rob is going to be a leader for me. He's a winner, which you need in the dressing room in America. Irish players are workers and they want to win."
Colorado, a state teeming with sports franchises, already has an MLS side, the Colorado Rapids, but the Hailstorm are a separate entity.
"The general manager of the Colorado Rapids is an Irish guy called Padraig Smith," added Zayed.
"I met him the first week I arrived in Colorado. He told me he used to support me when I was playing for Drogheda, he used to watch all our games and be down supporting us.
"It's a small world. We'll have a relationship with the Rapids, we'll play them in pre-season and may take some of their players on loan, but it is a separate entity. We're about an hour and half north of Denver, where Colorado Rapids are based."
Although the new season is still a few months away, Zayed has been busy trying to strengthen his squad.
The arrival of Rob Cornwall from Bohemians is a real coup, with Zayed hopeful that more Irishmen will follow him.
"Since I've been in America over the last five or six years, any of the Irish lads that have gone over have done really well. Richie Ryan, James Chambers, most recently Dan Casey went to Sacramento. He was Rob's defensive partner at Bohs.
"Every team can have seven internationals and I knew I was going to look at the Irish market. The style of play, the humble backgrounds, the way they can easily fit into the American culture... I've looked at a couple of players to be honest.
"Rob won't be the only Irish player coming over. There's definitely one more, and hopefully a couple more after that.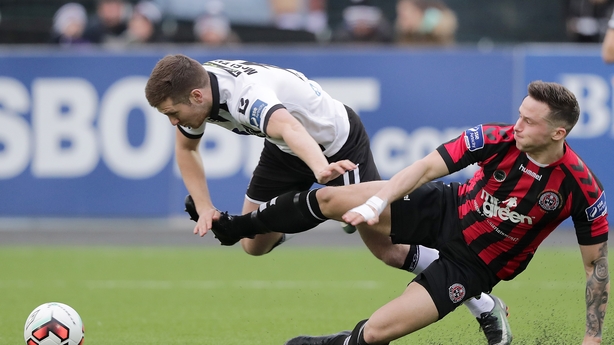 "I was delighted to get Rob. I remember having a conversation with the head coach of Sacramento after he signed Dan Casey. I like Dan Casey, but I just felt Rob was a better centre-half. I asked him why he didn't go for Rob and he said Rob wasn't available.
"As soon as I took over I began reaching out to a couple of people and Rob's name cropped up. He was interested in trying something new. It wasn't a decision he took lightly. He thought about it for a long time because I know he loves Bohs.
"He's going to be a leader for me. He's a winner, which you need in the dressing room in America. Irish players are workers and they want to win. They have that never-say-die attitude. Sometimes it's taken for granted.
"I've played around the world and trust me, there's many, many cultures where it's just not the same. It doesn't mean as much to them as it does to an Irish player. We hate losing, so Rob is going to bring that.
"I played with Rob back in 2013/14 when he was with Shamrock Rovers, He was just a young lad coming through. He is quality - he's going to be a massive player for us on and off the pitch."
There's currently no promotion or relegation in the US divisions. The MLS is the top tier, then the Championship and then League One.
"We're building the best complex in our league."
Money talks Stateside, with huge entry fees required to break into the top flight.
For now, Zayed - who peers out at the snow-capped Rocky Mountains from his club office - just wants to put Hailstorm on the map.
"Our job is to grow the club within the USL league that we are playing in. I know we have the rights to go up to the USL Championship if we feel that's where the growth within the community and northern Colorado is taking us, but at the moment we just want to establish ourselves.
"To go into our league I think it's roughly $2m to $3m to enter. The USL Championship averages out at around $12m. To get into the MLS you're looking at over $200m - just to be allowed in. On top of that you have to have a stadium that's worth X amount, you have to have an owner that's worth X amount.
"We're building the best complex in our league. I'd say it would compete with anything in the Championship and probably be even better than some of the MLS clubs in terms of what we're building.
"We're going to have ten outdoor practice fields, we'll have our stadium, a full-size indoor soccer dome that we can utilise, our strength and conditioning gym is on site, restaurants.
"It's going to be a fantastic complex."