There is much goodwill out there for the Republic of Ireland's women's team.
After missing out on a play-off for Euro 2021, there is now a heightened expectation that Vera Pauw's side can take the next step with regard to qualifying for next year's World Cup. As things stand, the Irish occupy second place behind Sweden in Group A of European qualifying, a position that would secure that coveted play-off berth.
The Swedes are top seeds and are expected to continue on their winning ways and claim the automatic spot for the finals in Australia and New Zealand. Next up for them is a date with Pauw's Ireland on 12 April in Gothenburg. A shot to nothing then for the visitors, one might say. Surely targeting the autumn games against Finland and Slovakia is the priority with second spot in mind.
For Irish defender Louise Quinn, the Scandinavian trip is about building on the "solid, positive start" to the campaign.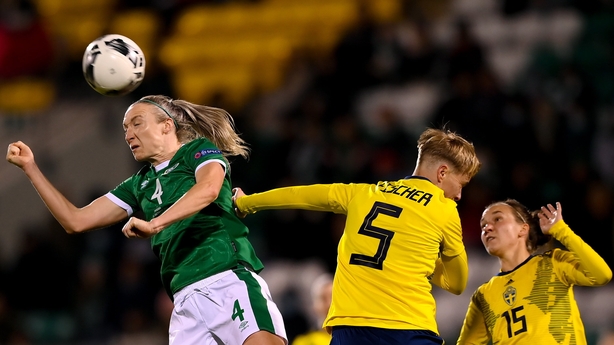 A low strike from Stina Blackstenius ricocheted off the instep of Quinn and trickled home in the 39th minute settled an absorbing contest when the sides met at Tallaght Stadium last October. The Co Wicklow native is now relishing the return encounter.
Speaking at the launch of the 2022 SPAR FAI Primary School 5s Programme, she said: "We will go into it with confidence.
"We pushed them back when we played them a few months ago and made it very difficult for them. We could have nicked a draw out of it. They had most of the possession, but we put in a very solid performance. They had to put on extra defensive players to stop our attacks. We really let them know that we were pushing them."
Quinn's words reflect a general air of confidence around the Irish camp at the moment. However, she is at pains to strike a cautious note, and not think too far ahead.
"In the last campaign Covid interrupted everything. We had that draw against Greece and that loss to Ukraine. It is about the next game. It's about Sweden. Before that we have camp in February and we'll play some friendlies. We are on course to make the play-offs, we've got results we've wanted so far. There's still a bit of work to be done, though"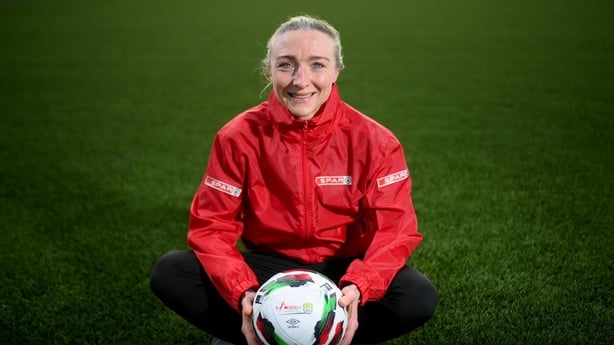 Speaking of work to be done, Quinn's club Birmingham City have a bit to do if they are to rise from the basement of the FA Women's Super League. The West Midlands outfit have taken just four points from a possible 36 so far this term. Their last encounter saw them lose 5-0 to Manchester United, this coming a week after a 2-0 win over league leaders Arsenal.
On Birmingham's fluctuating fortunes, the 31-year-old said: "We had the high of beating Arsenal, that high of the complete underdog that comes and takes the points off the top team. It was against my old team and they say that you should not celebrate but I couldn't help it. I was celebrating the three points, really.
"We desperately needed those points. We showed our ability against Arsenal, then we showed our inconsistency against United. And then came the post-mortem.
"We did an in-depth analysis and got a roasting from it," Quinn added.
"We looked at the way we were doing things and we could see the lack of quality. It was up there with one of our poorest games. There was a big high and then there was the pressure to play the exact same way we did against Arsenal. Realistically, it's not going to happen. We were nine out of 10, 10 out of 10 against Arsenal. We need to get to a solid 7 out of 10, instead of dropping away down to four or fives out of 10.
"It's about getting a strong mentality into the team. The coaches are doing that and that's why they give us a bit of a roasting. It was absolutely deserved. We just weren't switched on enough."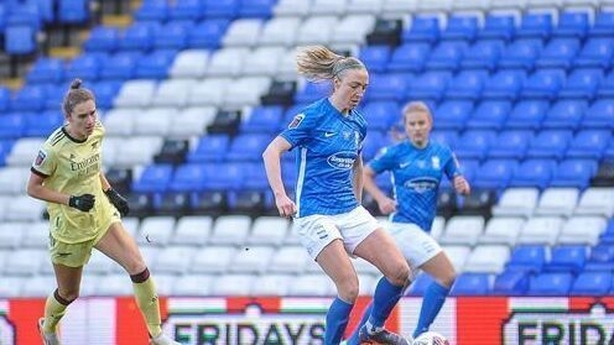 In all seven Irish international are on the books in Birmingham. All ready now for a relegation fight. Such a prospect brings a chuckle from Quinn.
"I've done it all. A liquidated club, winning leagues, winning cups.... and now relegation."
As for the battle ahead.
"There are still a good few teams there that we can take points from and it's also possible to take points from the top teams. We have to enjoy the fight. We can't really play with pressure. I've found out through my career the less pressure I have the better I play."