All eyes will be on Cameroon on Sunday when the African Cup of Nations kicks off with a group stage clash between the hosts and Burkina Faso.
The tournament runs from 9 January to 6 February and will feature some of the world's greatest players, including Mohammad Salah, Sadio Mane, and Riyad Mahrez.
Thousands of miles away, Ireland will have a special interest in the showpiece tournament for a variety of reasons.
Tallaght will be represented as Shamrock Rovers defender Roberto Lopes is set to play for Cape Verde at the showpiece event. This is the Blue Sharks' third appearance in the competition, and they will face Cameroon, Ethiopia, and Burkina Faso in Group A.
The defender declared for Cape Verde in 2019 and his journey to AFCON started from the most unlikely place; LinkedIn.
"There's a novelty factor involved in how he became part of the Cape Verde group," Shamrock Rovers director Mark Lynch said.
"He received a LinkedIn message from the Cape Verde FA and he didn't answer it for a number of months. Only when he translated the message he realised that it wasn't a hoax. He realised then he was getting an international call-up."
We need your consent to load this comcast-player contentWe use comcast-player to manage extra content that can set cookies on your device and collect data about your activity. Please review their details and accept them to load the content.Manage Preferences
Lopes has played a number of games for Cape Verde, including World Cup and AFCON qualifiers. Ever since Lopes's country clinched their place at the tournament, all of Tallaght has been buzzing with excitement.
"We know that Roberto has played for Cape Verde for a number of internationals now," added Lynch.
"The uniqueness of one of our players playing in a international tournament is something our fans embraced early on.
"Ever since this tournament was announced and the groups were put together, everyone has been keeping a keen interest on Cape Verde and how they are getting on. Everyone is very supportive of that team and Roberto."
Roots in Africa Ireland Network (RIAIN) - an organisation dedicated to building links between the African diaspora in Ireland - will be holding a number of events throughout the tournament.
"With Covid, people are limited to travelling. People haven't been able to reconnect with their families. RIAIN are hoping to have Zoom events during the tournament so people can get together," chairperson Joy Tendai Kangere said.
"AFCON isn't just a football tournament, but it also builds bridges in the diaspora. It allows us to take pride as Africans. We support each other. We are all celebrating being African.
"It's going to be an interesting tournament for me. I'm quite complex. Even though I'm from Zimbabwe I have heritage in Malawi, Ivory Coast, and South Africa. I'll have a lot of teams to support," she explained.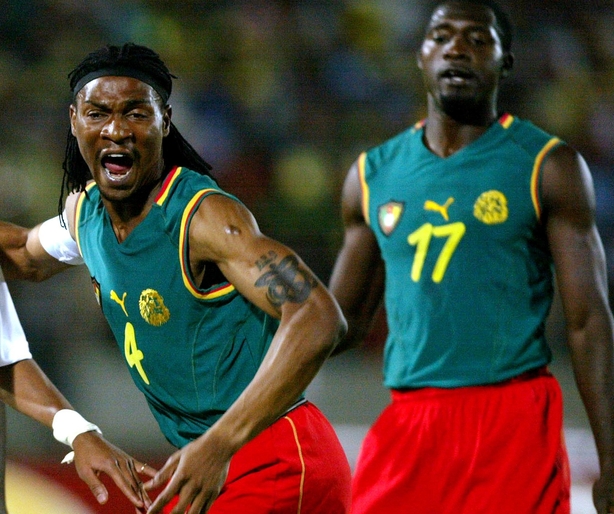 In Dublin, Jordan Mindomba is counting down the seconds to kick-off on Sunday. To him, AFCON is a special tournament which is all about family and warm childhood memories.
"A lot of us, are either born or raised here so when the AFCON is on, we see our parents get excited and patriotic," he explained.
"My first AFCON was in 2002 and Cameroon won. I remember seeing a young Samuel Eto'o and Rigobert Song light up the tournament. Then I saw Senegal beat France later that year in the World Cup. I fell in love with African football that year. At seven years old I saw that Eto'o was a star, he just had that god-like aura.
"In 2015 the (DR) Congo, my home nation, made it to the semi-finals. It was my first time seeing my country play at that level I'd say that's my favourite memory. A close second was Zambia's Cinderella story in 2012. They upset Ivory Coast in the final.
"When Congo made the semi-finals we FaceTimed back home and it was crazy. It really brought our community together."
Waterford local Emmanuel Ogbonna is excited to see the tournament showcase the best of the best from across Africa.
"I'm very excited for people to see the passion of the fans and the quality of the players like Mane, Salah, Kalidou Koulibaly, Mahrez, and Wilfred Ndidi," he said.
"My prediction is that Senegal will win AFCON. I just feel like they have the best squad and I feel like they are really together as a team. But you can never write off the likes of Egypt, Tunisia, and Algeria. They are very good teams.
"I do want my own country Nigeria to go all the way but they are in a very difficult group and a lot of players have not been able to and join the squad. The players that are there like Alex Iwobi, Kelechi Ịheanachọ, and Frank Onyeka, can make up for those missing. Victor Oshimen and Emmanuel Dennis are big losses to us."
We need your consent to load this rte-player contentWe use rte-player to manage extra content that can set cookies on your device and collect data about your activity. Please review their details and accept them to load the content.Manage Preferences
Listen to the RTÉ Soccer podcast on Apple Podcasts, SoundCloud, Spotify or wherever you get your podcasts.