Aaron Connolly has insisted he's not out to "prove a personal point to anybody" after moving on loan to Middlesbrough earlier this month.
It means playing in a lower division for the 21-year-old Republic of Ireland international, following a difficult half season with Brighton in the Premier League.
He saw game time in just four of the Seagulls' 18 Premier League matches, while his only goals came in the EFL Cup as the club reached the last 16.
He was also sidelined for the Boys in Green. After starting in the defeat to Portugal and draw with Azerbaijan in September, he saw no game time in the victories away to the Azerbaijanis and at home to Qatar the following month.
By November, he was out of the national squad, ostensibly due to a heel injury, but manager Stephen Kenny would say the week he announced the squad that Connolly was "at a crossroads in his career".
---
Potter: Aaron Connolly Boro move will benefit all parties
---
Kenny added: "Whether he gets enough football between now January, and he has to decide if he needs a loan period to get regular football... that's no reflection on Brighton."
It appears that Connolly has taken his national manager's advice on board, agreeing the loan offer with the Championship club in order to regain his sharpness.
"I think in every game you have a point to prove," he said on Thursday.
"But I come to Middlesbrough to help the club, not to prove a personal point to anybody. I don't think I need to prove anything.
"I just need to get back playing, doing what I love and scoring goals and helping the club.
"There has been stuff said in the media beforehand that is nothing to do with football. Most of it is false and you don't have to believe everything you read.
"But it doesn't put any more pressure on me. Every game you play your career could be at a crossroads - one minute you could be best player at the club and the next everyone will want you out.
"So it's just one of them where I've got to get on with it. It's the life of being a football player I guess."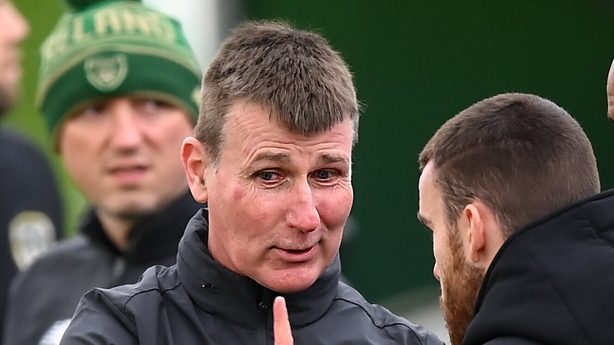 On the international front, 2022 will be something of a subdued year for Ireland, with Nations League games to come in June and September.
The squad missed out on a place at the World Cup in Qatar, while qualification for the 2024 European Championships in Germany won't begin until next year.
As such, 2022 presents Connolly with a chance to regain the goalscoring club form that saw him called up to the senior squad while still a teenager.
With much water under the bridge since Connolly burst onto the scene with those brace of goals for Brighton against Spurs in October 2019, the Galwegian admits 2021 was a frustrating year.
"There is going to be ups and downs and I feel I've had more downs than ups really in my Brighton career," he admitted.
"So this does feel like a fresh start for me to come here and I want to get back playing and enjoying football.
"The Premier League is the toughest league in the world and I had an excellent start scoring those two goals. It didn't go as planned for the rest of the season, the season after and obviously the first few months of this season.
"But that's part and parcel of football. I'm still only 21, I'm still learning the game and I know I need to learn different aspects on and off the field.
"But scoring goals is definitely something I want to show people I can still do. I've done it for the under-23s which is the reason I got into the Brighton first team.
"It's not to try and prove anyone wrong or anything like that, it's just to show that I can score goals."