Having exploded onto the scene with a brace against Spurs two years ago, momentum has deserted Aaron Connolly.
The Brighton attacker's frustrations with club and country continued on Thursday when he was left out of the Republic of Ireland squad due to a niggling heel injury.
Brighton boss Graham Potter described it as "minor" but it has hampered Connolly enough to force him out of training – which in turn led to Stephen Kenny having concerns about his sharpness.
The Galway man played against Leicester City in the Carabao Cup last week but a sore heel ruled him out of the Seagulls' 2-2 draw at Liverpool and has ultimately deprived him of the opportunity to feature in the upcoming qualifiers against Portugal and Luxembourg.
It is the latest in a long series of little setbacks that have derailed Connolly, who has slipped down the pecking order at Brighton.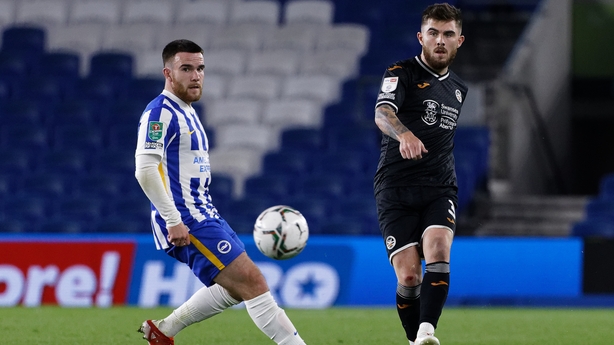 "Aaron Connolly is one of our best attacking players I have great belief in him," said Kenny.
"He's had a little bit of a tough time not playing matches, with confidence as well because he hasn't been playing.
"He's had an up and down time with injuries and it's not easy getting into the Premier League and playing [regularly]. Brighton have done brilliantly this year.
"He doesn't find it easy not playing. He has tremendous determination to do well, he wears his heart on his sleeve and doesn't hide his disappointment. He'll have a big part to play in our future, but he felt he wasn't right. I spoke to him and he felt his heel wasn't right."
Kenny insisted Connolly just wasn't 100% for the qualifiers even after it was put to him that Potter had suggested the Galway man had simply been dropped. Either way, both would agree that the striker needs minutes to find his stride.
Kenny cited Shane Duffy's Brighton renaissance, after a torrid year on loan at Celtic, as a shining example of how things can be turned around but he also said Connolly may need to make a move to progress.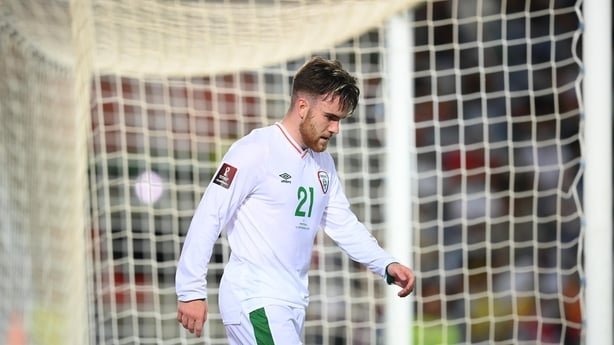 "He's at a crossroads in his career," said Kenny. "Whether he gets enough football between now January, and he has to decide if he needs a loan period to get regular football... that's no reflection on Brighton.
"Brighton have done brilliant work behind the scenes with Aaron to develop him through their academy, and with other players as well.
"In the Championship for example, you've got a match Saturday, you've got a match Tuesday, you've got a match Saturday. You've 44 games of that. You discipline yourself then.
"That kind of focus, rather than having one match a week where you don't know whether you're going to play or not, and you're probably not going to play... Over a period of time, even to the strongest of characters, that can erode your spirit.
"It's just very difficult to get sustained chances for any young player as a centre-forward in the Premier League.
"He's a goalscorer. He's a threat with his pace. He can be a very important player for Ireland going forward.
"You've seen Shane Duffy coming back into the Brighton squad and be reinvigorated. Like every player, it's not always an upward curve in your career. You have to come through periods of maturity and just wait for your opportunity."
Kenny could do with maintaining some momentum himself as the World Cup qualification campaign winds down. Ireland cannot make the play-offs but they have won their last two games and are starting to look like a more cohesive outfit.
The manager's contract expires in July 2022 and he has yet to be offered an extension. He insists it's not on his mind.
"I've done the job the way I see fit," said Kenny. "We want to have two strong performances anyway, regardless of having discussions of contracts. It's not something I'm fixated on.
"I feel the performances have been good in the last two windows. We just want to bring the discipline.
"I know Portugal are a world-class team. We want to go and do well there [against them] and we want to go and try and win in Luxembourg.
"You do things you feel are the right thing to do, you make decisions based on what you feel is right, you back your conviction, you show what you want to achieve. If that's good enough, fair enough."