For Vera Pauw's Republic of Ireland squad, it's essentially just half-time on the road to a possible World Cup dream.
Four games down - including the potentially pivotal 2-1 win away at direct rivals Finland - has the Girls in Green second in the group and should they mirror the run of results gained so far in the four remaining games, they will be in with a brilliant shot of making the play-offs.
Tom Elmes will be hoping to play his part in getting Ireland over the line.
The former Wexford Youths head coach is now assistant to Pauw after Eileen Gleeson departed to take on the Glasgow City job and he was on the senior Irish coaching team when the side were held by Slovakia but then bounced back to thrash qualifying group minnows Georgia 11-0 at the end of last month.
While Ireland won't be back in competitive action until 12 April when they take on group leaders Sweden - a February training camp is on the agenda however - Elmes' schedule will still remain hectic given his role as Irish Under-16s boss and the fact he also has UEFA Pro Licence course commitments.
"It's been difficult over the last few months, jumping from the next role to the next role, moving from the 16s and 17s to the seniors now," Elmes says of his busy to-do list.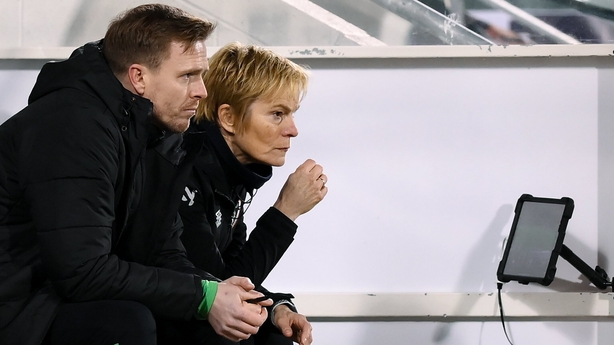 "Once I get my calendar and schedule sorted, it should be a lot easier. But the Pro Licence is an enjoyable course to be on. It benefits you and it's about you and your development and how you use those resources. So you just put it to good use where you can."
While he completes the deck of coaching qualifications, he is also aiming to learn practically from working under the stewardship of an experienced coach like Pauw.
"Seeing how Vera operates has been really good," says the Birmingham native.
"She has an abundance of experience. That's gonna be a real benefit to me going forward. It's an enjoyable environment, and it's an educational one as well, so really good."
Elmes' first game as part of the Ireland senior camp was the 1-1 draw against Slovakia which, given it was at Tallaght Stadium, was one targeted as a must-win to allow for as much breathing room as possible.
While it is a bitter pill to swallow not to secure the win, he feels that Slovakia would be durable opponents for any side. But he's confident that Ireland can perform better when they meet again in the return match on 6 September.
"The performance against Slovakia was obviously disappointing to only get a point," Elmes admits.

"But I think everyone, bar ourselves, didn't give Slovakia the credit they deserved. Going into the game, we were well aware of what they would bring. They're a very good side.
"I think when you look at fourth seed teams, they would be one of the best teams out there in that seed. They're a strong side, good opponents and I think we've seen that in that performance.
"But as far as the positives are, when we really went for it in that second half, we created a lot more chances. And I think if we come up against them again, you'd be positive we'd pick up a better result."
And by the time they prepare for that trip to Slovakia in nine months, Elmes is hopeful that Pauw's Ireland can be right in contention should they hold their own against Sweden, repeat the win over Georgia and pick up another positive result against a Finland side right on their shoulder in the race for second place.
We need your consent to load this YouTube contentWe use YouTube to manage extra content that can set cookies on your device and collect data about your activity. Please review their details and accept them to load the content.Manage Preferences
"They are in a really good position right now looking for qualification," he says of the squad's confidence levels.
"I think if we can get through the next round of games in a similar way, it's obviously gonna look really good for us. We just need to keep doing what we're doing, keep performances going and keep everyone together.
"I think the profile of the players on the outside is really good. But even on the inside, inside the dressing room, the way the group is together is very, very strong. One of the things I picked up quite early was how tight of a group it was. When you've got that, good things can happen."
There's lots of good things happening, there's lots of good players coming through
And given his direct involvement with the Under-16s age group, looking beyond the medium term goal of a World Cup play-off place, Elmes is optimistic that the quality is coming through to bolster the current sense of progression made by the senior side.
"It's definitely looking at things in a long-term view as well. You see some of the players involved at 19s, they were involved in qualifiers there recently and played two fantastic games against England and Switzerland," he says.
"Excellent performances against two real top nations and our players didn't look out of place at all.
"So that's really positive and you see the performance of our 17s in their qualifying campaign over in Norway. They were fantastic to go top of the group and beat Norway in that way, so there's lots of good things happening, there's lots of good players coming through.
"But it starts off a lot younger. We have nine centres of excellence around the country and we're identifying the players and bringing them into those centres and having the time with them to develop them and getting them in at 16s. The (current U-16s ) grouping with myself again is a real positive group and we're really optimistic about what they can do."