If Ireland's World Cup ambitions are to remain realistic, there can be no other outcome than a home win as Vera Pauw's side host Slovakia at Tallaght Stadium on Thursday evening.
It's been a fine start to the campaign for the ever-improving Irish unit as a narrow defeat against the group favourites Sweden was backed up by an excellent outing in Finland, where Ireland defeated their hosts 2-1.
With one team to qualify automatically and another to progress to the play-off phase, it is already looking as if the world number two-ranked Swedes are favourites to top the group, while the battle for second place should be a straight shootout between Ireland and Finland.
Slovakia would appear to be just shy of the quality to challenge for second spot, however, judging by their performances thus far, they can certainly have a say in how the final places end up.
Finland and Sweden have already beat Thursday's visitors to Tallaght Stadium, but both sides could only manage one-goal victories, and Ireland need to make a statement to ensure that they keep pace, while ensuring that their record remains flawless against the lower-ranked sides.
Ireland possess the quality to beat Slovakia and as long as they play to their potential, they should secure the three points.
They have certainly built up the required momentum over the course of the last 12 months, competing with higher ranked sides, culminating in the recent victory over Australia at Tallaght Stadium, a venue where they are very much at home at the foothills of the Dublin Mountains.
And as a result, expect Pauw's side to start the game on the front foot, play with confidence and composure and look to hurt Slovakia in the early stages of the contest.
The Ireland manager was quick to downplay the optimism heading into the game and said Slovakia have both the quality and the formation to cause problems for her side, stressing that the team will play to win, but must not lose.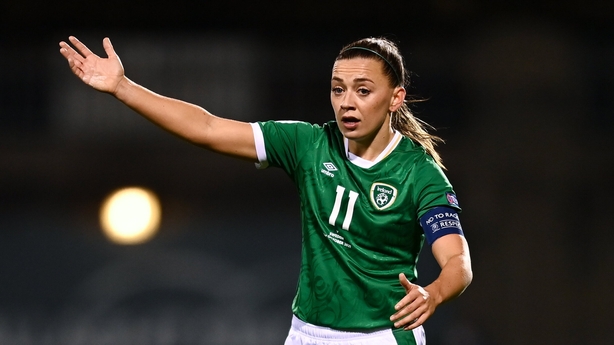 But Ireland are continually improving, and it comes from a combination of playing together as a unit under a progressive manager with a very clear way of playing, and the strengthening of the squad, which is increasing competition for places.
And one vital aspect of the journey that this side is on is that they know their limitations and will focus on the things that they can obtain rather than play a game that they are not yet capable of playing.
"We know what we can do and we know our qualities, and if we meet our qualities we have a good chance," said Pauw. "But we also know if we don't meet our qualities, then we have a problem.
"The team is so realistic on both sides and that is the strength of this team. They know exactly what we can, and what we can't yet, and we are always developing to make that step further."
Ireland's attacking unit also appears to be a lot more dangerous in recent months and they are looking a lot more potent compared to their last campaign, where they fell short of qualifying for the Euros.
Heather Payne leads the line with pace, precision and just the right amount of disruption, proving a real handful for the defensive unit, whether running with the ball from either flank or working hard in the middle, occupying the centre-halves.
Lucy Quinn's recent arrival has added a more significant goal threat in the side, and other players like Katie McCabe and Amber Barrett's games are ever evolving and bringing much more intelligence to the attacking play.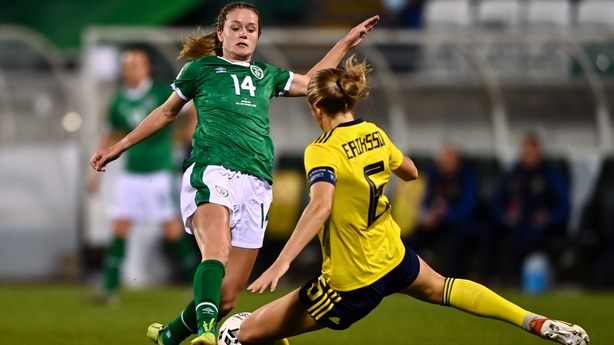 Throw in the relentless nature of Denise O'Sullivan and Aine O'Gorman driving the team forward, combined with the quality of both Megan Connolly and McCabe's set-piece delivery, and it really does augur well for Pauw's charges as they progress through the group.
Ireland have managed to create the near-perfect balance of playing on the front foot, while maintaining a shape and structure that is hard to play against, and hard to break down.
In fact, Ireland's one-goal losing margin against Sweden could prove vital when the group is played out as there may be little between themselves and Finland in the final points tally.
The Ireland manager paid tribute to those "invisible" players in the team who allow star players like McCabe to advance and take chances in attack, knowing that the required cover is protecting those instinctive forward forays.
Players like Jamie Finn in the heart of midfield and the central defensive trio of Niamh Fahey, Louise Quinn and Savannah McCarthy offer great protection to the attacking six, and they appear to be getting better game by game.
A question mark remains over the goalkeeping department and there is a sense that the manager is still not completely convinced of what is at her disposal as her last line of defence.
Decent performances in 2020 suggested that Grace Moloney would be the number one choice going into the World Cup campaign, however, Courtney Brosnan has been charged with that responsibility so far, starting against Sweden and Finland.
Brosnan could not be faulted for either of the goals conceded against Sweden or Finland, however, the soft Mary Fowler goal for Australia in September remains fresh in the memory, and one that will probably still cause selection headaches for Pauw.
Megan Walsh is the latest recruit for Ireland and the Brighton goalkeeper received international clearance ahead of the game, which gives Pauw more options in the position.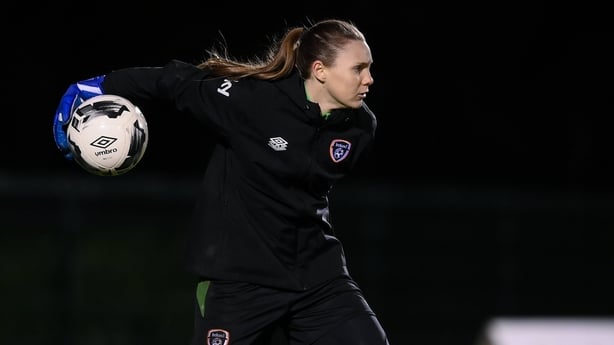 Brosnan will surely start again and the manager is hoping that Walsh's arrival will help strengthen the goalkeeping unit and as a result secure improved performances from all concerned.
"The goalkeeper is crucial in any team," said Pauw. "And if that is an issue, you have an issue as a team, more so than outfield players.
"So it is so important to have a core group to compete with each other, and they will push each other to a higher standard, and that will give us more stability in our goalkeeping.
"The goalkeepers are improving very much and the fact that we have four goalkeepers from the WSL in our group, that is something you can dream of."
By the end of play on Thursday, the group could take on a very different complexion as the vital meeting of Sweden and Finland is taking place in Gothenburg, a game that will be almost over by the time Ireland take to the pitch in Tallaght.
The Ireland boss was in three minds as to her preferred result for that game, which throws up several scenarios for her own side.
"There are so many theories," said Pauw.
"If Sweden lose, it would give us the chance to win the group, if we win all the other games.
"If they draw, Finland and Sweden both drop points, which is another situation.
"If Sweden win, then Finland is further away. But we can only see after all the games."
And Pauw is, no doubt, well aware that all of the above counts for very little if her own side do not go out and take care of business, to ensure that Ireland remain very much a part of the World Cup conversation moving into the decisive phase in 2022.
Republic of Ireland (probable XI): Courtney Brosnan; Niamh Fahey, Louise Quinn, Savannah McCarthy; Áine O'Gorman, Katie McCabe, Jamie Finn, Megan Connolly, Denise O'Sullivan; Lucy Quinn, Heather Payne.
Follow Republic of Ireland v Slovakia this evening via our liveblog on RTÉ.ie/sport and the RTÉ News app, watch live on RTÉ 2 and the RTÉ Player or listen to live commentary on RTÉ 2fm's Game One (6.30pm)