Katie McCabe has been passed fit to face Slovakia in Ireland's crucial World Cup qualifier in Tallaght Stadium on Thursday evening.
The national team captain has been nursing a foot injury, however, manager Vera Pauw confirmed that McCabe is fit to start the match.
Ireland go into the game looking to maintain their fine start to the campaign and hope to build on the excellent victory that they secured over group rivals Finland last month.
Pauw admits that her side will be playing for a victory against the side ranked 12 places lower than Ireland on the FIFA list, however, she is expecting a tough game against the visitors who are very compact and tough to break down.
The match in Tallaght is approaching a sell-out with over 6,000 tickets already sold 24 hours ahead of kick-off, and a victory would see Ireland maintain their impressive start in their bid to qualify for the 2023 tournament.
"We had some doubts [over Katie], I'll be honest," said Pauw, speaking at the pre-match press conference.
"Katie had a knock on her foot, she had that in her last game, but the medical staff has done fantastic work, it's all been cleared.
"We had to take every precaution and you will see a different warm-up from her, [but] she's fit."
McCabe has been Ireland's most high-profile player in recent years, and the manager believes that she is now reading the game with a lot more maturity and is continually improving.
And she feels that McCabe offers a lot more in attack for Ireland as a result, combined with the fact that there are team-mates around her that allow her to take more of a risk going forward.
"Katie is crucial. She is the captain and the leader of the squad, she is so influential. And you see the influence she has on the players, she makes things happen.
"She is growing and growing, especially in the maturity of her game. Before there were moments where she could not identify whether to stay away or dive in, whether to hold it or pass. Now she has matured so much at Arsenal that her role in our team has developed, and we can see how she has become a top star.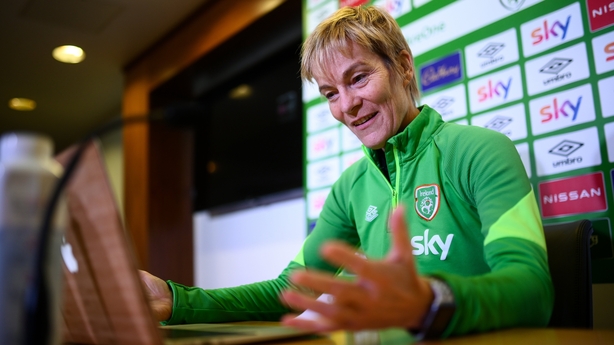 "Every team is built around some very good players, and she is more visible that others, and she is doing it really well.
"We want her more forward and she is already more involved going forward, especially against Finland. As long as we play this way, we get the most out of her.
"It is possible that she goes forward because of the back-up and the cover that she has from players that are less visible, and that is key to why she is performing at a higher level now than she did before.
"Katie gives something extra, but others make it possible that she can do that. That is togetherness, and that has grown in our squad."
Looking ahead to the game, Pauw feels that her team are capable of winning and believes that if her side play to their potential they will secure the three points.
The qualifying process remains in its early stages, however, Pauw is keen to get as many points on the board as soon as possible, while she also acknowledges that a victory would help to maintain the momentum that has been building over the past 12 months.
"It will be very close," said Pauw. "The teams are not that far apart, and it is definitely not a reflection of the ranking. We're confident, it's a qualifier and we will be aiming to win, and at least not losing.
"It's extremely important [to get a result and keep the qualification dream alive]. The more points you are getting now, the more you have a buffer later. If you lose points now, there's immediately no buffer. We have to do our job in every single game.
"For the momentum and the stature of our game a win would [help]. It would be fantastic if we can get the points, but it is not coming by itself, it will be really hard work and a very close game.
"They are very structured and have a few quality players that stand out, and the rest is a very structured, experienced squad around it.
"They are very difficult to break down, they hardly get goals against, and in all their recent games, they have been very close against Sweden and against Finland. We have to be at our best."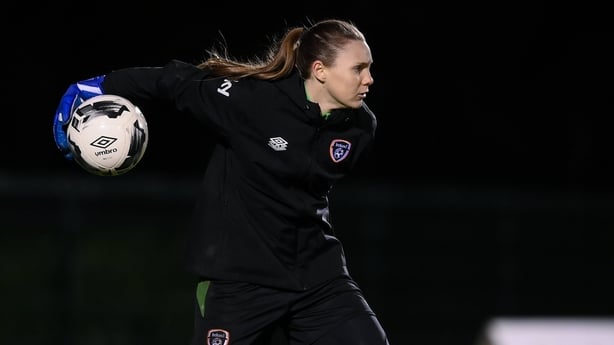 Brighton goalkeeper Megan Walsh received her international clearance ahead of the game and joins Everton's Courtney Brosnan and Reading stopper Grace Moloney in the battle to secure the number one jersey. Pauw said that she is settling in very well with the squad.
"She is doing really well, and she is looking to be part of the team, but that is the same with every player, of course.
"She is delighted, and we officially handed over her passport this week after the clearance with FIFA, and she is with us now.
"The goalkeepers are improving very much, and the fact that we have four goalkeepers from the WSL in our group, that is something you can only dream of."
Expectation among the Irish public is growing as they see Pauw's side continue to improve, most notably in the recent victories against Australia and Finland, as well as the battling, albeit losing, performance against Sweden. Ireland lost 1-0 to the world No 2-ranked side.
As a result, the manager knows that her side have to keep their feet on the ground, play to their potential and hopefully end the night with three more points in their Group A campaign.
"We are realistic of what our chances are, and we need to have the same levels as we had against Finland to win.
"We will step on the pitch with the same approach as against Finland, and the intensity needs to be the same.
"If I can use a Dutch expression, 'if your pants are too big a size, they will go down to your ankles'. So if we say we are better that we are, then we will get a problem coping with that. We are very realistic of where we are, where we can grow to and which steps we want to make.
"We do not do things to please anyone; we please people by winning. That is what we are trying to do."
Follow Republic of Ireland v Slovakia tomorrow evening via our liveblog on RTÉ.ie/sport and the RTÉ News app, watch live on RTÉ 2 and the RTÉ Player or listen to live commentary on RTÉ 2fm's Game One (6.30pm)