The addition of Shelbourne's 16-year-old ace Jessie Stapleton to Vera Pauw's Republic of Ireland squad for the forthcoming World Cup qualifiers with Slovakia and Georgia gained plenty of traction on Monday, and in Éabha O'Mahony they have another youngster destined for a big future in the game.
The Cork youngster, who has three caps to her name, turned 19 back in May but speaks as comfortably as a veteran and is equally as engaging when discussing football, her studies and where she sees this Irish team going ahead of Thursday's first game against Slovakia.
It's fitting that she made her debut in America two years ago because that is where she currently resides as she plays with Boston College.
"I love it," she said of life in the States.
"To be honest, I haven't been homesick yet, which is quite a surprise. I love the professionalism about it. Waking up every morning, having somewhere to go, practising, playing with the likes of Jaelin Howell from the US Women's National team, that calibre of player is great.
"It's always a learning experience, especially after one season, I've learned a lot, I can develop my game a lot over there."
"Soccer is different over there. It's more running and things like that. Even if you talk to Denise [O'Sullivan], she'll tell you that it's just the pace of the game is very fast. I'll just develop so much. I personally want to improve my aggression on the pitch - I think that's the place to do it."
O'Mahony's ambition in life is simple – to play professionally for as long as possible. However, her family are constantly in her ear about the need for an education to hold in reserve. Currently she is in the business school in Boston College but she plans to transfer to an applied science course with some business aspects.
The flexibility afforded to her and her team-mates is well received, though.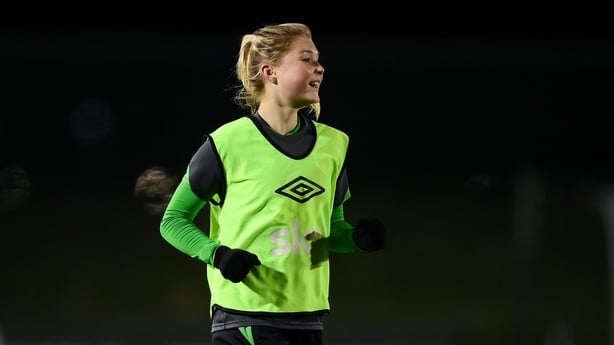 "Basically, when we're in college, our soccer commitments come first," O'Mahony said. "We kind of work our classes around that, which is great.
"Especially on game days when we have a 7pm kick-off, we tend to have no classes. [We] try to put them on the other days and more on our recovery days and things like that.
"But it's great, we also have tutors and everything, everyone kind of works together for us."
One person working very hard for her is Boston College head coach Jason Lowe who is giving her plenty of game-time to develop. O'Mahony has already 15 appearances under her belt since making her debut in August and she's getting closer to that first goal too, heading over from close range against Notre Dame and having three shots repelled by Massachusetts goalkeeper Bella Mendoza.
That can only be good news for Irish manager Vera Pauw and O'Mahony is determined to leave every camp with more knowledge and experience on board, and she is more purposeful than ever having missed out on the 23-player squad for the trip to Finland last time out.
"I come in here every time to learn lessons. It's almost fuel to your fire in a sense.
"There are ups and downs in sport and once you handle the downs, you're going to make the ups even better. It was great to go back straight into football again [after missing out on Finland], playing week in, week out."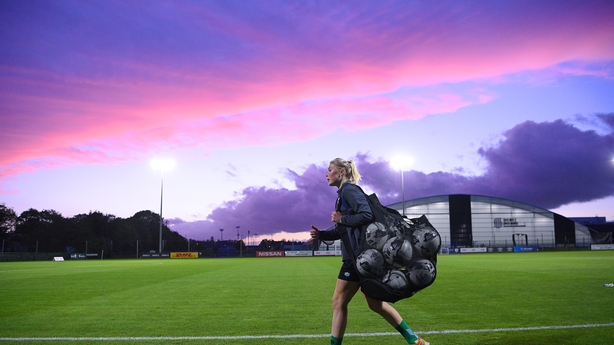 Pauw has shown that she is not afraid to throw someone into the team if she feels their form justifies it, Savannah McCarthy the most recent example, and O'Mahony said that she's happy to keep on grafting safe in the knowledge that it will eventually pay off.
"Yeah, there's hope, but again, it only comes with hard work and I think I've a lot of work to do to try to establish my name and things like that, but I've got to trust the process.
"Hopefully, by putting in the work, good things will happen, but you never know."
Regardless of when those next minutes arrive, O'Mahony is just hoping for two wins in the coming days to keep the side's World Cup hopes alive.
"Three points going into every game is the main aim. Everyone is looking forward to it. There's a good positive buzz around the camp. Six points is definitely the aim."
Listen to the RTÉ Soccer podcast on Apple Podcasts, SoundCloud, Spotify or wherever you get your podcasts.
We need your consent to load this SoundCloud contentWe use SoundCloud to manage extra content that can set cookies on your device and collect data about your activity. Please review their details and accept them to load the content.Manage Preferences