There was a notable lack of nervous energy in the room as Stephen Kenny engaged in the obligatory pre-match press conference in the bowels of the Aviva Stadium.
A sold-out venue and the arrival of the iconic Cristiano Ronaldo, you might expect more of a buzz from the assembled ensemble as Ireland face Portugal in their final home World Cup qualifier.
Yet of course, Ireland's chances of reaching the Qatar tournament next year are long gone, and while the match is an important one for the overall group standings, for Kenny's side, it is one that is lacking tangibility.
Momentum has been building and the team have been getting better and better in every game, as mentioned by the manager during the 20-minute sit-down, and it is that particular category which will prove most vital for this Irish side as they are already looking towards next year's UEFA Nations League and qualification for Euro 2024.
The lack of nervous energy could, of course, be attributed to the fact that the aforementioned momentum has been building confidence in a team that has finally started to come together in terms of both performance and results as Kenny's side enjoyed emphatic wins over Azerbaijan and Qatar last month.
And those fine performances, coupled with the home tie against Serbia, are both very fresh in the memory for this emerging team, who will have no fear going into Thursday's match with Ronaldo and the Portugal elite.
Even still, the manager accepts that his side will have to play to their potential to replicate the performance in Faro and go even further to get a result against the number eight ranked side in the world.
"We know Portugal are a world class team and have exceptional players so you can't predict anything," said Kenny.
"The players have trained very well and have applied themselves brilliantly, their attitude has been absolutely excellent.
"We know that Portugal have quality in every position so we are going to have to play above ourselves, and to get the level of performance that we require, we have to play to our full potential and we will try to do that."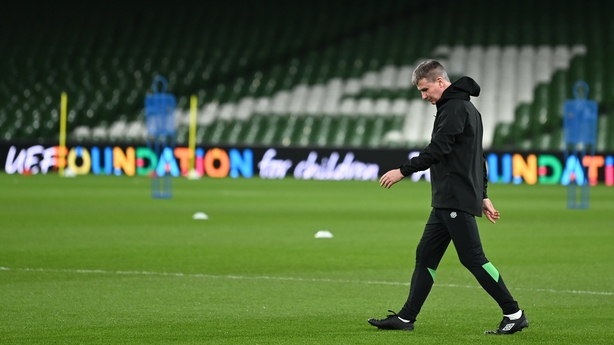 And while Ronaldo stole the show in Portugal with those two late, late goals to turn a 1-0 Ireland advantage into a 2-1 home victory, the manager is well aware of the threat that tomorrow's opponents bring from all over the park.
"He's a terrific player," said Kenny, when asked how his side can contain Ronaldo.
"But we're not really focusing on one player as they can punish you from any area.
"We're just trying to improve ourselves, we are not perfect and we know that there are a lot of areas where we can still improve. We are still emerging.
"You can see the improvement but we have to work on a lot of other stuff, we have been doing that over the last few games and hopefully we can put in the performance that we need tomorrow night."
The Portugal fixture brings the glamour, however, from Kenny's perspective, the away fixture on Sunday in Luxembourg – the final game of the campaign – is perhaps the one which he will be judged more on in terms of procuring a contract extension.
But the manager cannot really look past Thursday's game and admits that he has to pick the best team for the visit of Portugal.
"Both games are equally important," said Kenny. "I don't put one in front of other in terms of precedence, and players want to play in every game, it's only natural.
"And because it's the next game, we'll pick the team we feel is right for this game, and inevitably there can be changes for Sunday.
"We have seen benefits of freshening the team up. We have learned that ourselves. There could be changes [for Luxembourg] alright."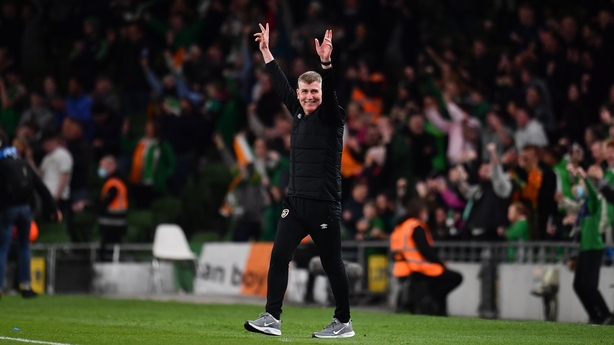 But Kenny is certainly buoyed by the occasion and you get the sense that it has been games like the visit of Portugal in front of a packed Lansdowne Road that are the occasions that he has been envisaging since taking on his dream job of national team manager.
And while he is enthused and excited about the crowd getting to see his team, and his players to connect with the supporters who have been watching from beyond the boundary since the start of the pandemic, he also urged an element of caution and an emphasis of calm in terms of what to expect from his side against the much-fancied Portugal.
"I think that it is important that we bring calm to our play and bring a level of composure to our play," said Kenny.
"Sometimes people expect you to get forward more quickly, [but] we need to have that element of calm in our play even when we are pressed high. Portugal will press us high because they are actually very good at that.
"Regardless, we must have the courage to play out. We must not be fearful in that regard. We can bring calm to our play and ensure that we have ourselves the option that, whoever is in possession, that they have the required number of options.
"Your movement off the ball has to be of a high level. You have to play with intelligence and try to have some sort of control on the game.
"Hopefully we can get a cutting edge after that. We have to earn the right to do that first and establish some sort of control."
Follow the Republic of Ireland v Portugal via our liveblog on RTÉ.ie/sport and the RTÉ News app, watch live on RTÉ 2 and the RTÉ Player, or listen to live radio commentary on 2fm's Game On.