Yet another update from the bloody culture war battlefield.
The pro-Kenny forces, after a year of heavy reversals and gross misfortune, are bullish after a couple of morale boosting victories.
The anti-Kenny element, reeling and somewhat more subdued than before, are falling back on a strategy of dismissing our recent opponents as harmless pipsqueaks.
While Azerbaijan and Qatar are not awe-inspiring opposition, it has become necessary for the anti-Kenny partisans to portray them as two of the worst teams ever to lace boots in the aftermath of Ireland's three and four-nil victories.
This verdict isn't exactly borne out by their results over 2021, which include several respectable efforts, interspersed with a few thrashings. Azerbaijan, in fact, gave Serbia some gyp in Belgrade three days after their spanking from Callum and co.
Nonetheless, it wouldn't be wise for Kenny's supporters to play up this angle too much, given that Azerbaijan and Qatar's recent respectable results include 1-1 draws against, ahem, Ireland. It would merely afford their enemies the opportunity to point out that Kenny was only clearing his own low bar.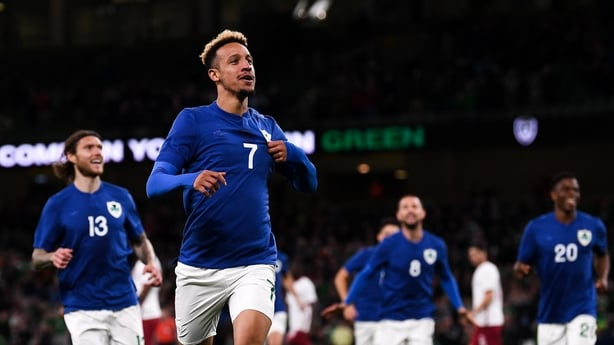 There were two ways to analyse Ireland's recent upswing in form. One is that the team have come through a savage transitional period, in which Kenny was obliged to de-programme the older heads after years of O'Neill/Trap/McCarthy ball - all variations on the same basic style - while at the same time, introducing a platoon of youngsters into the team.
Now, it is finally starting to gel, the signs of improvement being seriously evident away to Hungary and Portugal and then to a greater extent in October.
If we can indulge in some leftfield theorising. Ger Loughnane - not a footballing intellectual admittedly - once posited, in relation to Clare's 2013 season since you asked, that when one is implementing a change in style in a team, you have to exaggerate what you're doing at the outset or else old habits will re-assert themselves and the change won't take. This can make a team's play look overly deliberate and self-conscious. Hence, the excessive 'fannying around' in late 2020.
However, once the change beds in, the team can begin to play more fluidly and instinctively, occasionally deviating from the script. Thus, we saw Ireland mixing it up to a greater extent against Azerbaijan.
The alternative analysis is that little much changed in October beyond a striker hitting a rich vein of form and that Robinson's hot streak could blow cold before long, leaving us back where we were and stuck for goals again. Oh, and the teams we beat were rubbish anyway.
One would like to move on from this interminable debate around the manager. What more is there to be said...?
Unfortunately, with qualification not a realistic proposition since Luxembourg, there has been little else to fixate on but the manager and his revolutionary project. These would usually be heady times for the permutations eggheads but they're twiddling their thumbs this time around. Their services are not necessary.
But for the most part, the anti-Kenny crowd are still dug into their position and will need more than wins over Qatar and co to disabuse them. They want Kenny out and replaced immediately, most likely by some dour C-lister plucked by the ranks of the EFL Championship.
Recent experiences of the debate show how fraught it has become.
To judge from the reaction to recent articles, Stephen Kenny's name alone has become one of the trigger phrases that set people off. He's become a subject fit for Piers Morgan to blow hard about, like gender neutral toilets and the vegan sausage roll.
Tellingly, one referendum veteran and inveterate contrarian tweeted this week that he hoped Portugal would win on the grounds that this might shoo Kenny out the door. The manager has become a true culture war totem when you can guess a person's opinion on him from their politics.
It's over a year since the contours of this dispute began to take discernible shape. At the time, we assumed it was a divide between the 'naive' League of Ireland boosters and those people who, in Dermot Keely's infamous formulation, like to pause the game so they can go out and make a cup of tea.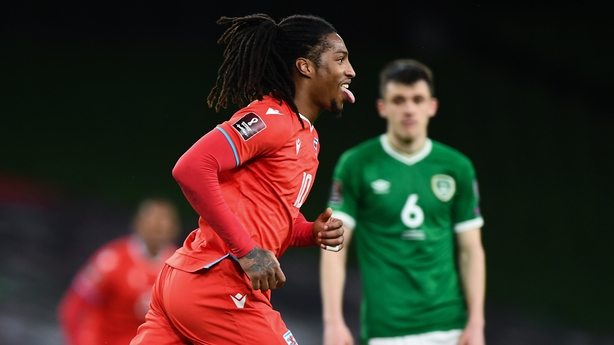 That is one dimension to all this, although not the only one. And even that picture is somewhat complicated, given that a noticeable proportion of Shamrock Rovers fans are loath to join the Kenny bandwagon, perhaps on account of their memories of their ill-fated three-in-a-row tilt in 2012.
Arguably, a bigger factor than that is resentment of the footballing intellectuals, the podcast cognoscenti who are forever telling them that Kenny is wonderful, while suggesting that only troglodytes could think otherwise.
The way they see it, the kind of people telling them Kenny is great are the same people telling them that Ronaldo is actually the main problem with Manchester United now.
The anti-too-clever-by-half constituency is a large one. As is obvious to any devoted politics watchers, this sort of thing invariably whips up its own backlash.
All the more so when Ireland are losing at home to Luxembourg.
Still, it has been a bad month or so for Kenny's critics. Their cough has been further softened by the sacking of Mick McCarthy - the deposed boss in exile - after a dismal run at Cardiff City. This shouldn't count for very much, although it seemed to count for something when McCarthy's Cardiff were briefly pulling up trees late last year.
But for the most part, the anti-Kenny crowd are still dug into their position and will need more than wins over Qatar and co to disabuse them. They want Kenny out and replaced immediately, most likely by some dour C-lister plucked by the ranks of the EFL Championship.
Soon the debate will quieten - for a time - as the FAI will decide whether the gaffer is deserving of a new contract. Kenny, who has shown himself a shrewdly assertive operator with well-timed polemical interventions on his own behalf (such as his rousing homilies after the first Qatar and Azerbaijan games), has got out ahead of the debate with bullish statements about targeting top spot in the 2022 Nations League group.
The players seem adamant enough he should be retained - although some will dismiss that as them dutifully trotting out an expected line.
"We're enjoying the style of football we're playing and we're starting to see the rewards results-wise, from the performances we've been putting in," Josh Cullen said on Monday. "For me, it's a pretty straightforward answer, yeah 100%, I want the manager to stay."
There are a couple of hurdles to navigate this week and it all could look very different by Sunday evening but from this remove, the odds look good for the incumbent.
The Portugal game has been billed as a free hit although if Ireland take a hammering, which on paper, is possible, then the mood music could change again. The Luxembourg trip, needless to say, is critical. We know now at least that they're wily and well drilled opposition but there's enough evidence to suggest that Ireland have come on substantially since March.
Ultimately, one of Kenny's biggest strengths at this moment is that the alternative vision is so dismal.
The current Ireland manager plainly regards his current role as a mission and a vocation and the pinnacle. The idea of switching tack and plumping for some time-server on the Championship merry-go-round who might, at any moment, jump ship to take the West Brom job, fills many people with despondency.
Given the trajectory of the campaign, it would seem like a retrograde step to dispense with Kenny at this stage.
Follow the Republic of Ireland v Portugal via our liveblog on RTÉ.ie/sport and the RTÉ News app, watch live on RTÉ 2 and the RTÉ Player, or listen to live radio commentary on 2fm's Game On.