Dundalk manager Vinny Perth says the club has failed in providing the right environment to be successful and feels they deserve better.
Having bowed out of the FAI Cup semi-finals on Friday night at the hands of St Pat's, the Inchicore club made it a double in 72 hours when Billy King struck for the only goal of the game.
The home victory meant Shamrock Rovers' title celebrations have been put on ice, but at the other end of the table, Dundalk are deep in relegation mire.
They are level in the standings with Waterford who travel to Oriel Park on Friday night, and a point ahead of Finn Harps, who now sit in the promotion/relegation play-off spot, with both sides having played a game less than the Louth club.
Given the recent success the club has enjoyed domestically, plus a number of memorable European campaigns, the fall from grace has been a steep one, but Perth says it has little to do with the players.
"To be fair to the players, they have done everything that is needed, but as a club, we haven't created the right environment for them to be as good as they should be," he told RTÉ Sport.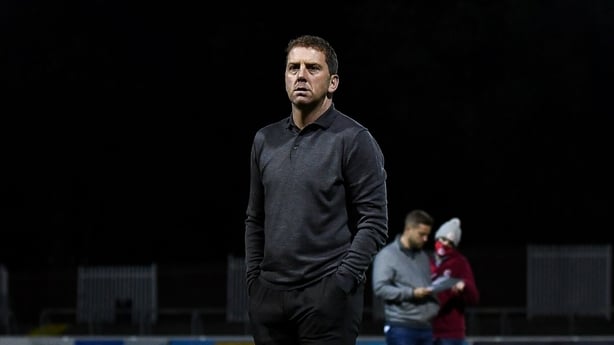 "It's too easy to blame players for everything. I'm not having that at the moment. The players have gone to the well at different stages. We are in a difficult situation now."
Dundalk owners Peak6 have come in for criticism for their running of the club, but while Perth acknowledges errors have been made along the way, he insists the issues at the club run much deeper.
"I think it's more than just ownership. It's bigger than that. They put a lot of money in, but they made huge mistakes, but they are not solely culpable for where we are.
If we end up in a play-off, we end up in a play-off because we deserve it as a club
"Where we are is for another day, I'll just concentrate on the team. That's all I can do. All the other stuff is completely out of my control.
"If we end up in a play-off, we end up in a play-off because we deserve it as a club, but the players deserve more than that."