Whisper it quietly, but Stephen Kenny's luck appears to have turned.
A manager whose first year in charge of the Republic of Ireland was seemingly cursed by a never-ending stream of injuries, Covid-19 related withdrawals, empty stadiums and some old-fashioned misfortune on the pitch, suddenly appears to be in the ascendancy.
Before this week, all the talk was of the manager's record of just one win from 16 games, that sole victory coming against the smallest of minnows Andorra, and whether or not Kenny's commitment to his footballing philosophy was overly idealistic at best and unworkably naive at worst.
Plenty can change in a week, and a 3-0 win in Azerbaijan, coupled with a homecoming of sorts as Ireland turned on their style to beat World Cup hosts Qatar 4-0 in front a sold-out crowd at the Aviva Stadium, means that we go into next month's home clash against Portugal with a real sense of optimism.
The seven goals scored across the two games are just as, if not more important than the actual wins, as the biggest problem of the Kenny era finally appears to have a solution in the shape of Callum Robinson.
Robinson's sudden purple patch in front of goal may not have saved Kenny's job as he was realistically unlikely to be sacked no matter what the outcome this week, but they have helped the manager to look more secure and offer those who believe in the Kenny project something tangible to point to.
There was an ephemeral element of good fortune about Robinson's strikes, that slight deflection for his second goal against Azerbaijan, that big deflection for his opener against Qatar, the kind of break that has been conspicuous by its absence for so much of Kenny's tenure.
Intricate football from Ireland ends with Callum Robinson firing a deflected effort to the net. A perfect start at the Aviva.
📺 https://t.co/JYf06csaIG
💻 https://t.co/ji74HIr1GO
📻 https://t.co/k385JrUVqr #RTEsoccer pic.twitter.com/r7FLO3hS0N

— RTÉ Soccer (@RTEsoccer) October 12, 2021
Kenny's Ireland have played better than they did in Baku and come out on the wrong side of a result, and for once it feels that the bounce of the ball is going our way.
But just as defeat to Portugal, despite a fine display, does not mean that Kenny is not suited to his role, two wins against teams that Ireland could and should expect to beat regularly does not mean than all questions about the manager have been answered.
The victory over Qatar was a morale-boosting exercise, but it would be a mistake to read anything more into it.
The World Cup hosts looked a tired and disinterested team, with no discernible midfield and seemed resigned to defeat from the third minute when Robinson opened the scoring.
In many ways they were the perfect opponent for Kenny's team, affording Ireland time and space on the ball to do as they pleased and their World Cup adventure is likely to be a short one next year.
The temptation to try to divine more from these two games is obvious, as is the support for Kenny among many supporters.
There's a widespread understanding of what Kenny is trying to achieve and how much his initial spell was hampered by circumstance and misfortune. Didi Hamann got it wrong when he asserted that the manager's League of Ireland roots have bought him time that other managers would not have had.
Ireland football fans are generally knowledgeable, and they understand the base from which this Ireland team are coming and appreciate that Kenny is trying to make genuine changes.
Under the 11-year spell from 2008 in which Giovanni Trappatoni, Martin O'Neill and Mick McCarthy were all in charge, Ireland played with the same predictable and increasingly stale style. Kenny's desire to shake things up, to demand more creativity and to trust his players more is what's behind the patience being shown.
There's a real desire among supporters for Kenny's approach to be vindicated and that's perhaps why some are getting carried away with this week's results.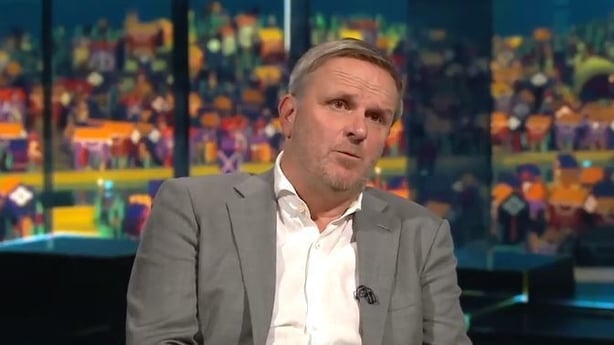 Even Eamon Dunphy, the man who arguably built a media career off the back of his criticism of Irish managers, is coming out in defence of Kenny, with Hamann in his firing line for having the temerity to suggest that the manager's efforts to put a positive spin on his record after the Azerbaijan game was a stretch.
The support for Kenny and desire to see him succeed is palpable, but we must not get carried away after beating two teams that Ireland should always expect to beat.
Likewise, defeat to Portugal at home next month would not be cause to panic or make rash decisions.
Ireland's World Cup qualifying campaign will end in November with that home game against Portugal and a trip to Luxembourg. Losing to Portugal and winning in Luxembourg would be par for the course and anything more than that a bonus.
Regardless of how those two games go, Kenny has shown enough to warrant remaining in charge for the Nations League campaign.
The manager's contract runs until July 2022 and while FAI chief Jonathan Hill confirmed that a review of his position will be conducted at the end of the World Cup qualifiers, there have been enough positives to at least let him see out the contract.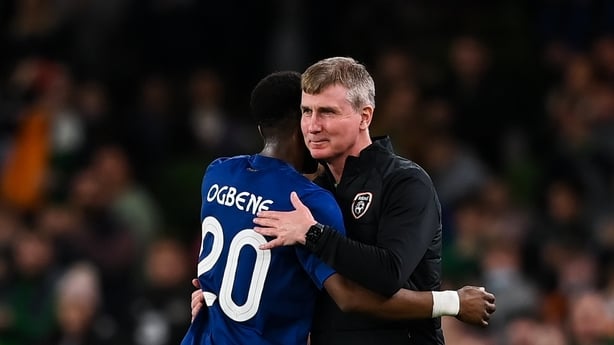 Gavin Bazunu, Jamie McGrath, Andrew Omobamidele, Chiedozie Ogbene and Dara O'Shea have all been bedded into the squad under Kenny and look like forming the backbone of the team for years to come.
Listening to the likes of Ogbene talk about Kenny, it's clear just how much respect and belief that this young squad have in their manager and what he's trying to achieve.
Long-term planning and patience has often been in short supply among the FAI blazers and decision-makers, but even they will see what Kenny is trying to create with this young and emerging Ireland squad.
He's not there yet and there may well be more bumps on the road to come, but for now the Ireland manager can finally point to more than just good performances and intent, and should be at the very least afforded another year to prove himself.