VENUE
Saturday 4 September, Aviva Stadium, 5pm
TV
Live coverage on RTÉ2 and RTÉ Player from 4.00pm
ONLINE
Live blog on RTÉ.ie and the RTÉ News Now app from 4.15pm
RADIO
Live commentary on RTÉ Radio One
ATTENDANCE
Twenty-five thousand fans allowed. Ostensibly, just home fans, although Irish supporters - some wearing the clever disguise of a Portuguese top - managed to squeeze into the venue in Faro on Wednesday. Whether the Azerbaijanis have the desire to get into the Dublin 4 venue on Saturday remains to be seen.
A change in mood - but we've been here before too
The pain from Wednesday's cruel finish is only just subsiding. In the mind's eye, we can still see the clock passing the 88th minute mark, with Gavin Bazunu having pulled off another save from Cristiano Ronaldo and the scoreline reading 1-0 to Ireland. If we could go back there we would.
In the sickening aftermath, all many could do was pound the living room floor in frustration, some "took to Twitter" to vent their dismay, while other more pro-active folk opted to make themselves properly useful by defacing Matej Jug's wikipedia page.
The 'Kenny out/anti-hipster' fraternity, who'd been shifting somewhat uncomfortably in their seats for the guts of 80 minutes, were handed a late reprieve and spent the evening baldly pointing at Ireland's current points tally in the group. This, to be honest, took a surprising degree of gumption in the context of the match we'd just witnessed, where almost everybody had assumed that Ireland would get humped by at least three goals.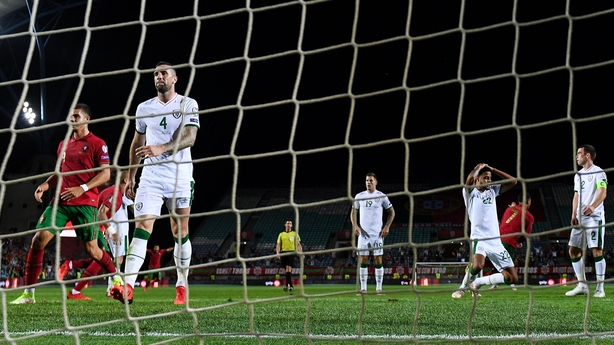 However, those of a glass half full disposition were inclined to push the positives, and they had plenty to work with.
The evening had seen superb performances from Bazunu, Adam Idah up front, as well as a terrific competitive debut from Jamie McGrath in midfield.
Seamus Coleman and Matt Doherty were fantastic in the wing-back slots, effective both defensively and offensively. Egan and Duffy were dominant for most of the evening, the latter having put the jitters of last season behind him. Dara O'Shea's nasty looking injury was tough for the player and worrying for the team but Andrew Omobamidele was superb when filling in (to the manor born, etc). Josh Cullen was marvellous in midfield.
There is still a big caveat, however. You could argue we've been here before.
We were all enthused by Ireland's bold and enterprising display in Belgrade six months ago. The manner of the narrow loss was greeted as evidence that good things were on the horizon. Three days later, after playing Luxembourg, everything looked pitch black again.
Even in Kenny's third game in charge, the Euro 2020 play-off in Bratislava, the team had performed well above pre-game expectations, frittering away a couple of wonderful chances and unluckily going out on penalties. But that match preceded a late autumn/winter of discontent where Ireland's chronic inability to score became a national punchline. (The FAI's 'Goal of the Year' competition for 2020 had to be expanded beyond the senior team).
The display in Portugal on Wednesday was clearly the best yet, but there is still a nagging fear that Kenny's Ireland play above themselves in these games away from home where opposition teams feel the onus to push up and leave space on the counter.
What are we going to be like on Saturday with the onus on the team to create and probe, in front of home fans, this time?
Another insipid and confused performance a la Luxembourg and the goodwill from Wednesday will be spent and the pressure will again ratchet up on Kenny.
Team Issues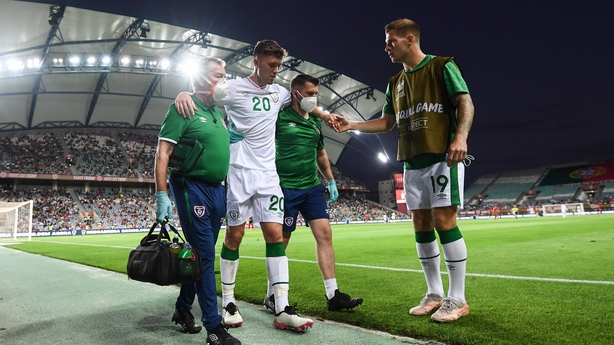 The extent of Dara O'Shea's injury remains to be seen. The visual evidence of the clash itself left many wincing and fearing the worst, although it was heartening to see the West Brom player walk off the pitch, albeit with the help of a couple of members of the medical team. A stretcher wasn't required, at least.
As it stands, Ireland are awaiting the results of a scan on his ankle, though it was confirmed on Friday that he won't be available for the next two games. Burnley's Nathan Collins is also out.
Liam Scales, who last week departed Shamrock Rovers for Celtic, is called up as cover in defence.
Meanwhile, Callum Robinson and Alan Browne have concluded their isolation period in the UK and are free to resume training. Robinson, for the second time in 12 months, tested positive for Covid-19, while Browne was identified as a close contact of another Covid case.
Robinson had been in fine scoring form for West Brom at the beginning of the season, although his illness and absence from training through isolation might count against him starting. Browne has also missed a period of training.
Matt Doherty, one of Ireland's strongest performers on Wednesday, confirmed he was struggling with illness - unclear what exactly it was - during the second half but says this has cleared up and he's free to feature on Saturday.
"Second-half, I don't know what hit me. My body shut down and I had pains in my stomach, so I didn't feel great," he said in Friday's press conference.
"Every time I went down it wasn't through injury, I was just really struggling. But I managed to crawl my way through the second-half and I feel a bit better now.
Azerbaijan - What sort of shakes are we dealing with?
The 'history corner' and 'last five meetings' segment of this 'AYNTK' is rather bare this time around.
Of the current UEFA affiliated nations, Ireland have, as of yet, not played just four of them, in either competitive or friendly games.
These are Ukraine, Slovenia, Kosovo (who were only admitted to FIFA in time for 2018 qualifiers) and Azerbaijan.
This number falls to three after tomorrow as we tangle with the Azerbaijanis for the first time.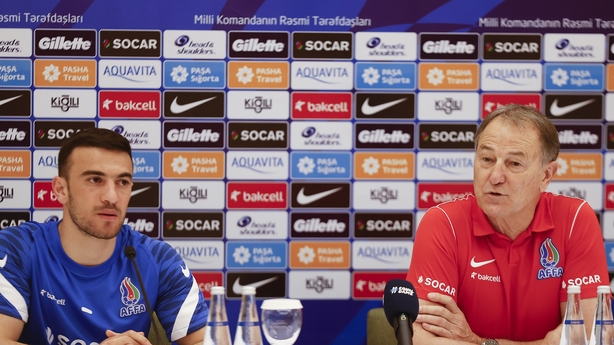 What do we know about Azerbaijan? What sort of shakes are they? The first thing to remember is that we're on high alert after March. Everyone had assumed that we'd surely have the stuff to roll past Luxembourg that night, especially having just given the Serbians their fill of it in Belgrade.
Luxembourg were subsequently confirmed to be entirely brilliant shakes altogether - or at least much improved shakes.
All indications are that Azerbaijan are a notch below Luxembourg in terms of quality. Like some other teams, they're currently stuck on 'nil pois' in the qualification campaign, though they had a gutsy performance of their own against the Portuguese, only losing 1-0 in a game played in Turin in March. Manager Gianni De Biasi has prioritised defence and, while the results haven't arrived, they haven't suffered too many trimmings.
We need your consent to load this YouTube contentWe use YouTube to manage extra content that can set cookies on your device and collect data about your activity. Please review their details and accept them to load the content.Manage Preferences
On Wednesday, they were downed 2-1 in Luxembourg. Legia Warsaw striker Mahir Emreli, their most feted player, was only sprung from the bench, however, and should start at the weekend.
Otherwise, the squad is heavily populated with players from Qarabag, the leading Azerbaijani side who famously journeyed all the way to the Champions League group phase in 2017-18.
Baku-based football journalist Farid Akhundov gave an in-depth lowdown on Azerbaijan to RTÉ Sport's Raf Diallo during the week.
While they would generally be perceived as long-time inhabitants of minnow-land, there are some parallels with Ireland. Between 2008 and 2014, they reached as high as 73rd in the world under the management of Bertie Vogts. However, according to Akhundov, the Azerbaijani football fraternity now regard that period as an "unsatisfactory" waste of time, when they played primitive football under their hotshot foreigner.
Happily, Akhundov tells RTÉ Sport that the team are a bit iffy on dealing with crosses and set-pieces. Lovely. Stephen Kenny may not be keen on the 'British style' but it's fair to say it has its virtues.
Verdict:
Republic of Ireland 2-1 Azerbaijan
We'll try and ignore that shiver of foreboding from last March and boldly predict a two-goal haul and a narrow win. Any sort of victory will do given our opponents at the weekend have demonstrated they're stubborn enough.
Follow Ireland v Azerbaijan with our live blog on RTÉ Sport Online and the RTÉ News app, watch live on RTÉ2 and RTÉ Player from 4pm and listen to live commentary on Saturday Sport on RTÉ Radio 1.
Listen to the RTÉ Soccer podcast on Apple Podcasts, SoundCloud, Spotify or wherever you get your podcasts.