Richie Towell is desperate to announce himself in a Shamrock Rovers jersey and taste some more European magic when the Hoops take on Slovan Bratislava in the first qualifying round of the Champions League this Wednesday evening.
Towell made his debut for Stephen Bradley's side last Friday against his old club Dundalk, with whom he enjoyed some terrific nights on the continent.
A 3-1 victory was a sweet start, but Towell admitted he was disappointed with his performance and is targeting an improved showing in Slovakia this week.
"It was brilliant," he told RTÉ Sport.
"Obviously to play against Dundalk, who are a top side... we knew it was going to be a tough game against them. To win 3-1, especially in front of the fans, it was brilliant. Leading into the European games it gives us a nice little boost.
"I'm very tunnel visioned - I kind of just blanked it out," Towel added when reflecting on his Dundalk reunion.
"I was probably getting a bit of stick off the fans and even some of the Dundalk lads were trying to chat to me during the game. It was a bit strange but you're a professional at the end of the day. You need to just do the job at hand.
Shamrock Rovers are preparing for a clash with Slovan Bratislava in the first qualifying round of the Champions League on Wednesday. @Corktod spoke to Stephen Bradley and Richie Towell to get the mood in the camp #RTEsoccer pic.twitter.com/7fOv1Fhr6u

— Soccer Republic (@SoccRepublic) July 5, 2021
"To be honest I didn't think I hit the heights. A lot of people are saying I need to be patient, it was my first game in 12 weeks, but Wednesday is something that I'm really looking forward to. I'm working really hard here, I want to come home here and be successful."
Towell opened up on his return to Ireland after six years in England with Brighton, Rotherham and then Salford City.
"It was a big decision, not just for me but my family as well," he said.
"My partner is from Dublin and my two kids were missing home really bad. They were missing their nans and grandads and all their cousins.
"For me it was more of a family decision to come home and then getting the opportunity to join a great club like Shamrock Rovers, with the facilities they have and the drive they have to be the best and dominate football here, it was a pretty easy decision."
Now he's eyeing a big European night to add to the glorious memories he accumulated when he was with the Lilywhites.
"My favourite one was probably my first ever game in Europe. I scored two. It's something I'll always treasure. I think it was in Luxembourg. My dad traveled over to watch the game so that always stands out.
"When Europe comes around it's an amazing experience.
"We watched some video stuff on them yesterday - they are a top side. They press really hard and when they have the ball they keep it really well. We know it's going to be a tough test but I'm sure it's something we'll relish."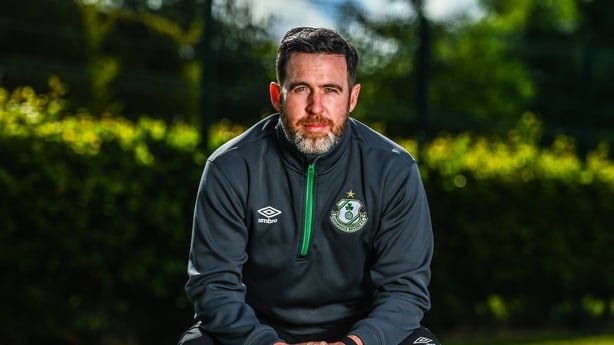 Hoops manager Stephen Bradley is also looking forward to facing the Slovakian champions and feels the experience gained by his said in Europe in the past few seasons will help his side.
Also speaking to RTÉ Sport, he said: "This team has played alot of big clubs in Europe over the last few years - Milan last year, Limassol the year before - so they'll be no fear. We will respect them, we will go there with a gameplan and look forward to it. These sort of occassions excite the group, even the experienced players, it's a fresh challenge.
"They are a very good team, we knew that before we looked at them. They have domianted Slovakian football for quite a number of years and have internationals all around the squad. At this level that's what you expect to face."
Listen to the RTÉ Soccer podcast on Apple Podcasts, SoundCloud, Spotify or wherever you get your podcasts.