Vera Pauw's Republic of Ireland side are in Iceland for an international double-header that will serve as further preparation for their World Cup qualifying campaign.
Pauw and the FAI have scheduled these two games in Reykjavik as the final preparation period before the start of the World Cup qualifiers in September.
Like their previous friendlies against Belgium and Denmark, Pauw has opted to test her side against high calibre opposition and while Ireland impressed to an extent in those games, they lost both and are now without a win since March on last year.
There have been plenty of positives surrounding Pauw's team of late, with public interest growing as the squad develop and improve but they are now seven games without victory and will be hoping to make a real statement against Iceland.
Defender Diane Caldwell is certainly eager to come away from Reykjavik with a win and admits that decent performances in defeat are no longer enough.
"We need to push on, you could see from the friendly games, we can compete, now we need results," she said.
"This gives us a chance to compete against a really top team. Hopefully we can take the next step and get results on the board. For a long time we've been talking about how the performances have been good but we need the results to go along with it."
Pauw has opted to freshen up her squad slightly, recalling midfielders Ciara Grant and Roma McLaughlin and handing Shelbourne's Saoirse Noonan a first call-up. Noonan is hoping to replicate the success of her childhood friend Chiedozie Ogbene and earn her first cap this week.
Australia-born Glasgow City striker Aoife Colvill has also been included in the squad and could be in line for her Irish game having received her FIFA international clearance.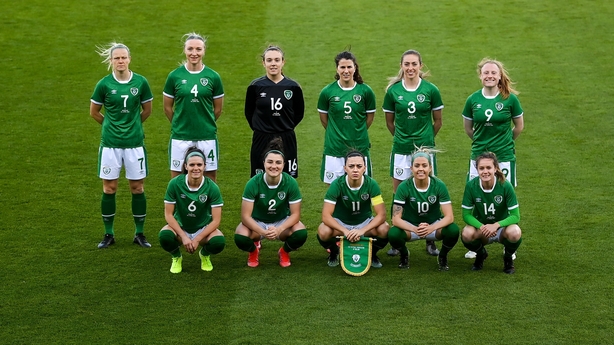 Iceland will offer a genuine test for Ireland and Pauw believes these two games will let her know just where her side stands.
"Iceland are a fantastic opponent, because they are playing in the same kind of style of Sweden and Finland, who are the top two seeded teams in our World Cup qualifying group, so these friendly games will help us to prepare for those qualifiers later in the year," the Ireland boss said.
"Playing against a team like Iceland allows us to further develop our game - both defensively and from an attacking perspective. We have been making positive strides in our overall development and these games are perfect for testing us in the right kind of environment."
Narrowly finishing second in their 2022 European Championship qualifying group behind world the mighty Sweden, Iceland secured their place at the tournament automatically as one of the best runners-up.
Much like Ireland, Iceland have found themselves short on matches since end of the Euro qualifiers, given the Covid-19 pandemic. They have a new manager in the shape of Thorsteinn Halldorsson, who took charge of the team in January.
Halldorsson is still finding his feet as manager and Friday's clash with Ireland with be only his third game in charge of Iceland after an April double header with Italy. Iceland lost the first game 1-0 but managed to claim a 1-1 draw three days later.
Iceland will be without the services of their most talented player and their captain Sara Bjork Gunnarsdottir.
The Olympique Lyonnais midfielder, who scored the winning goal in last year's Champions League final, is pregnant and taking some time away from the game.
Gunnarsdottir, who has been twice named the Icelandic sports person of the year, is a big miss for her country and leaves a gap in midfield which they could struggle to fill.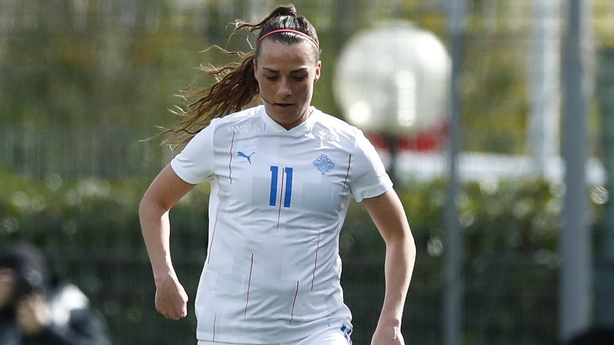 With their skipper absent, much of the on-pitch leadership duties will fall to defender Hallbera Guony Gisladottir who at 34 is the elder stateswomen of what is a young squad.
Gisladottir is expecting a tough evening against Ireland and admits that her team-mates are still getting to grips with their new manager.
"I expect difficult games against a strong team that is very physically strong and I think this is a very good preparation for the World Cup qualifiers which starts in September," she said.
"The new coaching team has come into this well and the emphasis is not quite the same as it has been in recent years. I think we're getting a good rhythm in what they want us to do. Hopefully it will be useful for us this autumn as we have very difficult games ahead of us before the competition."
Goalkeepers: Grace Moloney (Reading), Courtney Brosnan (Unattached), Eve Badana (DLR Waves)
Defenders: Keeva Keenan (Celtic), Claire O'Riordan (MSV Duisburg), Niamh Farrelly (Glasgow City), Louise Quinn (Fiorentina), Diane Caldwell (North Carolina Courage), Niamh Fahey (Liverpool), Claire Walsh (Peamount United), Éabha O'Mahony (Cork City), Áine O'Gorman (Peamount United)
Midfielders: Jamie Finn (Shelbourne), Denise O'Sullivan (North Carolina Courage), Megan Connolly (Brighton & Hove Albion), Ciara Grant (Shelbourne), Roma McLaughlin (Connecticut Fusion), Jessica Ziu (Shelbourne), Ellen Molloy (Wexford Youths), Katie McCabe (Arsenal)
Forwards: Heather Payne (Florida State University), Rianna Jarrett (Unattached), Amber Barrett (FC Koln), Saoirse Noonan (Shelbourne), Aoife Colvill (Glasgow City)
Watch Iceland v Republic of Ireland on Friday 11 June and Tuesday 15 June on the RTÉ Player and the RTÉ News Channel from 6pm.