Stephen Kenny is hopeful that Troy Parrott opening his senior account for Ireland will remind the youngster of his ability.
The Tottenham loanee had an indifferent club campaign with his short spell at Millwall in the English Championship impacted significantly by injury, while the second half of the campaign at Ipswich yielded two goals in 18 League One games.
But on just his fifth Ireland cap, the 19-year-old Dubliner scored his first two international goals as Kenny won for the first time as senior manager at the 12th attempt as Parrott's brace and further goals from Jason Knight and Daryl Horgan saw Ireland come from a goal down to beat minnows Andorra 4-1 last Thursday.
Speaking ahead of Tuesday's friendly against Hungary in Budapest, Kenny said the two-goal performance will be beneficial for the youngster's confidence.
"There were a lot of people and a lot of speculation that he hadn't merited or done enough to be in the squad because he's not maybe had the season that he would have liked to have at club level, although he did have a lot of football throughout the season and playing in different positions," said the Ireland manager.
"There was the possibility of leaving him with the Under-21s in the tournament in Spain but I do think that our younger players coming through, even though they still have a lot to prove, there's no doubt, in terms of our attacking players, they are the players with the greatest potential and they are the players that can help us really improve and give us a cutting edge in their play.
Player of the match Troy Parrott says he is "over the moon" to score his first goals for Ireland and admits he was "so relieved" after the shock of Andorra taking the lead. #ANDIRL pic.twitter.com/ThRVRxbj49

— RTÉ Soccer (@RTEsoccer) June 3, 2021
"And sometimes when young players are having a difficult time, to have the capacity to stand up and score two goals in an international game, can really help your confidence and I'm hoping that will really remind him of his talent and remind him that he is a quality player and he is capable of scoring goals. We have to maximise his talent."
With a crucial triple-header of 2022 FIFA World Cup qualifiers to come in early September, the Ireland boss is keen to finish the current window on a high with his relatively young squad.
"Some of our players that had come through the previous season, some of the teenagers, didn't progress as quickly with their clubs over the last year for injuries and other reasons but we have a degree of exciting attacking talent and we have some players emerging all the time," he said.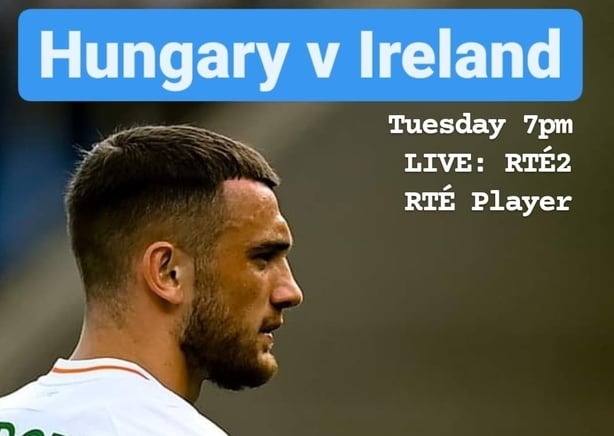 "Some players could have good club seasons and really put themselves in the frame. Some players, for example, who we brought into this camp who've really emerged, so overall we're looking for a good performance in Hungary.
"We want to finish the week strongly and take that into September because we've got nine points to play for - tough matches - Portugal, Serbia and Azerbaijan in September and we want to have a strong September and we want this week to help us to do that and give us a platform to do that."
Kenny indicated that he will seek continuity in naming his side for the Hungary match rather than making a raft of changes to his starting line-up.
"We're not in a position to make wholesale changes because we want a degree of continuity but there will be some changes alright in the team," he said, before predicting that Hungary will be close to full strength as their Euro 2020 Group F opener against Ireland's World Cup qualifying opponents Portugal approaches next Tuesday.
"Hungary rested eight players in the game in midweek and certainly they will be at full strength and I imagine they will have their team that will play in the Euros for them for the game tomorrow night.
"That's great. We're looking forward to that. That's a good test for all our players. I think they can only benefit from the game tomorrow night and we're looking forward to it."