After waiting 12 games to record his first win as Ireland manager, it was no surprise that Stephen Kenny was more inclined to push the positives than dwell on the negatives following his side's 4-1 victory over Andorra.
The victory was most welcome for both the team and the manager following a string of poor results, if not performances, and the result, combined with scoring four times will finally allow this emerging squad a night to enjoy that winning feeling.
There were positives, of course, with Troy Parrott rightly getting named man of the match after digging Ireland out of a hole, while other performances were encouraging, especially from players like Jason Knight and Daryl Horgan, who both got on the scoresheet as well as adding assists.
But it was a troubling night from an Irish perspective, as it was the first 45 minutes that caused the most concern for a team in green playing sloppy, incohesive football, a style that was meant to be consigned to history following Kenny's appointment.
An over-eagerness perhaps to grab that vital first goal to settle a side desperate for a victory resulted in mis-placed passes, lack of leadership and, at times, an unnecessary direct style while trying to make something happen in the final third.
In an era where the side are supposedly being selected for stylish, possession-based football, it was equally worrying to see the team unable to play out from the back against the 158th-ranked side in the world, who enjoyed way too much success utilising a high press.
It took 36 minutes for Ireland to put a passage of play together that merited a mention and, as expected, it opened up the inferior opposition and led to a gilt-edged chance that James Collins spurned.
Speaking in the post-match press conference, the manager did admit that the first-half performance was not good enough, and outlined the issues with the midfield lacking cohesion.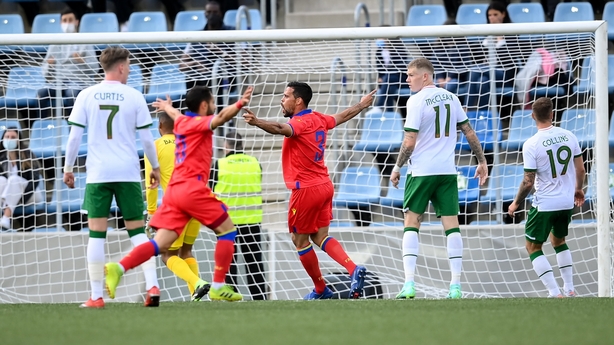 "We didn't have that cohesive movement between our midfield two," said Kenny.
"They were dropping into areas too deep to receive it, in the full-back areas, which sometimes can be very effective in controlling games against top-class opposition, but against opposition that are sitting off you, it's not effective.
"We needed to get Josh [Cullen] and Conor [Hourihane] in central areas and further up the park and play good, incisive passes into them and let them link with the attacking players like they did in the second-half."
To be fair, Ireland started the second half on the front foot and looked to be playing with a lot more intent until the unthinkable happened seven minutes after the restart.
The manager admitted afterwards that, despite all the time this week on the training ground, they had not done too much work on defending free-kicks as the team had yet to directly give a goal away from a set-piece.
But for that one ball into the box where Marc Vales was given a free run before dispatching his header into the top corner, it showed.
The manager described the goal as a kick in the teeth and admitted that he had to park the disappointment and try not to panic as that elusive first victory looked a long way off at that stage, trailing 1-0 with just over a third of the game remaining.
"I'm not going to lie to you, it was disappointing to concede the goal. You just have to focus on the game very quickly, and not start panicking and making too many changes and substitutions.
"I am not saying I have all the answers, but I'm just saying that was my thought process."
The manager credited the players for getting themselves out of the tricky situation and bouncing back to score four goals to secure the win.
Kenny was naturally full of praise for Troy Parrott, who bagged a brace within three minutes to turn defeat into victory before the two late goals finished the job.
"To concede a goal like that was disappointing. We pride ourselves on not conceding from play like that so that was a bit of a kick in the teeth.
"But the players responded and for one so young to come up with two goals when he not having an exceptional time in his own career at the moment, he is just finding his feet, so to do that showed the character and the quality that I believe he has.
"He still has learning and improving to do when we play against better opposition but it just shows mentally he has the capacity to do that when it was going against us.
"For one so young that was encouraging."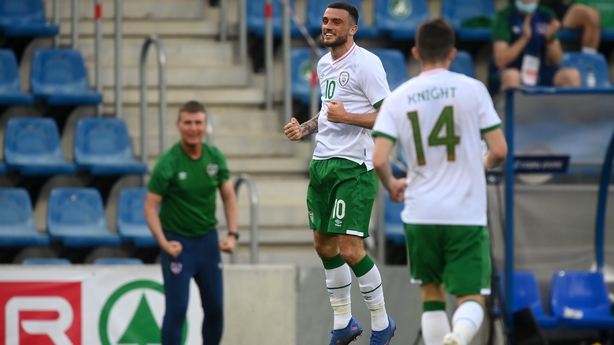 Kenny is well aware that he is not going to get lavished with praise for beating a team like Andorra, however, the victory will certainly make the build-up to Tuesday's game in Budapest a lot more enjoyable.
The goalscoring habit is one that the manager is trying to maintain and will take encouragement from his goals-for column over the past four matches – seven – compared to the first eight of his tenure, where they only scored once.
Daryl Horgan and Jason Knight were the other two players to get their names on the scoresheet in Andorra and their performances are also positives that Kenny will take into the Hungary game, which he acknowledged will be a much tougher proposition.
"Jason Knight is not a natural wide player and has not played on the right for a while, so it's not necessarily his natural position.
"The difference in him first and second half was big. He was very wide in the first half, and we needed him to come narrower and influence the play and leave that corridor for Matt Doherty.
"We needed him to come in and link the play and he did that brilliantly in the second half.
"The thing about Jason that I know, he has incredible stamina and the ability to go, go, go. The longer it went on, the stronger he got and that's one of his strongest assets.
"Daryl hasn't been playing much for Wycombe since March and I felt he would be more effective coming into the game as it opened up.
"He did terrifically well when he came on, and got an assist and his goal, his first international goal. They supplied each other: Daryl crossed for Jason and Jason crossed for Daryl, so it was good to see that.
"I think it was just important that we start scoring goals as we had a period that we couldn't score.
"We have scored seven in [four] games but we have a stiffer test against Hungary on Tuesday. We'll have to be at our best on Tuesday."