The establishment of a European Super League could kill the romance in soccer according to former Republic of Ireland international Stephen Kelly.
The Dubliner, who played in the Premier League with Tottenham, Birmingham, Fulham and Reading, was speaking on RTÉ's Game On.
The proposed new tournament will involve 20 clubs overall, with 12 of them confirmed yesterday and another three reported to be close to confirming their participation. There will be no promotion or relegation, leaving the competition as a closed shop for the continent's wealthiest clubs.
It's not clear when the competition will start, but the mid-week nature of the fixtures would put it in direction competition with the Champions League.
News of the tournament has been met with near universal opposition, and today protesting supporters arrived at Anfield, Old Trafford, and Elland Road, where Liverpool, one of the clubs to sign up, were playing against Leeds in the Premier League.
"This changes everything," said Kelly.
"From what you grow up watching and wanting to play in. As a kid you have aspirations and for me it was always wanting to play in the Premier League.
"That was where you wanted to get to and there's a direct line of sight of how you get there. Even if you have to drop down through the leagues you can come [back] up through it.
"Even if you take my trip to the Europa League final with Fulham - I know it's a different competition - but we got there out of the blue. Those fairytales can't happen in a situation like this.
"You can't have those teams who come from nowhere and they somehow rise to the top against all of the odds. It changes the dynamic of football completely and it's about greed and money. That's not what football has been about, it's been more than that.
"Football has always been a perfect business model. People have funded clubs and lost so much but they've done it for the fanbase and their love of their club - that's changed, and it just seems to be going in another direction from what everyone wants."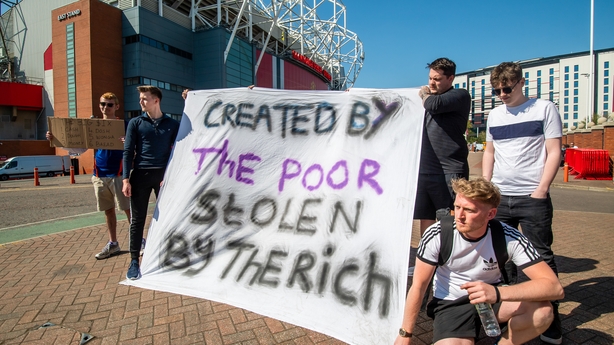 Speaking on the same programme Conan Byrne, who played soccer on both sides of the border in Ireland for the likes of UCD, Shelbourne and Glenavon, said he could never support the ESL in its current format.
"It's a league without competition," he pointed out.
"Imagine a team that can't be relegated and a super league that's supposed to have the best teams, yet Bayern Munich and PSG aren't taking part in it. They're the two teams who competed in last year's Champions League final, the biggest competition in European football.
"I can't believe I'm defending the owners of PSG," he joked, "but the French and German clubs are thinking about their number one concern and that's the fans.
Byrne is a teacher by profession and he said that the message he had for the children in his class today was clear.
"The owners of these clubs - the Abramovichs, the Levys, the Glazers, the Henrys, the Kroenkes - they've never kicked a football in their lives. They've never supported a club from the terraces like we all have.
"It's just very, very disappointing to listen to the news coming out last night and it's not going to be the end of it. Even the likes of AC Milan and Inter are owned by US hedge funds and Chinese owners. Inter are out of their depth completely and financially incompetent.
"How are these teams getting involved in it? They're not even good enough for a super league.
"It's very concerning."