Katie McCabe won her 50th Republic of Ireland cap on Sunday against Belgium at the King Baudouin Stadium in Brussels.
Still just 25 years old, the Dubliner has already had a commendable career for club and country. But McCabe's standing in Irish sport has been elevated not solely because of her on-field exploits.
She's part of a generation that's had to fight for the very basics elite footballers require when preparing to compete at international level, lifting women's football to new heights in this country while also being a passionate supporter of LGBT rights.
By her own admission the Arsenal star has matured immeasurably since she broke into the Ireland senior side six years ago as a tenacious young talent. Now she is the captain, the leader and an articulate representative of her team. 
"It doesn't feel real if I'm honest," McCabe told RTÉ Sport's Tony O'Donoghue in a wide-ranging interview.
"Where have those 50 games gone? I'm thrilled. It'll be an unbelievably proud moment. I'd love for my family to be there to see it but obviously it's really difficult times. Hopefully I can get another 50 under the belt and maybe they can make the 100th. 
"There's been ups and there's been downs. I feel like right now the path that I'm on is good. I'm happy with where I'm at in terms of where I'm playing and how this Irish team is going and growing.
"I love coming in with the girls, seeing everyone. I love it. There's nothing better than playing for your country."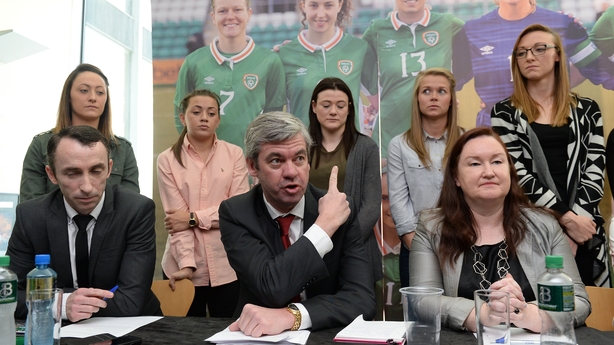 Almost exactly four years ago McCabe was at Dublin's Liberty Hall with several other members of the Republic of Ireland team for a media conference held to highlight their push for better treatment and conditions.
They were represented by PFAI solicitor Stuart Gilhooly, who said at the time: "We need to recognise that the women's team are fifth-class citizens, the dirt on the FAI's shoe."
Things have improved. Asked about the issue of equal pay with their male counterparts, McCabe echoed manager Vera Pauw's views that creating a culture of equal opportunities remains the primary focus, and revealed she is in regular contact with Ireland's men's captain Seamus Coleman as the two groups look to build greater unity. 
"It's not just within the FAI, it's all over the world," she said when reflecting on the debate about equal pay. 
"I don't think I'll be getting 250 grand a week any time soon like some of my Arsenal male counterparts. For us it's about equal opportunity. It's about getting the right things in terms of facilities and opportunities to get to that elite level.
"I do think we've come a long way. That was the drive of the players[at Liberty Hall], to get what we have now. Do I think there's still progress to be made? Yeah. But I think we will get there eventually. For us it's about concentrating on the pitch and let that do the talking.
"Obviously due to Covid, I probably would have met [FAI CEO] Jonathan Hill a lot sooner. I'm excited to meet him. I've heard good things about him. I'm looking forward to that conversation and until then we obviously don't know how things are going to develop.
"I'm in close contact with Seamus as well so we've got a good relationship between the men's and women's teams. We do want to drive that initiative that we are one, the FAI are one.
"We discuss things within our leadership group, the oul ones if you like! We want to make sure the nitty gritty things are sorted before we jump the gun and go for that main one [equal pay]."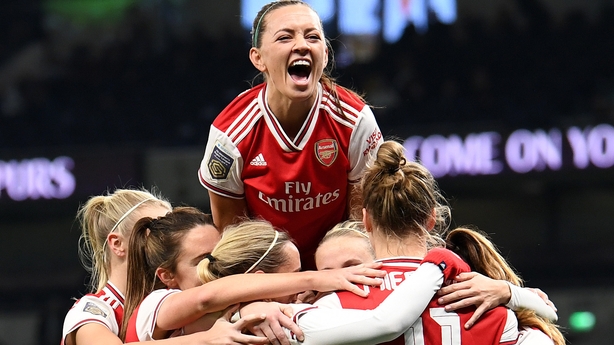 McCabe has been at Arsenal since 2015, improving steadily in a good environment alongside quality players. 
The WSL has been thriving for a few years but a landmark new broadcast deal that will see games screened live on Sky Sports, BBC One and BBC Two over the next three seasons promises to bring it to an exciting new level.
McCabe recognised the significance of that while reflecting on the improvements needed in Ireland's Women's National League, where may of her Irish team-mates ply their trade.
"With where the Women's National League is at, I think we still need to do more, compared to what's going on in the Women's Super League. There still is a gap and that's up to us, within the FAI, to keep investing in the women's game. 
"In Ireland we produce a lot of top-class players. It's there. We need to be consistent with it. We are getting there but we need to keep going in the right direction.
"The WSL is probably the most competitive it's ever been. It's attracting a lot of top-quality stars, really world-class players. I'm training with them day in, day out. That ultimately makes me compete and bring my game up. Back home the girls are trying to balance playing at a high level in the Women's National League and working 9 to 5. That's not an easy task.
"That WSL TV deal is massive. For the game, it's going to take it to the next level. What a stage to play on.
"The FA have done a great job investing in the right areas. The WSL is where it is because the right people are involved in getting it up to that level. It's all about visibility. You're going to be able to watch it. My parents won't be asking me for a link! It's fantastic."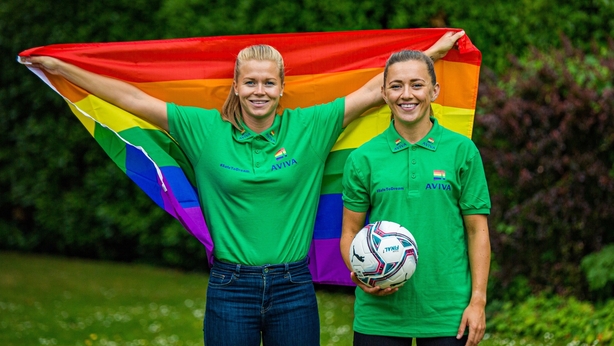 In the summer of 2019 McCabe and her partner Ruesha Littlejohn became ambassadors for Aviva's Pride campaign.
"We didn't think twice about it," McCabe says now. "It's who we are, we don't hide it. It's not something I keep secret on social media or anything like that. I'm very comfortable in my own skin.
"That comes from the support I had from my friends and family I had growing up. That's not the case for everyone and that's what that message was. It is okay to be yourself. For us to have the opportunity to express that, to make a change to even one person in life, was ultimately why we wanted to do it. 
"The reaction was brilliant. You know you get the trolls and the negativity and this and that but I honestly didn't see any negative comments. It was all positive, The media were great backing it. The whole thing around it was fantastic. It sent out the right message."
Pauw called up three Irish-eligible players this week to run the rile over their capabilities while also giving them a taste of the atmosphere. Florence Gamby, Lily Agg and Emily Murphy all arrived while Glasgow City's Aoife Colville was due to join up also but withdrew on Monday.
"Any time I've been in here it's been nothing but good craic. That's the way we like to keep it."
The quartet have not yet committed their international futures to the Republic of Ireland and McCabe insists they'll be given the warmest welcome possible into the group.
"It's important for Vera to be able to see the girls. Obviously she'd be keeping an eye on them at club level but you can't really get a feel until you have them on the pitch and in the squad. They are great girls.
"They want to be here. I'm not worried about a Declan Rice or Jack Grealish aspect. The lads chose what they wanted at the end of the day.
"We've always been a very welcoming team. I think once they get a feel for it they will enjoy it. We're an open bunch.  Any time I've been in here it's been nothing but good craic. That's the way we like to keep it."
We need your consent to load this YouTube contentWe use YouTube to manage extra content that can set cookies on your device and collect data about your activity. Please review their details and accept them to load the content.Manage Preferences