When the Republic of Ireland line out against Denmark on Thursday at Tallaght Stadium, there will be one home player very familiar with what the opposition have to offer.
Kyra Carusa has been playing her club football in the Danish league for HB Koge for just over a year and her knowledge of Denmark's domestic-based squad members could prove invaluable for Ireland head coach Vera Pauw and her team in the first of a set of friendlies to kickstart the year in anticipation of the World Cup qualifying campaign - the draw for which will be made on 30 April.
Before linking up with the Ireland squad for the games against the Danes and then Belgium away on Sunday, Carusa had enjoyed a memorable weekend, much like her international colleague Niamh Farrelly.
The 25-year-old forward scored the winner with 10 minutes to go as HB Koge beat Fortuna Hjorring in the league on Sunday and a couple of that day's opposition stars will be in contention to face Ireland, namely Emma Snerle and Olivia Holdt, who Carusa praises as "crafty players" with excellent technique.
Indeed, technical ability is a regular description when the US-born player lists out the Danes to watch out for - she name-checks Brondby's Nanna Christiansen and Josefine Hasbo as well as youngster Kathrine Moller Kuhl from FC Nordsjaelland.
But Carusa herself has been doing her part to stand out when it comes to the Ireland reckoning and while the Danish league may seem a little out of sight, out of mind in the era of Covid-19 when scouting in person is difficult - if not impossible - she tells RTÉ Sport that she is grateful for the way in which Pauw has kept tabs on her from afar despite current complications.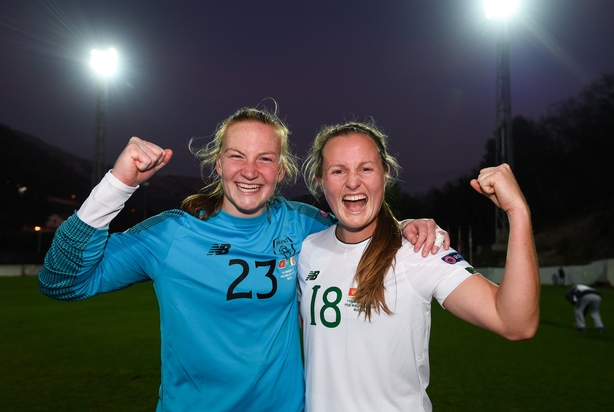 "Covid definitely doesn't make it easier but Vera and the staff are always up to date on the games we play," she says. 
"I make sure that she has access to them always, whether it's before the game if she can watch or afterwards with film and such.
"She's always my biggest supporter, especially for those wins and those goal-scoring opportunities, which is really a confidence booster. It's a good thing to know that our coach at this stage is making it a priority to make sure that she stays in touch and in tune with that, for me as a player.
"So when I come in, she's comfortable with me, she's kind of seen me play for the last few weeks. And not being able to travel with Covid, makes it much more difficult for a coach to get that feel for how a player is, how they're doing and how they're performing. But she's doing the best she can to make sure that she can do those things. So much appreciated."
We need your consent to load this YouTube contentWe use YouTube to manage extra content that can set cookies on your device and collect data about your activity. Please review their details and accept them to load the content.Manage Preferences
Under the current Ireland boss, Carusa, who won her first cap against Montenegro during the Euro qualifiers last March, is finding the transition from Danish club football to the Ireland set-up to be rather smooth.
"The style of play, I would say on a European stage, the style of women's soccer is quite similar and in terms of if you're comparing it between country to country in Europe rather than to the US, it's very focused on the technique and the tactical side of play," she explains.
"It's very, very important in terms of a team like my team HB Koge. We are a bit younger and we have a lot of focus on developing those relationships, those tactical relationships between players and really getting them to get comfortable with that and of developing their soccer IQ which is fantastic. As a 25-year-old I'm still developing my soccer IQ every day with them.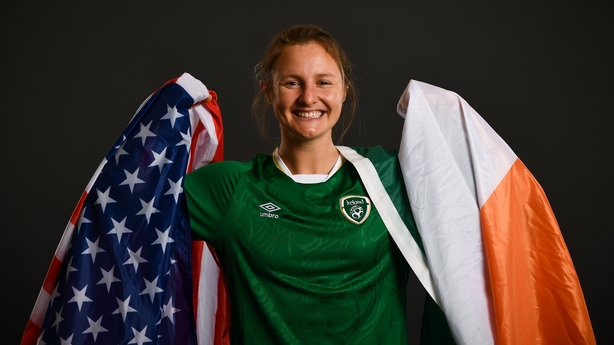 "And I think that's what's nice about when I come to the Irish team. Vera and our staff here are very focused on that as well. There are players who play in all different countries from all different leagues and are very different in age as well.
"To come together, it's so important to all be on the same stage with tactics and understanding of our style of play and our game as well as our opponents and so it's good to see that focus here is very similar to what we do in Denmark as well. I love that and it makes it a bit easier when you come into camp."
Perhaps, it's not surprising that adaptability is not an issue for Carusa given how she has jumped at the chance to represent Ireland and eased into the international fold.
That aforementioned debut against Montenegro came just over a year ago, shortly after gaining citizenship, having been eligible to represent the country through her maternal grandmother and grandfather, who emigrated to the US from Laois and Cork respectively back in the 1950s.
Along with the persuasion of her graduate year coach at Georgetown University, Irishman Dave Nolan, she had long been on the FAI's radar in regards to making an international switch - an eventuality she describes as a "privilege" and "incredibly humbling".
"Actually the FAI were in touch with me before I was in touch with them, when I was younger," she says. 
"Probably before I even went to college for soccer they were expressing a lot of interest, they were in touch with coaches I knew. At the time I didn't even know what the process that would look like to even step into that role and move in that direction.
"I was playing with the US team a bit as well. You're just young enough where you're thinking one step ahead at a time and I'm going to college and I don't know what international soccer would even look like. He definitely opened that door for me and was 'Hey, I know the coaching stuff, they have talked about you a bit, they know of you' and it's definitely something to look into and to consider at this point in your life. It could be a really huge opportunity'.
"I'm really happy that he suggested it and encouraged it. He was always the first person to be my advocate, doing what was best for me. I do appreciate him for pushing me that direction."
It's always the fond memories they would share with us about Ireland
She is also grateful for her grandmother's diligence in keeping her personal records intact over a span of 60-odd years which made any red tape issues redundant, saying: "I'm so happy that my grandmother kept all of her original birth certificates, immigration paperwork. If she hadn't, I wouldn't be able to be sitting here today. So it means the world."
And even as a child, she did have a direct connection to Ireland, having visited more than once.
"Like when I travelled to Ireland, we got to see these things, like as simple as kissing the Blarney Stone, which is something we always talked about," she says.
"Our relatives would always poke fun with us, but then to actually do it, it was like I'm truly Irish. Yeah it's always the fond memories they would share with us about Ireland, and even their journeys coming back over and stuff. Because they were the first of their family, their entire family was in Ireland, they were the first to say 'why don't we take this opportunity to go to the US' and they were only supposed to be here for a year but it turned out to be a life." 
Her own Ireland career now enters its second year with the team looking to build on some of the high points from the European Championship qualifying campaign when Pauw's side just missed out on the play-offs.
The team are now hoping to go one better in the race for World Cup qualification, with this week's friendlies providing a staging point to assess development.
"I think the hopes this week are to see different sides of our team. I think every opportunity to be in for camp is huge, to be together, to train with one another, to get familiar with one another again," says Carusa. 
"Such a great thing we can do, it is something we can celebrate but also just seeing different sides of our team. In the past 12 months we've developed so much and even in the last four months, these girls have had pre-season, training matches and have started up leagues again in different countries so I think that we all have different sides of us that we have developed and it's going to be an opportunity to show our coaching staff, and have our coaching staff be able to work with our different sides of us as players."
Watch the Republic of Ireland's friendlies v Denmark (Thursday 6.30pm) and Belgium (Sunday 6.30pm) live on the RTÉ Player 
Listen to the RTÉ Soccer podcast on Apple Podcasts, Soundcloud, Spotify or wherever you get your podcasts.
We need your consent to load this SoundCloud contentWe use SoundCloud to manage extra content that can set cookies on your device and collect data about your activity. Please review their details and accept them to load the content.Manage Preferences